Description
Cyant and Women in 3D Printing are presenting #3DTalk, an industry specific and educational event series focused on 3D printing and related technologies, and featuring leading women in the industry. #3DTalk panels are open to everyone: men and women, kids and adults, novice and experts in 3D Printing. Monthly events are organized in San Francisco, New York area, Paris, France and other locations around the world all year long.

Learn more about #3DTalk, our past and future events here.
This #3DTalk will focus on Healthcare applications of 3D Printing related to improving patients' outcomes and lives, whether through better modeling, planning or prosthesis. Our panel will bring complementary perspectives from their work and research to highlight these areas in a fast growing industry for 3D printing.

AGENDA
6:00-6:30 Registration + Reception
6:30-6:45 Introduction by co-organizers Barbara Hanna
6:45-7:45 Panel and Q & A

7:45-8:30 Networking
Thanks to the Boston Children's Hospital SIMpeds for hosting us!
And thank you to Formlabs for sponsoring this event!

PANELISTS

Mariah Geritano graduated from Stony Brook University with a Bachelor's Degree in Biology and a Master's Degree in Materials Science and Engineering, where she focused on 3D printing biocompatible plastics for cell growth.
After graduating in 2015, Mariah joined SIMPeds as a SIMEngineer. Her primary responsibilities include working with clinicians to develop pre-surgical planning resources by converting patient imaging (CT and MRI) to create anatomical models that can be 3D Printed, or presented digitally for pre-surgical planning. In addition, Mariah plays a project management role in trainer development projects, and works with clients to design and prototype clinical simulation devices. She currently represents Boston Children's Hospital on the 3D Printing SIG within the Radiological Society of North America (RSNA).

Dr. Ritu R Gill is a clinical radiologist with sub-specialty training in Cardiothoracic and Oncoradiology and a Masters in Public Health (Clinical Effectiveness). She is the Director for Imaging Research, Lung Research Center, Director of thoracic Imaging and Intervention in Advanced Multimodality Imaging operating room (AMIGO) and the Associate Director, Surgical Imaging Innovation, Center for Surgical Innovation at the Brigham and Women's Hospital, Harvard Medical School. Her interests include building prognostic models to stratify survival in Chest malignancies. She also has an avid interest in 3D and 4D imaging and 3D modeling and printing.

Irene Healey trained as a fine art sculptor and later received a degree in medical art. She has combined her interest in the body and technology in her work as a Certified Clinical Anaplastologist. She maintains a clinical practice working directly with patients to provide various types of realistic and functional custom facial and body prostheses. Additionally, she maintains a research practice and is enthusiastic about using 3D printing to create new types of prosthetics and is excited about using new manufacturing technologies to make custom made prostheses available to everyone in need.

MODERATORS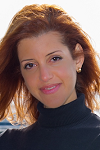 Barbara Hanna, PhD is the founder of Cyant. Barbara is a Technologist and Entrepreneur passionate about fostering technology that educates, empowers and/or connects individuals. Cyant connects art and technology to foster learning, creativity and engagement through 3D modeling and design products and experiences. With a B.Eng. / M.Eng from the University of Cambridge, UK, and a Ph.D. in Computer Vision from the University of Surrey, UK, Barbara has worked in a range of technology areas, from computer vision and real-time video-processing applications, to, more recently, mobile development and 3D printing.

Nora Toure is an Additive Manufacturing expert and engaged in inspiring women to embrace Tech. careers in the 3D Printing industry. She started her career in the Additive Manufacturing in 2010 by joining online 3D Printing service leader, Sculpteo. Nora founded Women in 3D Printing in 2014 to feature women leaders in the Additive Manufacturing industry through interviews and portraits.Pursuing her vision for more social inclusion, she recently joined 3D Africa as Board Advisor. As part of her vocation to contribute to the development of the industry, Nora is also Board Advisor for 3DHeals.