About this Event
Back by popular demand! Engineer to Engineer Uppsala would once again like to give you the opportunity to learn how a 3D-printer works and what preparations you must do before starting a print. Teaming up with Makerspace at Uppsala University we will spend an evening learning how to turn a digital file into a physical object. Throughout the evening Makerspace will talk about tips and tricks as well as limitations during the design process, how to set-up and adjust printer settings and give a general explanation of how the printers work.
After the introduction we will take a break to enjoy a light dinner and to give you the opportunity to mingle. Thereafter we will split up into two groups to continue with the 3D-printing and to discuss integration and what you'd like to get out of E2E.
If you are a registered student at Uppsala University with an access card and a student login then Makerspace can even offer you a free 'Printing License' after the event that allows you to access the Makerspace facilities. Make sure to apply now to secure a spot!
*Note that this event is a repeat of last year's 3D-printing event.*
Time: Drop-in from 17:15, presentation starts at 17:30 and the whole event will take about 2 hours.
Location: Ångströmlaboratoriet – Lägerhyddsvägen 1, 752 37 Uppsala. First storey (up one set of stairs and down the main corridor) outside the library. E2E will be standing at the entrance to greet you.
Price: FREE!
Last application date: 28th of January
Want to apply for the event?
Easy done! Apply in the form and within one day after the application has closed you will get an email that you have to answer in order to confirm your spot. Last day to apply for this event is the 28th of January at 23:59!
Recently arrived and asylum seekers are prioritized but everyone is free to sign up.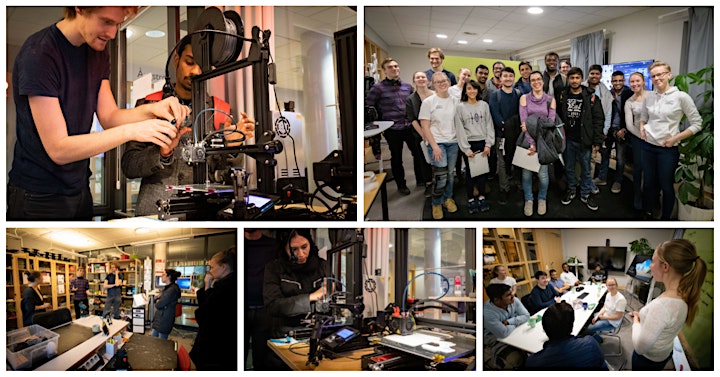 Photos from last 3D-printing course, that was held in March 2019.
_______
Engineer to Engineer (E2E) Uppsala is part of the non-profit Engineers Without Borders. E2E aims to enable equal opportunities into the labor market by being a platform for academics to exchange experiences and network.
This event and our operation is in collaboration with Länsstyrelsen Uppsala. We are granted TIA subsidy, you can find out more about this subsidy here: https://bit.ly/39YnfE1