Description
You've scanned your patient digitally and sent them on their way. Now you sit staring in awe at the impression on the computer screen. What next?
This course is designed for the novice to this new world of in-office 3D printing. Our goal is to get you going on some simple digital procedures with a relatively low entry point (free or low cost). You will learn to clean up your scans, put a base on them for printing, complete diagnostic setups, and make implant surgical guides. These have proven to be easy and quick ways to recover the cost of your 3D printer and have a blast along the way.
You will learn to use a few different computer programs and get hands on experience printing your own designs. Learn the whole process from design to cleaning up that printed product. This is a hands on course where you will be learning on your own computer how to manuever these programs. See below for recommendations on a capable computer.


DAY ONE - SURGICAL GUIDES
Day one is focusing on using free CAD software (Meshmixer) to clean up scans and base a model. Then, we move to free implant planning software (Blue Sky Plan) to plan implant placement for a single implant and to fabricate a surgical guide for that implant.
1] Open a case in Meshmixer and clean up the scan
2] Add a base to the scan to prepare for 3D printing
3] Import a CBCT scan into Blue Sky Plan
4] Add an STL file and align with the CBCT
5] Place an implant
6] Fabricate a surgical guide
7] Position the guide in the printer's software
8] We plan to print the guides you design for you to take home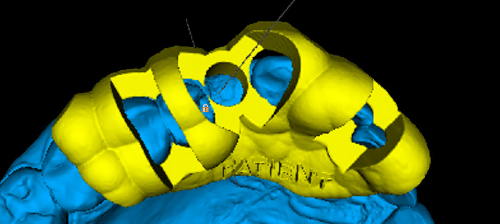 DAY TWO- TOOTH SETUPS
Today is about learning to use Meshmixer for diagnostic setups. We will end the day learning about what else is possible with 3D printing, digital workflows, and other software programs you can consider.
1] Discuss the records needed when you have the patient chariside
2] Bringing the models into Meshmixer and cleaning them up
3] Using the Christian Brenese (free) tooth libraries to set a single tooth
4] Stepping up your game by doing a larger anterior case setup
5] Understand where to go from there to do a mock up in the patient's mouth
6] Learn about other uses of 3D printing in dentistry


---
Notes:
- This is a very hands-on computer course, not just a lecture. Come ready to work!
- You will not only need the software already installed, but will also need enough hardware power to keep up. Therefore, we highly recommend some minimum hardware requirements (if you don't want your computer holding you back)**:
- 16 GB RAM [I have 32 GB]
- 4 GB (or more) dedicated graphics card [I have 6 GB]
- Solid State Drive (SSD) are great for saving and opening these cases quickly
- Windows PCs tend to be better than Apple computers for this stuff [I've used both and prefer PCs]
BONUSES:
With this course, Blue Sky Bio has some generous discounts.
1. Receive a $300 discount when you purchase at least $400 worth of Blue Sky Bio manufactured products
2. 12 complimentary STL exports (make request to plan@blueskybio.com
3. Additional $500 discount on any Blue Sky Bio implant starter package
** Thanks to Baron Grutter for these computer recommendations. I am a pro when it comes to software, but Baron is my go-to for hardware.