Description
Have Your 3D Portrait Made.
Heather Pendrak of Fun Size Me 3D brings a unique opportunity to STEAM Junction. A timeless 3D personal bust can remain a keep-sake in the family, or be a unique gift.
You will get one four-inch 3D printed bust, and a 3D scan that is stored online for you to share. STEAM Junction can re-print additional busts in various sizes and materials any time for only the cost of the filament and machine time.

Getting scanned:
Come in 10 minutes prior to your scheduled time. We'll help you sign in, get situated, and pose. The 3D portrait artist will walk around you multiple times with her scanning system which uses lasers and cameras to map out the 3D surface of your bust in high detail. This takes about 10 to 15 minutes in most cases. Just like the wild-west days of photography you'll have to sit still during this time.
Heather will collect and manipulate the data with 3D software tools to correct any errors, smooth the surface, and work on details that will make the file 3D printable. This process may take her from one to five hours depending on hairstyle, glasses or jewlery, fine details in your clothing, etc. Once she has processed all the files, STEAM Junction will publish them online and create 3D printed busts that you may pick up later. Estimated time to get your bust is 2-4 weeks.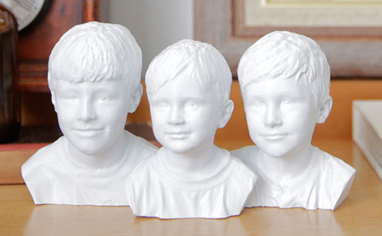 Who can be scanned?
This portrait sitting is for adults, teens, and children who can sit still for up to 15 minutes at a time. We can not scan infants, todlers, or animals. Scanning is done from the seated position.
Tips and important info:
Scan is from bustline up. Here are a few tips for the best possible scans:
If you wear glasses, remove them for scanning. The glare from the lenses on glasses will not scan. Similar model glasses can be added in if you would like to be pictured with glasses. You will need to remove jewelry (especially anything shiny or reflective)

Patterns and textures are best to wear. Solid colors do not work as well.

Solid white clothing generally does not work well.

Shiny black or other shiny fabrics do not work well.

The scanner "reads" the surface whether its your skin or fabric of your clothes. It can not "see" under clothes. Therefore to make your dress form as close to your body as possible its recommended that you wear only foundation garments or underwear that you normally wear under your clothes. The ideal outfit should not distort your body, it should not hang loose nor should it squeeze your body.

Long hair should be pulled up to make sure that your neck is visible from all sides for scanning.

Curly Hair may need to be wetted and arranged for the best scan.

We have a private rest room that you can use to change clothes or fix hair.
Why is this worth the price?
Imagine having a 3D printed keepsake of yourself to share with your loved ones that they can keep forever. For thousands of years a 3D bust was only possible by having a sculpter create a model of stone. It was reserved for royalty, government leaders, and famous people.
3D portraiture is a new technology that is not widely available. The technology of the Maker Movement (3D scanners, 3D printers, software) is just now making 3D scanning and 3D printing of people as 3D portraits something that is within the grasp of the average person.
Scanning equipment and software is a big investment for the portrait maker. Once scans are made there is post-processing work to be done that can take anywhere from an hour to five hours depending on details of the subject and scan. Artistic skill is required.
Be the first one you know with a 3D bust of yourself or your loved one!
Sign up today
Spaces are limited and it may be a few months before we have another 3D Portrait session. Sign up online to guarantee your space. Walk-ins will be accepted for $165, if spaces are available.
Please share this event!