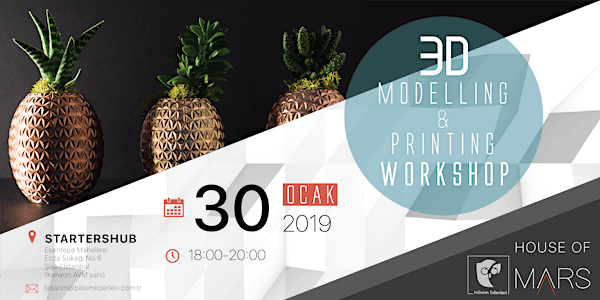 3D Modelling & Printing Workshop
Hayal Et, Tasarla, Baskı Al!
When and where
Location
Starters Hub No:6 Ecza Sokağı İstanbul, İstanbul 34330 Turkey
About this event
Çok yakın bir gelecekte hepimizin evinde bulunacak ve çalışma masanızın üzerine rahatlıkla sığacak bir makine yardımıyla satın almak istediğiniz her türlü ürünün üretimini yapabileceksiniz. Buna yiyecekler de dahil! Piyasada hızına hız katarak yer edinmeye ve gelişmeye devam eden 3B yazıcılar sayesinde bir gün herkes hayalindeki tasarıma ulaşacak. Biz de Bilişim Liderleri/House of Mars olarak sizlere bu teknolojiyi tanıtmak, neler yapılabileceğini göstermek ve hayallerinize ışık tutmak istiyoruz.
Neler yapabileceğinizi keşfetmek ve geleceğin kapılarını bugünden aralamak için katılıp katılmayacağınızı söylemeniz yeterli! Etkinlik sonunda tüm katılımcılara 1 adet 3B baskı ürün hediyemiz olacaktır. Etkinlik ücreti 25₺ 'dir. Ödeme etkinlik günü alınacaktır.