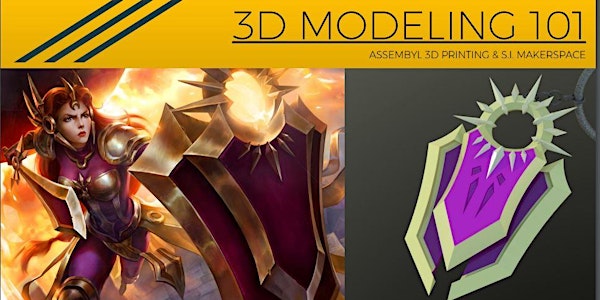 3D Modeling 101
When and where
Location
Staten Island MakerSpace 450 Front Street Unit B- entrance on Thompson St New York, NY 10304
Refund Policy
Refunds up to 7 days before event
Description
3D Modeling 101
Saturdays September 16th, 23rd, and 30th.
10am - 1pm
Non-Members - $200
Members - $175
This three-session course is to introduce you to the world of 3D modeling. You'll learn the basics of parametric 3D modeling using OnShape. You'll also learn the bridge between creating a product in virtual space and actually creating a tangible product via methods such as 3D printing, plasma etching, CNC machining,etc. You'll also learn basic technical drawing by hand and on these same programs so you can create proper spec sheets for machinists and artisans. Anyone can create a 3D model, but making one that is refined and efficient for the manufacturing process can be the sole factor in creating your next great product!
Who is this course for?
The Artist- Many 3D programs allow the user to only 'sculpt' their models and not give them the ability to put a hard dimension on a specific section of the piece and work with that. Parametric 3D modeling allows you to do that and with more control on the object will let you get the model that you want.
The Entrepreneur- Being able to understand the relationship between the 3D model and how it affects the manufacturing process can help you create much more cost efficient options. In addition to this being parametric modeling, you will have full control over dimensions and geometry of the model so you can ensure that your product will hold up to certain industry specifications. (ie. ASTM, NFPA, etc)
What will you learn?
Technical Drawing: Before a 3D model is created, there is always a sketch first. This first sketch is the foundation of the 3D model and its location in space determines how you approach modeling your product.
Basic 3D Modeling: From simple geometric shapes to sweeping curves, this course will show you the basic tools and features in creating simple 3D shapes.
"Thinking in 3D": This course is to ultimately get you into the mindset of thinking of the object in a "3D" realm and how to achieve that object from your mind to the screen and then at your hand.
**Please bring your own laptops. We have a limited number of loaners. First come, first serve.