Description
Heirloom Gardening, From Seed to Seed
a Talk by Ken Greene of Hudson Valley Seed Library
learn & be inspired / shop for heirloom seed / get your how-to questions answered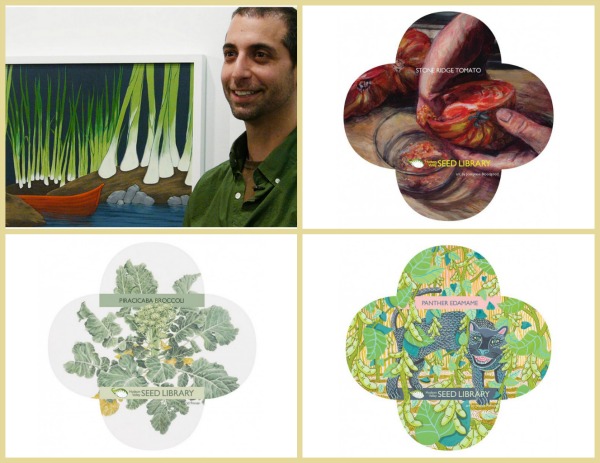 Ken Greene, renowned heritage farmer and heirloom seed saving authority will present, "Heirloom Gardening, from Seed to Seed," beginning at 2:00 p.m. on Saturday, March 23rd at the Copake (NY) Grange, to benefit Friends of Taconic State Park. A wine and hors d'oeuvre reception will follow the presentation; heirloom seeds will be available for sale, along with gardening advice from Ken and experts from Turtle Tree Seed and local gardener Margaret Roach, before and after.
Ken's program will showcase our Northeast gardening heritage through elegant, humorous, and telling images from the Hudson Valley Seed Library's collection of antique and vintage seed catalogs, seed packs, and ephemera dating from the 1850s to 1960s. Moving from history into the present, participants will learn about easy, beautiful, and tasty heirloom varieties to grow at home. Along the way, Ken will offer simple tips for growing, harvesting, and saving seed from local heirlooms varieties.
About Ken
Ken is co-founder of the Hudson Valley Seed Library in Accord, NY, a project he germinated in a small town library that has now blossomed into an artisanal seed company and heirloom farm devoted to producing seed for home gardeners, fostering a regional seed-saving community, and celebrating seeds through art. The Seed Library "art packs" (above, several unfolded examples) feature work by area artists.
"Seeds are living histories," says Greene. "The best way to keep their cultural and genetic legacies alive is to get the seeds into the dirty hands of caring gardeners."
Greene has given presentations at Seed Savers Exchange, National Heirloom Expo, Culinary Institute of America, Cornell Extension, Brooklyn Botanic Garden, and for many garden clubs, master garden groups, and community organizations nationwide.
(top photo of Ken Greene by OpenSesameProject.com)
Experts on Hand to Help You Start From Seed
Greene's Hudson Valley Seed Library and Turtle Tree Seed of Copake, New York—two nationally prominent but also local companies—will offer seeds for sale, and experts from both will be on hand to answer gardening questions and showcase seed-starting tips and tricks. Participants should come with their spring gardening shopping list, and questions! Margaret Roach of Copake Falls and A Way to Garden will also be on hand to help those wanting to learn to grow from seed.
Tickets and Details:
Seeds will be on sale from 2:00 onward and from 4:00 to 5:30; lecture at 3:00 PM
Gardeners-to-be (kids 10-16; younger free): $10

Good Friends (shop, lecture): $20

Ironworkers (shop, lecture, reception): $40

Pomeroy Patrons (shop, lecture, reception, Seed Library membership and gift): $60
About the Friends Group
The March 23rd event will benefit Friends of Taconic State Park's Copake Iron Works Furnace Stabilization Project. Located within Taconic State Park, experts and authorities consider the historic furnace to be an important and unique example of 19th century American industrial history, the preservation of which should be a top priority. The group is the recipient of the Columbia County Heritage Award for its efforts to preserve the history of the Iron Works. The award's citation noted that the group "insistently reminds us that natural environments need not arbitrarily exclude evidence of their industrial past."
The Furnace Stabilization fundraising campaign was launched last fall. Proceeds from the March 23rd event go directly to towards the $110,000 project.
Friends of Taconic State Park was established in autumn 2008 to promote recreational, historical, educational and cultural activities within the park. There are currently about 300 dues paid members of Friends of Taconic State Park. The group recently completed construction of a protective cover for the historic furnace to project the structure from further ravages of weather.
Organizer of 3d Annual Garden Lecture, With Ken Greene
Friends of Taconic State Park was established in 2008 to support cultural, recreational and educational activities within the park with the preservation of the Copake Iron Works National Heritage Area Site its priority. The group is implementing a 20-year plan to create a pre-eminent site of historic iron-making and a national destination for tourists in Copake Falls. The Copake Iron Works Visitor Center features a video documentary chronicling the history of the site and an extensively interpreted trail from the Copake Iron Works to the Bash Bish Falls, for which trail maps are available. The entire site is open for self-guided tours year-round; the Engine House Museum is open from late May to mid-November and by appointment. School tours are especially welcome.
For more information visit Friendsoftsp.org.