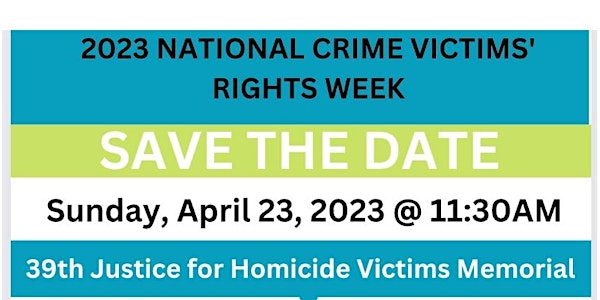 39th Justice for Homicide Victims Memorial
Justice for Homicide Victims Memorial Foundation Presents: 2023 National Crime Victims' Rights Week
By Justice for Homicide Victims
Date and time
Sunday, April 23 · 11am - 1:30pm PDT
Location
Rose Hills Memorial Park | Gate 20 | 1 Mile South of the Rose Hills main entrance. Enter through Gate 20 off of Pioneer Blvd | 3888 Workman Mill Rd Whittier, CA 90601
About this event
2 hours 30 minutes

Mobile eTicket
MARK YOUR CALENDAR! | National Crime Victims' Rights Week, April 23–29, 2023
Join Justice for Homicide Victims, Inc. on Sunday, April 23, 2023, as we host the 2023 National Crime Victims' Rights week honoring all victims of homicide.
Date: April 23, 2023
Time: 11:30AM - 1:30PM | Please arrive by 11:00AM for Check-In
Location: Rose Hills Memorial Park at Gate 19 | Approximately 1 mile south of the Rose Hills main entrance. Enter through Gate 20 off of Pioneer Blvd.
Pictures of over 250 homicide victims will be displayed. Please feel free to bring a picture of your loved one to share. A stand is suggested as well as they are displayed along tables or the grass area.
Light snacks will be served following the ceremony.
Guest speakers + Doves will be released in honor of our loved ones + lighting a candle for your loved ones.
Directions:
Enter from the south: via 605 northbound exit at Beverly Blvd. (after the exit you will be on Pioneer Blvd.) turn left on Pioneer and then right at Gate 20. Via southbound 605 freeway, exit at Beverly Blvd., turn left onto Beverly Blvd. and then left onto Pioneer Blvd. (first signal) and right at Gate 20. Attendees need to avoid Workman Mill Road, particularly in the area around the main gate of Rose Hills. Turn Right at Gate 19.
The 2023 theme | Survivor Voices: Elevate. Engage. Effect Change. - calls upon communities to amplify the voices of survivors and commit to creating an environment where survivors have the confidence that they will be heard, believed, and supported.
What is National Crime Victims' Rights Week?
Since 1981, National Crime Victims' Rights Week (NCVRW) has challenged the Nation to confront and remove barriers to achieving justice for all victims of crime. During NCVRW, we celebrate the accomplishments of the victims' rights movement and reflect on how far we have come.
Additional Questions: Contact Connie C. | 818.470.7929
Donate to Justice for Homicide Victims
https://www.paypal.com/donate?token=bY9q_LvU0pO9zR7h2tQr7ToXSqs7sLUX3VeGS9Yy-9addVfzhCeMfDMkqSfe1m9boUou6ygOYIS55nHJ
More about JHV | https://justiceforhomicidevictims.org/
About the organizer
 Justice For Homicide Victims (JHV), a non-profit organization that provides support in dealing with the pain and suffering associated with the homicide of a loved one when the victims' survivors are usually totally misunderstood by their friends and relatives. We assist homicide victim survivors by informing them of their rights under current laws and provide support of victims who fight for their rights. 
Additionally, we look to educate the public about  the real truth about our criminal justice system because  the people of this country must understand that the victim has no legal standing whatsoever or representation in a criminal trial, whereas the accused is represented. Knowing this, the people will be moved to change our laws.
When a person realizes that he or she is raped, shot or left for dead, as a victim you may not even have the right to testify at the trial. If they are murdered they will probably put the victim on trial and no one has the duty or the right to represent that victim. When the accused is sentenced, the sentence pronounced by the judge is not true as each criminal becomes eligible for parole in one-half to one-third of the length of the sentence.
Moreover, we help in coping with a complex legal system and law enforcement officials, providing an understanding of their role in the criminal justice system.
Other resources such as counseling and referrals to appropriate agencies set up by the state for various forms of assistance are also available.
Lastly, we offer knowledgeable advice and involvement in the arraignment, preliminary hearing and trial of the accused, with members of our organization attending sessions whenever possible.