Description
39th Annual Walker
Maritime History Symposium
The Navy and Maine
Few states have enjoyed the level of activity that has marked the 200-year-plus working relationship between Maine and the United States Navy. Some of the state's
attributes that have helped create that bond include Maine's geography, its abundant natural resources, its geographic location, its shipbuilding expertise and its hardworking sea-going populace.
The 39th Annual Maritime History Symposium will explore that relationship, beginning with what many consider the coming of age of the U.S. Navy – the War of 1812 – up
to and including the 40-year, mostly technological and psychological, conflict with the Soviet Union, now known as the Cold War. Most of the discussions will cover topics
within the timeframe 1941 to 1991, a fifty year period in which the history of Maine and the U.S. Navy was most strongly aligned.
Of particular note, in this edition of the Maritime History Symposium the majority of presentations will include personal accounts by individuals who were involved directly
in the subject matter they will speak about. This living history format should prove to provide a detail rich, more emotional, glimpse into the subject matter at hand.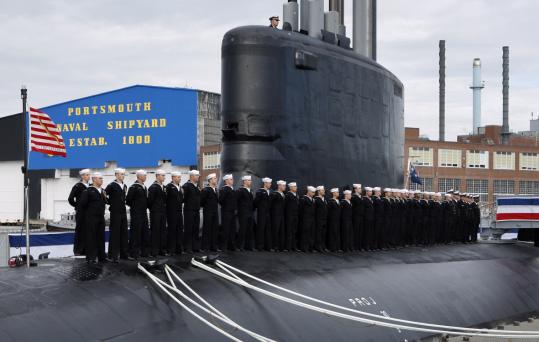 The following is a schedule of the day's events:
8:00am Registration, coffee, social
9:00am Welcome - Amy Lent, Executive Director, MMM
9:05am Introduction - Nathan R. Lipfert, Senior Curator, MMM
9:10am James Nelson: Broadsides Down East: USS Enterprise vs HMS
Boxer, the most intriguing Naval Battle on the Maine Coast (1813)
9:50am Harold Scott: The Inshore Patrol in World War II - The Maine Coast
1942
10:30am Coffee and informal discussion
11:00am Jack Thompson: Huff-Duff: Training in Maine to Hunt U-Boasts in the
North Atlantic
11:45am Richard Gay: Nazi Sabotage Agents Landed in Maine by Submarine
in 1944
12:30pm Lunch
1:30pm Andrew Toppan: Bath Iron Works and the U.S. Navy: Building
the Fleet
2:10pm Chuck Mull: The Oliver Hazard Perry (FFG-7) Guided Missile Frigate
Program in Maine
2:50pm Norman Smith: Life in a Cold War Diesel Submarine
3:30pm Coffee and informal discussion
4:00pm John Briley: Bath Tin Can Sees Red: A Personal Account of the Cold
War Deployment of USS Taylor (DDE-468), BIW Hull #194
4:45pm Harry Rich: NAS Brunswick and the Defense of the North Atlantic
5:30pm Fish house punch reception