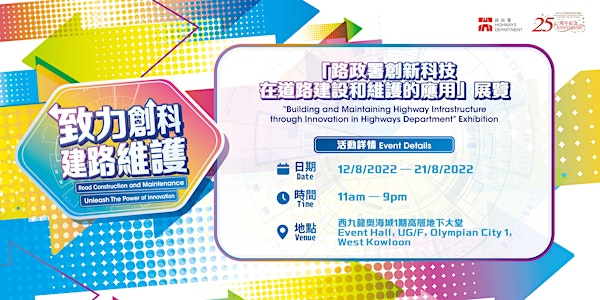 「路政署創新科技在道路建設和維護的應用」展覽
路政署將於奧海城1期舉辦展覽,讓公眾了解該署最新採用的創科設備。 The Highways Department is holding an exhibition about the department's innovative initiatives.
When and where
Location
Olympian City 1 Event Hall, UG/F, Olympian City 1 hong kong, KOW Hong Kong
About this event
為慶祝香港特別行政區成立二十五周年,路政署今日(八月十二日)至八月二十一日舉辦「路政署創新科技在道路建設和維護的應用」展覽,歡迎市民到場參觀。
是次展覽的一大亮點是270度全景體驗的「沉浸式體驗館」,令參觀者仿如身歷其境,親身體驗香港公共道路網絡的規劃、設計、興建和維護。展覽亦設有展板、有趣的互動有獎問答遊戲,以及攝影攤位,讓參觀者更深入了解路政署的日常工作。
To celebrate the 25th anniversary of the establishment of the Hong Kong Special Administrative Region, the Highways Department (HyD) is holding "Building and Maintaining Highway Infrastructure through Innovation in Highways Department" exhibition from today (August 12) to August 21. Members of the public are invited to visit.
A highlight of the exhibition is the 270-degree panoramic view "Immersive Hall", which offers a first-hand and fully immersive experience for visitors to understand more about the planning, design, construction and maintenance of Hong Kong's public road network. In addition, informative panels, interesting interactive question-and-answer games with gifts and photo-taking booth are available for visitors to get a deeper understanding of the HyD's daily work.