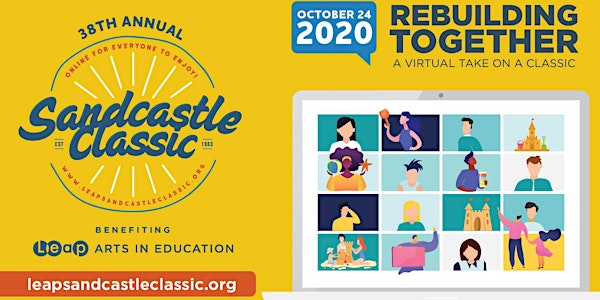 38th Annual Leap Sandcastle Classic
Join us for an afternoon of free activities and performances in celebration of this year's Leap Sandcastle Classic.
About this event
38th ANNUAL LEAP SANDCASTLE CLASSIC
WHEN: OCTOBER 24, 12PM – 3PM
COST: This is a free event open to the public. Donations are welcome.
WHERE: Zoom (https://us02web.zoom.us/j/81430836615)
Featuring a performance by special youth performer, Lil Tommy of the Alphabet Rockers
Interactive music performance led by Leap Teaching Artist, Bongo Sidibe
Architecture building activity led by Leap Teaching Artist, Cara Kuroda
Hear from students about their experience participating on Sandcastle Teams
Snag a prize during our trivia challenge
Move, dance, and celebrate our year with music from our live DJ!
Learn more about the Leap Sandcastle Classic
Get yourself a Sandcastle t-shirt!
ABOUT THE EVENT SCHEDULE:
Interactive music performance with Leap teaching artist, Bongo Sidibe
Use household supplies like pots, pans, and upside down trash cans to learn about rhythm and percussion led by Bongo.
Leap trivia challenge:
Here's your chance to win fun prizes as we test your knowledge in our Kahoots! Trivia Challenge on all things Leap Sandcastle Classic!
Youth performance by ALPHABET ROCKER Lil Tommy:
ALPHABET ROCKERS make music that makes change. Our families need content that is healing, that reflects who we are and empowers us— that embraces Black liberation, Queer liberation, Indigenous rights, immigrant rights, and intersectionality. Alphabet Rockers curates this content with the community, centering children's voices. Their music, videos, concerts, and curriculum are designed by an intercultural team of anti-bias thought leaders, educators, artists, parents, and young people of all genders.
Card-itecture building activity led by Leap teaching artist, Cara Kuroda:
Learn the architectural foundations of card stacking, and create and test your own structures.
Awards ceremony:
Tune in to find out who will walk away with the gold this year! Winners will be announced for the following award categories:
1st Place: Most Team Points Earned
2nd Place: Team Points Earned
3rd Place: Team Points Earned
Best Participation of Students: Based on the demonstration of student involvement pictured in each team's Sandcastle Team Board.
Top Fundraising Team
+ Additional acknowledgements and honorary mentions