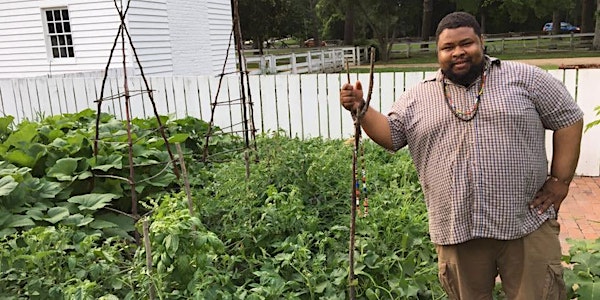 38th Annual GreenThumb GrowTogether Conference // Part I (Virtual)
Join us for Part I of the 38th annual GreenThumb GrowTogether conference - online! Photo: Courtesy of Michael Twitty, Keynote Speaker
About this event
Todos los seminarios web serán grabados y traducidos al español.
Established in 1978, NYC Parks GreenThumb is proud to be the nation's largest urban gardening program, assisting over 550 gardens and over 20,000 volunteer gardeners throughout New York City.
Community gardeners from across New York City have been gathering at the GrowTogether conference each spring since 1984 to celebrate the start of the garden season with a day of learning, networking, and reconnecting with friends. Due to the ongoing COVID-19 pandemic, the conference will be hybrid this year, and we're spreading it out over the course of two weeks. Part I takes place virtually in February and Part 2 will be in community gardens around the city in April.
The theme of this year's GrowTogether is "Deeply Rooted: Growing Community Connections," and that is exactly what GreenThumb gardeners have been for more than four decades. Out of what were once vacant lots, GreenThumb community gardeners have cultivated green oases that feed and unify neighborhoods across New York City. GreenThumb gardeners and farmers aren't just growing tomatoes and tulips; they're also growing strong and healthy communities that put people first and recognize the vital importance of cultivating communal spaces where neighbors can come together to chart a positive future together. For over 40 years, community gardens have strengthened neighborhoods across New York City, and GreenThumb has taken great pride in supporting gardeners in that effort.
Schedule At-a-Glance:
For a complete schedule with webinar descriptions, please visit our website and FAQ page. You can register for the full conference or individual sessions, all free of cost! Registration does not guarantee a spot, which will be first-come-first serve at the beginning of each session. All of these sessions will be recorded and available after the conference on our YouTube channel.
All sessions will be offered with live Spanish language interpretation.
Saturday, February 19: Opening Remarks; Keynote Address; Plenary Panel: There for our Neighbors: Growing Community Connections in COVID
Sunday, February 20: How to Join a Community Garden and Flowers! Urban How To
Monday, February 21: No programming for holiday
Tuesday, February 22: Bringing the Green: Crowdfunding for Community Gardens, Compost Systems of All Shapes and Sizes, and Meet Our Greening Partners
Wednesday, February 23: Growing Healthy Soils and Best Practices for Youth Engagement
Thursday, February 24: Highs and Lows of High and Low Tunnels, Chase Away Winter Blues by Growing Greens, and Tomato Heaven Part One: Starting from Seed
Friday, February 25: Herbs for Getting in Touch with the Body and Skin and Making Herbal-Infused Honey with Community
Keynote Speaker: Michael Twitty
Michael W. Twitty is a culinary historian and food writer from the Washington D.C. area. He blogs at Afroculinaria.com. He's appeared on Bizarre Foods America with Andrew Zimmern, Many Rivers to Cross with Henry Louis Gates and most recently Taste the Nation with Top Chef's Padma Lakshmi. HarperCollins released Twitty's The Cooking Gene, in 2017, tracing his ancestry through food from Africa to America and from slavery to freedom, a finalist for The Kirkus Prize and The Art of Eating Prize and a 3rd place winner of Barnes & Noble's Discover New Writer's Awards in Nonfiction. THE COOKING GENE WON the 2018 James Beard Award for best writing as well as book of the year, making him the first Black author so awarded. His piece on visiting Ghana in Bon Appetit was included in Best Food Writing in 2019 and was nominated for a 2019 James Beard Award. His next book, Rice became available through UNC Press in 2021. Kosher Soul, his follow up to The Cooking Gene, will be out in 2022 through HarperCollins. Michael has a hit spice line based on The Cooking Gene and a recent special guest appearance on Michelle Obama's Waffles and Mochi show on Netflix.