38th Annual Evening with NABA Scholarship and Awards Banquet
Description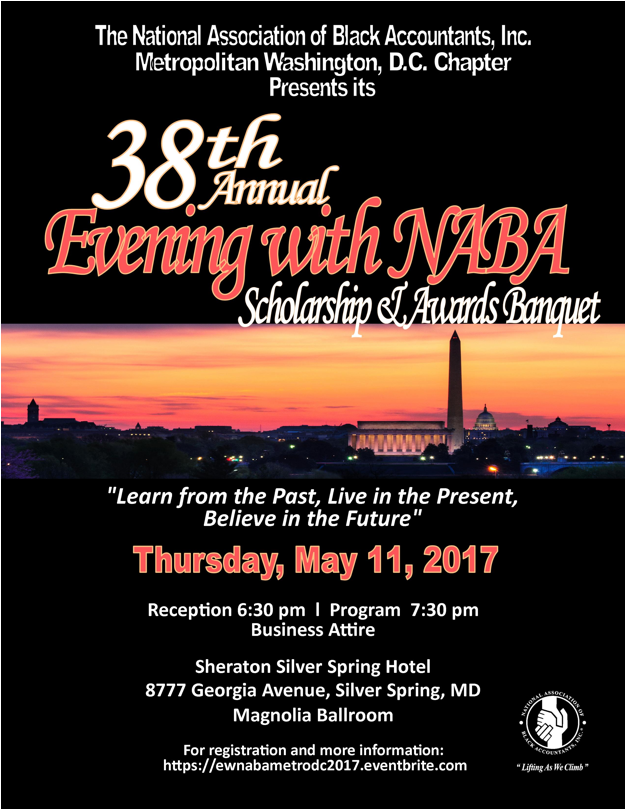 The National Association of Black Accountants, Inc. Metropolitan Washington, DC Chapter formally invites you to the 38th Annual Evening with NABA Scholarship & Awards Banquet on Thursday, May 11, 2017 at 6:30pm in the Magnolia Ballroom of the Sheraton Silver Spring Hotel in Silver Spring, Maryland.
Our theme for the evening is "Learn from the Past, Live in the Present, Believe in the Future" featuring words of inspiration from Former President & CEO and Past Chairman of the Board Angela L. Avant, CPA, Past Metro DC Chapter President B'nai Sawyer, CPA, and Current Metro DC Chapter Director of Corporate Partnership Bob-Eric Chungong.
We are particularly honored to present scholarships to the Chapter's exceptional students and recognition awards to outstanding professional members.
We look forward to you joining us to celebrate!
Post-reception to follow