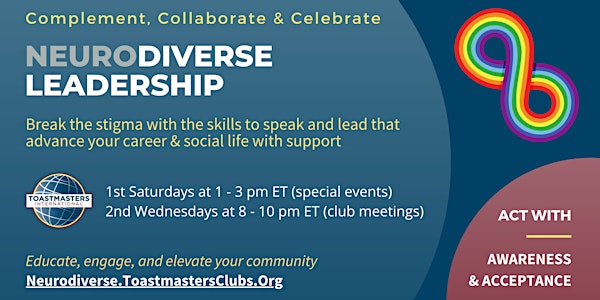 Neurodiverse Leadership Toastmasters
Raise awareness with acceptance & celebration by educating, engaging, and elevating with community support
About this event
Want to learn why some of the most successful people varying on the autism spectrum? A complementary group of neurotypical and neurodivergent professionals in various roles (e.g., caregivers, coaches, clinicians) for more holistic views, we're building upon the work of various academic researchers and organizations.
If you want a structured way to learn about neurodiversity, ranging from dyslexia to attention-deficit/hyperactivity disorder (ADHD), attend our meeting to learn how we can enrich your personal and professional life. Help break the stigma by embracing your uniquely abled superpowers and celebrating your gifts with its benefits.
With no right way to learn or think, learn how Toastmasters can empower you with your talents using a unique program as follows:
Educate those around you with speeches/presentations and panel discussion on science, experiences, and solutions with best practices crowdsourced from the neurodiverse community,
Engage with fun improv games to improve while applying frameworks and techniques for socialization in a safe and supportive setting, and
Elevate your leadership and communication skills to enhance your career with relevant feedback from coaches, mentors, and buddies who can relate or complement your understanding of challenges for helping you progress.
Raise awareness with action and acceptance at your club, company, and community on how we can complement, collaborate, and celebrate our collective achievements for society's benefit!
To grow as a neurodiverse leader, visit and RSVP directly on our website (https://bit.ly/nl-tm) today!