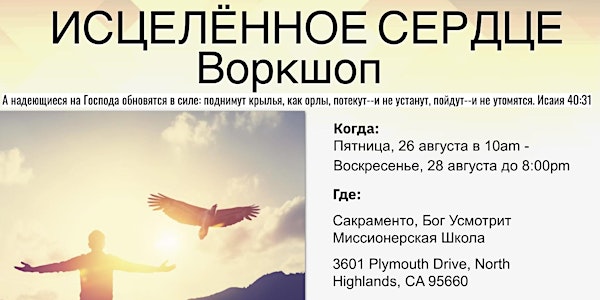 Исцелённое Сердце ~ семинар/воркшоп для исцеления души
Участники получат знания основанные на Библии, которые объясняют причины душевной боли, а также обретут исцеление души.
When and where
Location
God Will Provide Missionary School 3601 Plymouth Drive North Highlands, CA 95660
Refund Policy
Contact the organizer to request a refund.
Eventbrite's fee is nonrefundable.
About this event
Ты веришь в Бога, но чувствуешь себя...
• отягощенным внутренней болью и бременем своего негативного жизненного опыта
• в замкнутом круге разочарований, боли и неудач
• отдаленным от Господа, но хочешь приблизиться к Нему
• хочешь пережить Бога, Его любовь и жить под Божьей защитой и Его благодатью
На этом семинаре/ воркшопе "Исцелённое Сердце" участники получат знания, основанные на Библии, которые объясняют причины душевной боли, замкнутого круга проблем и неудач, а также переживут любовь Бога к нему лично, узнают путь к исцелению души, получат свободу от того, что тяготят душу и препятствует им в жизни.
Благодаря серии процессов и молитве, вы сможете обрести свободу от внутренней боли и тяжести, чувства отверженности, вины, непрощения и других вещей, которые тяготят вашу душу и препятствует вам в жизни.
Мы верим, что с помощью этого служения, вы переживете необходимые внутренние изменения, чтобы жить в свободе и исполнить свое предназначение, которое Господь имеет для вас.
Регистрация $50 для покрытия расходов (аренда здания, пища и др.). Все служителя программы "Исцелённое Сердце" делают работу добровольно без финансовой оплаты.
Eсли есть вопросы, пожалуйста, напишите нам HouseofHealingSac@gmail.com.
~
Миссия Дома Исцеления состоит в том, чтобы посредством молитвы во имя Ииуса Христа, словом Бога и воркшопa "Исцелённое Сердце" вы получили свободу и исцеление души и тела, которое Иисус даёт верующим в Него, чтобы каждый мог войти в своё призвание.