中国国际创新和人才技术对接-新材料项目

Monday, October 16, 2017 from 6:30 PM to 10:30 PM (PDT)
Event Details
   2017年中国(广州)国际创新创业大赛已经在全球多个国家展开,有数十家海内外知名的风险投资基金组织将支持此次大赛。另有十多家广州龙头企业深度参与本次大奖赛并进行人才招聘,这些企业提出了数十项具体技术项目需求,等待技术专家们施展才华,同时,这些企业提供上千万美元的资金用于对接这些技术的落地。
   *** 不需历经九死一生的创业,你的技术专长就能成就你的辉煌***
   金发科技是全球领先的新材料企业,总部位于广州科学城,旗下拥有30多家子(孙)公司,在南亚、北美、欧洲等海外地区设有研发和生产基地。金发科技的产品以自主创新开发为主,覆盖了改性塑料、特种工程塑料、精细化工材料、完全生物降解塑料、木塑材料、碳纤维及其复合材料等自主知识产权产品。金发科技材料以其良好的环境友好度和卓越的性能远销全球130多个国家和地区,为全球1000多家知名企业提供服务。
   金发科技有以下技术项目,出资500万美金,寻求技术专家合作。欢迎报名,条件基本合适者,将被大力赞助邀请到硅谷或广州参加交流洽谈。 
 金发项目A1
       碳纤维增强的PP热塑性复合材料的界面相容性以及适合PP树脂的碳纤维上浆剂开发.   Interface compatibility of PP thermoplastic composites reinforced by carbon fiber, as well as carbon fiber sizing agent for PP resin development.
       要求:通过对碳纤维上浆后,大幅提高PP碳纤维复合材料的力学性能,和加工性能.  Through the carbon fiber sizing, a substantial increase in mechanical properties and machining performance of PP carbon fiber composite materials can be achieved.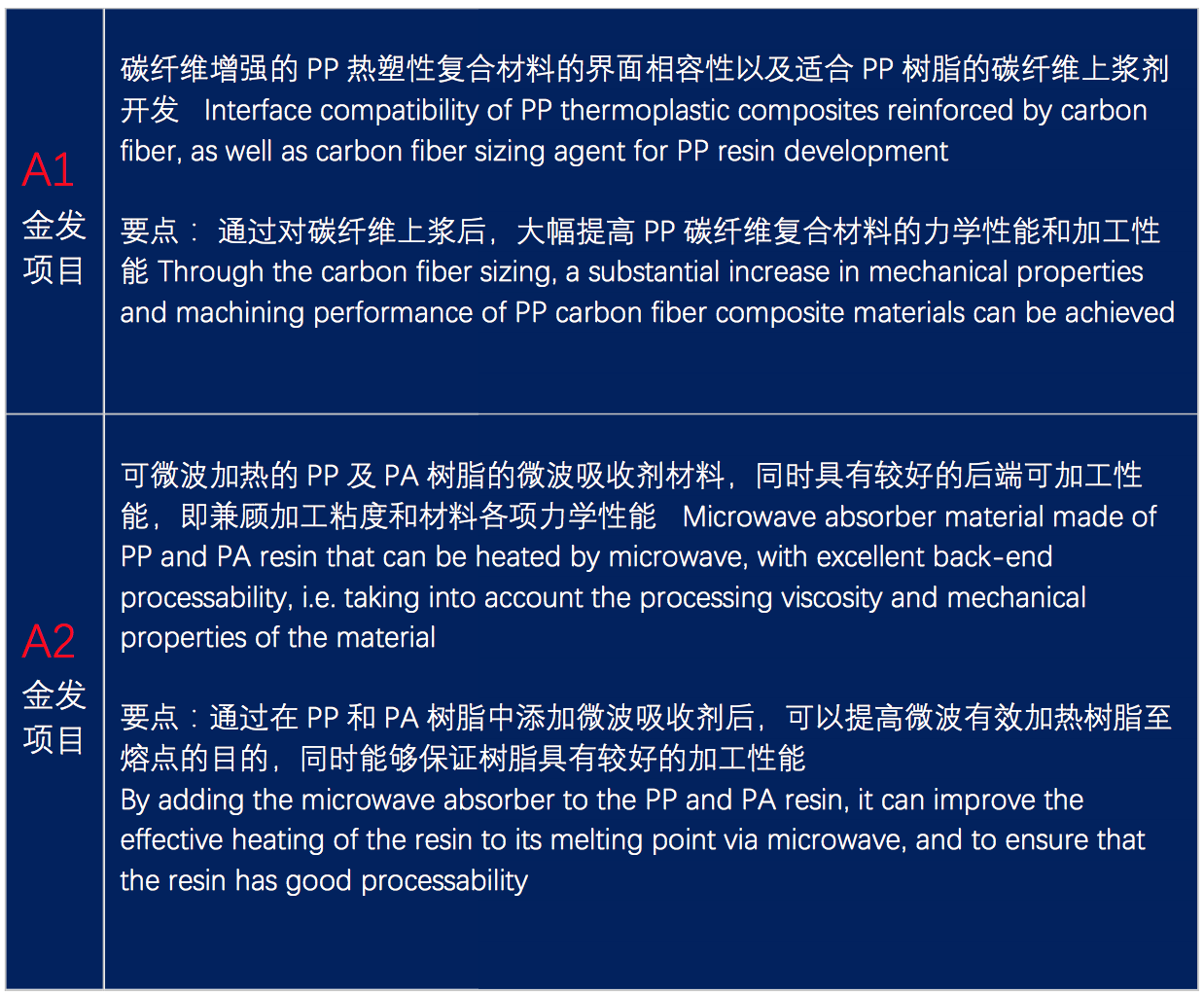 金发项目A2 
   可微波加热的PP及PA树脂的微波吸收剂材料,同时具有较好的后端可加工性能,即兼顾加工粘度和材料各项力学性能  Microwave absorber material made of PP and PA resin that can be heated by microwave, with excellent back-end processability, i.e., taking into account the processing viscosity and mechanical properties of the material
要点:通过在PP和PA树脂中添加微波吸收剂后,可以提高微波有效加热树脂至熔点的目的,同时能够保证树脂具有较好的加工性能   By adding the microwave absorber to the PP and PA resin, it can improve the effective heating of the resin to its melting point via microwave, and to ensure that the resin has good processability
金发项目A3
新型半芳香族聚酰胺连续聚合工艺  Continuous polymerization process of new semi-aromatic polyamide 
要求:半芳香族聚酰胺是由脂肪族二胺与对苯二甲酸和(或)间苯二甲酸缩合聚合而成,其熔点一般都超过300°C。 Semi-aromatic polyamides are derived from the condensation and polymerization of Aliphatic Diamines, Terephthalic Acid and/or Isophthalic Acid with its melting point generally exceeding 300°C.
国外大公司如杜邦、巴斯夫等采用连续熔融聚合工艺生产。其关键技术难点在于:1. 反应温度高。由于半芳香族聚酰胺熔点高,故反应温度一般都在320°C以上;2. 工艺窗口窄。半芳香族聚酰胺熔点高,接近其分解温度,因此聚合温度窗口窄,集中在320-340°C之间。
Continuous melt polymerization process is adopted by big-name companies such as DuPont and BASF. Key technical difficulties are: 1. High reaction temperature. As the melting point of semi-aromatic polyamide is high, the reaction temperature is generally above 320°C; 2. Narrow process window. As the melting point of semi-aromatic polyamide is high and close to its decomposition temperature, the polymerization temperature window is narrow and between 320 - 340°C.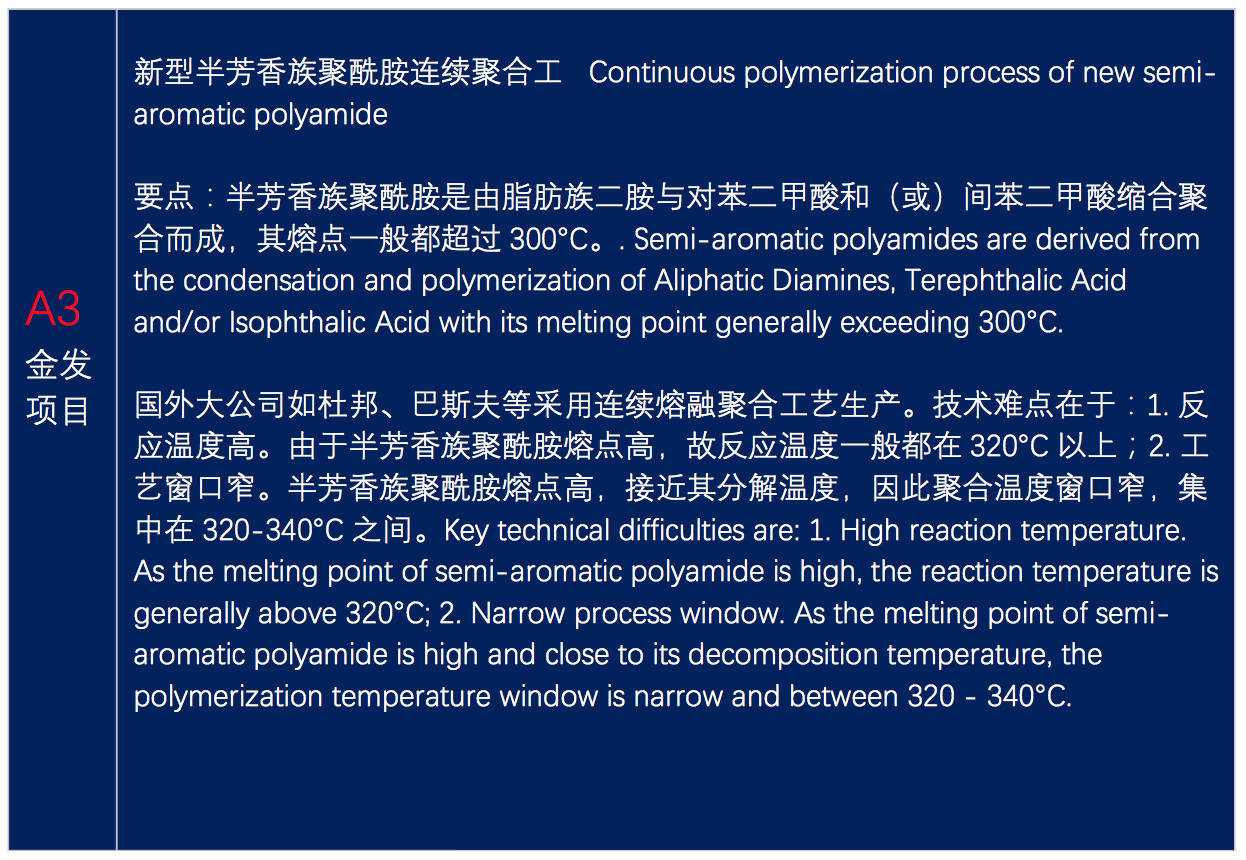 金发项目A4
汽车/家电轻量化高分子材料开发   R&D on lightweight polymer materials for automobile / home appliances
要点:对现有汽车及家电高分子材料内部空心化等技术特征,使高分子材料,如PP、ABS等。
In terms of internal hollowing of polymer materials applied in automobile and home appliances, it should decrease density of polymer materials by 20-25%, maintain its mechanical retention rate above 90%, and be better applied in the injection molding industry.

  更多项目具体信息请见:www.wtoip.com/ipiecglobal2017
   大赛指导单位:国家工业和信息化部中小企业发展促进中小,广东省中小企业局,广州市工业和信息化委员会
   联合主办单位: 中国(广州)中小企业先进制造业中外合作运营中心,汇桔网,广州产融投资基金管理有限公司,广州市产业园区商会
   硅谷赛区承办单位:清友网联,硅谷食堂
When & Where
Both Online and in Silicon Valley



Monday, October 16, 2017 from 6:30 PM to 10:30 PM (PDT)
Add to my calendar
Organizer
Bridge technology exchange over Pacific Ocean