ΧΑΡΡΥ ΚΛΥΝΝ & ΚΑΙ ΟΠΟΙΟΝ ΠΑΡΕΙ Ο ΧΑΡΗΣ!

Wednesday, July 11, 2012 from 9:00 PM to 11:55 PM
Event Details
Φεστιβάλ ΒΥΡΩΝΑ
 TETAΡΤΗ 11 ΙΟΥΛΙΟΥ 2012

 ΘΕΑΤΡΟ ΒΡΑΧΩΝ
Ο ΧΑΡΡΥ ΚΛΥΝΝ ΠΑΡΟΥΣΙΑΖΕΙ ΤΗ ΜΟΥΣΙΚΟΘΕΑΤΡΙΚΗ ΠΑΡΑΣΤΑΣΗ
 ΚΑΙ ΟΠΟΙΟΝ ΠΑΡΕΙ Ο ΧΑΡΗΣ!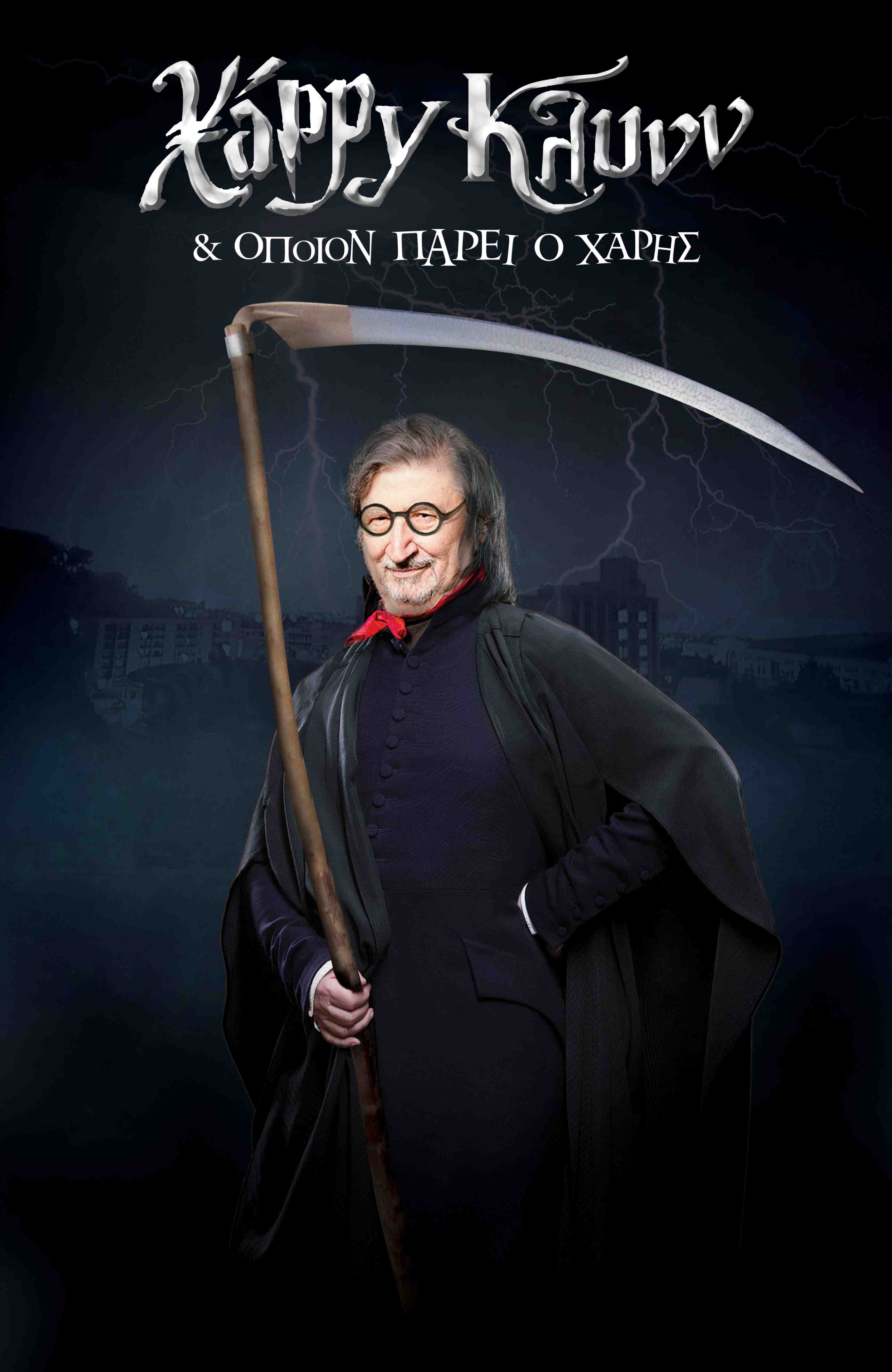 Τιμή εισιτηρίου: 10 ευρώ
ΠΡΟΣΟΧΗ : Η παραλαβή των ηλεκτρονικών εισιτηρίων θα γίνει την ημέρα διεξαγωγής της εκδήλωσης απο το ταμείο του Θεάτρου Βράχων με επίδειξη  αστυνομικής ταυτότητας

 H ΗΛΕΚΤΡΟΝΙΚΗ ΠΡΟΠΩΛΗΣΗ ΕΧΕΙ ΤΕΛΕΙΩΣΕΙ
ΕΙΣΙΤΗΡΙΑ ΘΑ ΔΙΑΤΙΘΕΝΤΑΙ ΣΤΟ ΤΑΜΕΙΟ ΤΟΥ ΘΕΑΤΡΟΥ ΒΡΑΧΩΝ ΑΠΟ ΤΙΣ 18.00 Μ.Μ.
Οι πόρτες ανοίγουν στις 20.30
Τιμή Εισιτηρίου 10 ευρώ
H νύχτα φεύγει, ο μισθός φεύγει, η σύνταξη φεύγει, η Τρόικα μένει και… ο Χάρρυ Κλυνν έρχεται!

O Γελωτοποιός της Ρωμιοσύνης επιστρέφει στο «τόπο του εγκλήματος» με τη γλώσσα που κόκκαλα δεν έχει και κόκκαλα τσακίζει και… ΟΠΟΙΟΝ ΠΑΡΕΙ Ο ΧΑΡΗΣ!

Αλίμονο για τους εχθρούς, καλή κουβέντα  δεν θα πεί, αλλά με τους φίλους που θα έρθουν θα γίνουν όλοι μια παρέα.

Ο Μέγας αλχημιστής της χαράς  και του φωτός που πειραματίστηκε, δημιούργησε, επηρέασε, ξανά σε θέση μάχης… Κυρίες και κύριοι stand up comedy από τον γεννήτορα του είδους! 

Όπως πάντα, έτσι και τώρα… Χάρρυ Κλυνν και πάσης Ελλάδος άμα λάχει να 'ουμ'!
Σπάει τις βιτρίνες της υποκρισίας και  ξεγυμνώνει τους «αυτοχρισμένους αυτοκράτορες της εξουσίας και του κατεστημένου!»  .
Το χιούμορ του χει μέσα στη συνταγή του πολλή απελπισία, το άρωμα της ειρωνείας, πολύ σαρκασμό (και αυτοσαρκασμό) -και μια μεγάλη δόση δαιμονικής τρέλας, ουτοπικής αυθαιρεσίας και αναρχικής ευφορίας. 

Γιατί ο Χάρρυ Κλυνν γέννησε τους ρόλους που δεν γέρασαν ποτέ. 

Μαζί του σολίστες μουσικοί, ηθοποιοί, τραγουδιστές, τραγουδίστριες και τα τραγούδια που τους διάλεξε ένα κι ένα. Τα πιο όμορφα έντεχνα, τα πιο ωραία λαϊκά Με τους : Ηλία Κλωναρίδη, Μαίρη Δούτση, Δαμιανό Νικολαίδη, Ιροντίνα, Δημήτρη Μιναρετζή  και την μπάντα των ΧΡΕΟΚΟΠΗΜΕΝΩΝ με τους: Γιάννη Οικονομιδη, Χάρη Καπετανάκη, Δημήτρη Γιαλαμά, Δημήτρη Βαργιαμίδη, Γιώργο Κανακάρη, Oleg Chaly και Ιάκωβο Νικολαίδη. 
ΚΑΙ ΟΠΟΙΟΝ ΠΑΡΕΙ Ο ΧΑΡΗΣ!
Aπό εκείνα τα μάτια του, τα γεμάτα εξυπνάδα και πονηριά, από εκείνη την πιπεριά, τη μύτη του,βγαίνει δριμιά η μυρουδιά της κωμωδίας, μιας κωμωδίας ρωμαλέας και υγιούς, που μπορεί να παράγει ταυτόχρονα τον άγριο καγχασμό και την ιερή αγανάκτηση, τη συγκίνηση και τον θυμό, τη συμπόνια μαζί με το λυτρωτικό ασυγκράτητο γέλιο, υλικά πολύτιμα που μας έρχονται από παλιούς αιώνες, από τα διπλόκαρα με τρυγητάδες, απ' τα πατητήρια του σταφυλιού, απ' τ' αλώνια του ψωμιού και τη μεγάλη Δημοκρατία.
Γι αυτόν το λόγο φεύγουμε από το Xάρρυ Kλυνν ανακουφισμένοι. Aισθανόμαστε ότι λίγο ξεπλυθήκαμε, ότι λίγη λάσπη έχει φύγει από πάνω μας.

Kώστας Kαζάκος
http://www.harry-klynn.gr/
https://www.facebook.com/harry.klynn
TWITTER
https://twitter.com/#!/harryklynn
When & Where

Θέατρο Βράχων
Βύρωνας
Athens
Greece


Wednesday, July 11, 2012 from 9:00 PM to 11:55 PM
Add to my calendar
ΧΑΡΡΥ ΚΛΥΝΝ & ΚΑΙ ΟΠΟΙΟΝ ΠΑΡΕΙ Ο ΧΑΡΗΣ!