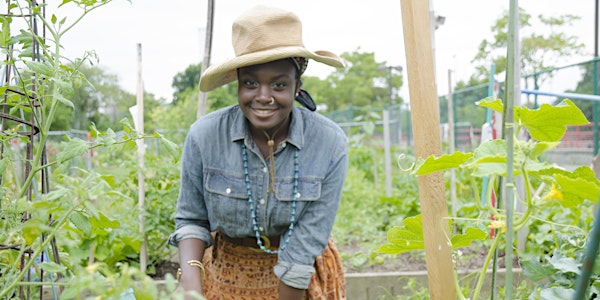 37th Annual GreenThumb GrowTogether Conference
Join us for the 37th annual GreenThumb GrowTogether conference - online! Photo: Keynote Speaker Sawdayah Brownlee (credit: Ryan C. Hamilton)
About this event
Lea sobre la conferencia y explore el calendario EN ESPAÑOL. Todos los seminarios web serán grabados y traducidos al español, a menos que se indique lo contrario.
Established in 1978, NYC Parks GreenThumb is proud to be the nation's largest urban gardening program, assisting over 550 gardens and over 20,000 volunteer gardeners throughout New York City.
Community gardeners from across New York City have been gathering at the GrowTogether conference each spring since 1984 to celebrate the start of the garden season with a day of learning, networking, and reconnecting with friends. Due to the COVID-19 pandemic, the conference will be virtual this year, and we're spreading it out over the course of a whole week.
The theme of this year's GrowTogether is "Gardens of Resilience," and that is exactly what GreenThumb gardeners have been for more than four decades. Out of what were once vacant lots, GreenThumb community gardeners have cultivated green oases that feed and unify neighborhoods across New York City. GreenThumb gardeners and farmers aren't just growing tomatoes and tulips; they're also growing strong and healthy communities that put people first and recognize the vital importance of cultivating communal spaces where neighbors can come together to chart a positive future together. For over 40 years, community gardens have strengthened neighborhoods across New York City, and GreenThumb has taken great pride in supporting gardeners in that effort.
Schedule At-a-Glance:
For a complete schedule with webinar descriptions, please visit our website and FAQ page. You can register for the full conference or individual sessions, all free of cost! Registration does not guarantee a spot, which will be first-come-first serve at the beginning of each session. Many of these sessions will be recorded and available after the conference on our YouTube channel.
All sessions will be offered with live Spanish language interpretation.
Saturday, February 20: Opening remarks; Keynote address by Sawdayah Brownlee (Brooklyn Queens Land Trust); Plenary panel with community garden program representatives from D.C., Portland, Seattle, Seoul, Nerima City (Tokyo), and New York City's own NYC Parks GreenThumb.
Sunday, February 21: GreenThumb GrowTogether Virtual Scavenger Hunt; DIY Screen Printing
Monday, February 22: Crop Trials and Garden Research
Tuesday, February 23: Wild Plants and Gardening with Youth
Wednesday, February 24: Greening Partners Virtual Tabling
Thursday, February 25: Propagation
Friday, February 26: Aquaponics and Herbal Body Products
Saturday, February 27: Herbalism
Follow GreenThumb on social media in the weeks leading up to the conference for updates:
About Keynote Speaker Sawdayah Brownlee:
Sawdayah Brownlee is a Gullah woman who hails from Detroit, MI, by way of South Carolina, and currently lives in Weeksville (Crown Heights), Brooklyn, NY. She is a farmer, educator, cook, sister, daughter, friend. Sawdayah is an alum of Howard University where she received her BA in Africana Studies and studied briefly at NC A&T State University in the Agricultural Education Department. She is currently the Board President of the Brooklyn-Queens Land Trust, an organization that preserves and conserves open space as community gardens in Brooklyn and Queens, NY. In her work as a farmer and agricultural/environmental student and educator, she has taught concepts in sustainable agriculture, botany, agricultural history in the African Diaspora, and food systems to intergenerational groups at D-Town Farm (Detroit, MI), The Youth Farm (E. Flatbush, Brooklyn), Farm School NYC, The DreamYard Project, and in less formal community spaces since 2011. She is also the Manager of Community Organizing and Special Initiatives at The DreamYard Project, a social justice centered community arts space serving the South Bronx.
She believes that plants are the pipelines to all of the "nutritive & curative substances" soil cultivates for healthy lives (quote from 'Self-Healing Power and Therapy: Old Teachings from Africa' by Dr. K. Bunseki Fu-Kiau, Ibayé). The practice of being in community with people, plants, and land, for each groups' edification and healing, is her contribution to liberatory work. Sawdayah is honored to have been called to be in relationship with land and the assemblages within its ecosystems. She extends her gratitude to her Ancestors and the many farmers, gardeners, organizers, and non-human guides for their lessons in how to re-organize her community to self-determine via the Earth.