Description

是次研討會系列由 香港高等教育科技學院環境及設計學院 園藝及園境管理文學士課程 舉辦、由香港特別行政區政府研究資助局全數撥款資助(項目編號UGC/IIDS25/M01/16),於2017年內舉辦四次環繞如何優化城市綠化生態系統服務及生物多樣性為主題的研討會。城市綠化基建研討會系列邀請了本地和海外的專家,分享他們對城市綠化的見解與前瞻,旨在提升市民對公共綠化政策、計劃和管理策略的認識。
This seminar is the third in the series entitled "Urban Green Infrastructure – enhancing ecosystem services and biodiversity" organised by Bachelor of Arts in Horticulture and Landscape Management Program, Faculty of Design and Environment, THEi, and is fully supported by a grant from Research Grants Council of the Hong Kong Special Administrative Region, China (Project No. UGC/IIDS25/M01/16). The series aims to enhance public awareness of policy, planning and management strategies on urban greening by bringing together insights and experiences from local and overseas experts.
---
*請注意,此研討會座位有限,所有參加者必須提前註冊。如果您無法再參加,請務必發電郵到 hlmofthei2@gmail.com,表示不再參加,以便騰出座位予其他人士。* Please note this event has limited capacity and all attendees must be registered in advance. If you can no longer attend, please send us an email hlmofthei2@gmail.com to inform us you no longer attending so that others who want to attend can join.
時間
: 09:30 – 12:30
(09:15
開始入場
Registration starts at 09:15)
免費
Admission is free
(
座位有限,先到先得
Seats are offered on first-come-first-serve basis.)
普通話主講,無即時傳譯
Language: Putonghua, no simultaneous interpretation provided
出席的參加者可於研討會後收到電子版出席證書。
Attendee may receive an E-certificate to certify your attendance.


講座摘要及講者介紹 Abstract of Talk and Speakers' Biography:
講者 Speakers:
09:45-10:15
王勁韜 教授

Prof. Wang Jingtao
"新常態"下的城市濱水生態景觀建設
Eco-Landscape Construction of Urban Waterfront Areas in the Age of the New Normal

---
10:15 – 10:45
肖潔舒 女士

Ms. XIAO Jieshu
植物造景與動物生境營造
Vegetative Landscape and Habitat Creation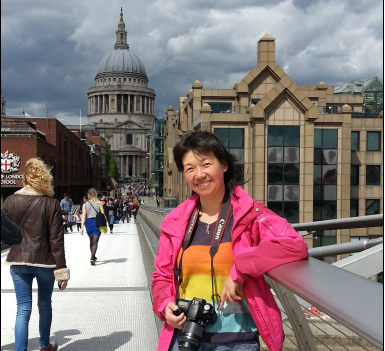 ---
1045 – 1100 休息Break
---
11:00 – 11:30
鄒裕波 先生

Mr. ZOU Yubo
可持續雨水花園的設計實踐
Sustainable Raingarden Based on Lid (Low-Impact Development)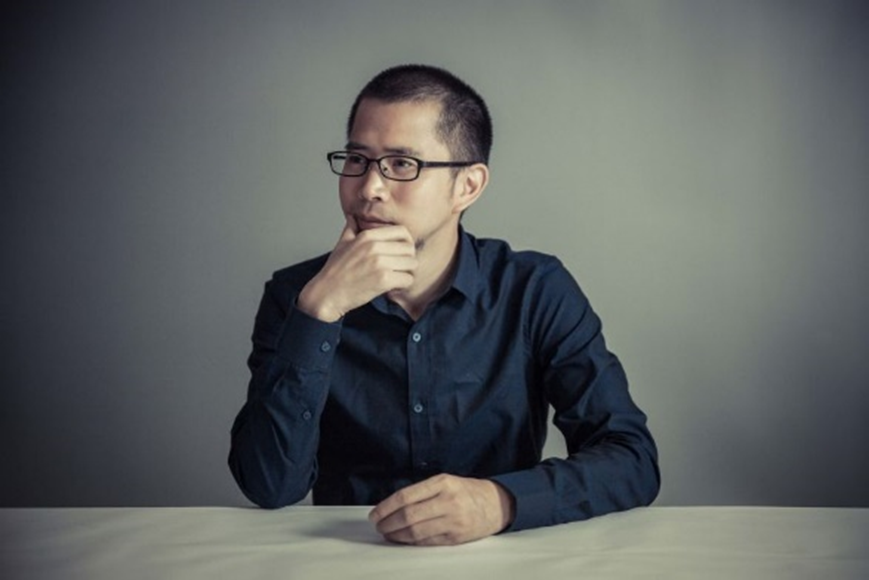 ---
11:30 – 12:00
史舒琳 博士 Dr. SHI Shulin
安老院舍庭院循證設計
Evidence-based Garden Design for Elderly Care Facilities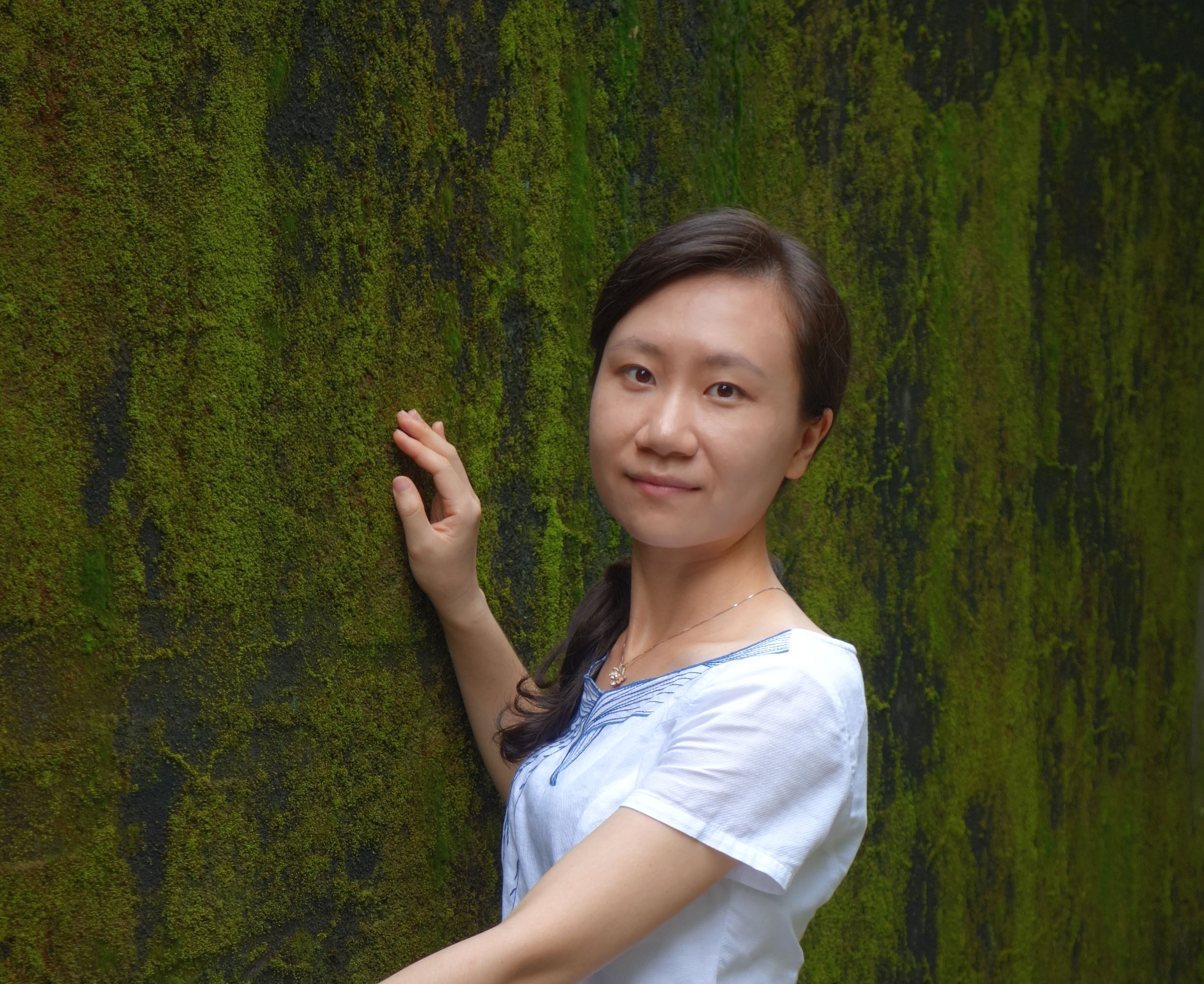 ---
12:00 – 12:30 討論 Panel discussion
---
香港中央圖書館到達指南
港中央圖書館於銅鑼灣高士威道66號,可以搭乘各線巴士、小巴、電車及港鐵到達。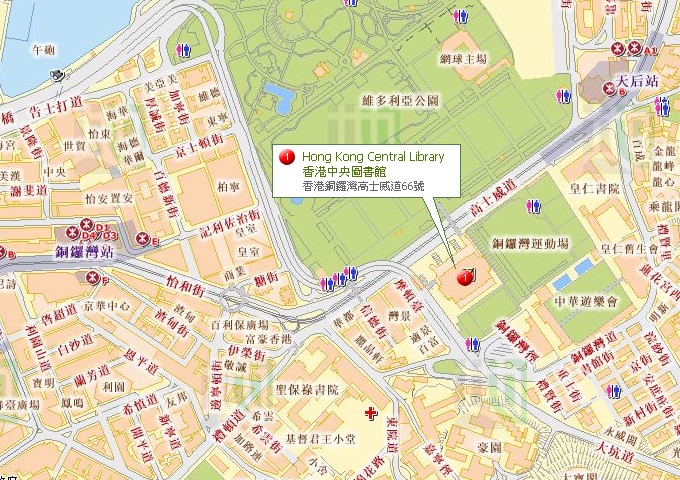 1、 巴士路線:
經高士威道
九巴 102, 103, 106, 108, 112, 116, 170, 601, 603, 603P, 619, 621, 671, 680, 680X, 681, 681P, 690, 690P, 692, 811, 914, 948, 968, N122, N170, N680, N691
新巴 2, 2A, 2X, 8, 8P, 15B, 19, 23, 23B, 25, 38, 42, 63, 65, 81, 106, 112, 116, 601, 680, 680X, 692, 811, 914, N8, N8P, N22, N680, N691
城巴 5, 8S, 8X, 10, 25C, 77, 89R, 102, 103, 170, 619, 621, 671, 681, 681P, 690, 690P, A11, E11, N8X, N11, N72, N170
摩頓台巴士總站(經
摩頓台
或
銅鑼灣道)
九巴 914
新巴2, 19, 23A, 23B, 25, 26, 63, 81, 914
城巴5, 11, A11, 25C, 72, 72A, 76, 96, 592, 962, 969, N11, N962, N969
2、
電車 至維多利亞公園站下車
3、 地鐵
( 銅鑼灣
F
出口或天后
B
出口
)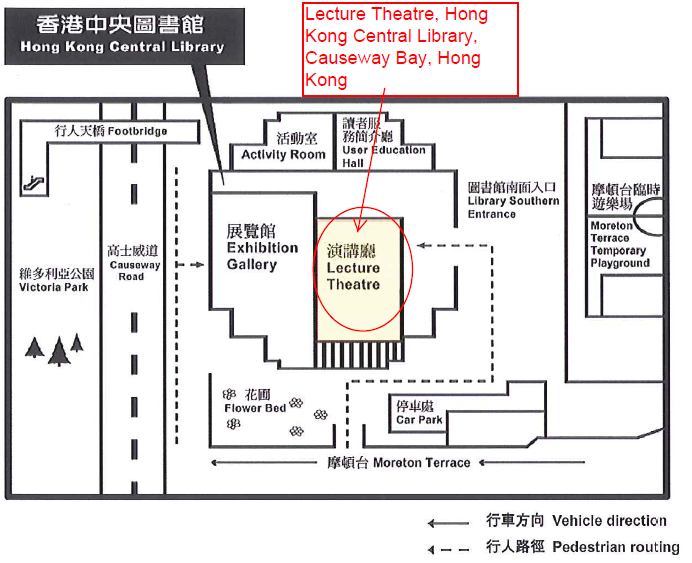 *特別提示:演講廳僅能從香港中央圖書館南門進入(具體路線請見上圖)
特別天氣安排
在一般雨天情況下,本場講座將照常進行。如遇上惡劣天氣,例如由香港天文臺發出暴雨警告訊號或颱風訊號,本場講座將會做如下特別安排:
l 暴雨警告訊號
黃色暴雨警告訊號及紅色暴雨警告訊號懸掛,本場講座將照常進行。
如黑色暴雨警告訊號于發佈會舉行期間懸掛,本場講座將繼續進行。
如黑色暴雨警告訊號于發佈會開始前兩小時內懸掛,本場講座將改日進行。
l 颱風警告訊號
一號熱帶氣旋警告及三號熱帶氣旋警告訊號懸掛,本場講座將照常進行。
如八號或以上熱帶氣旋警告訊號于發佈會舉行期間懸掛,本場講座將立即終止。
如八號或以上熱帶氣旋警告訊號于發佈會開始前兩小時內懸掛,本場講座將改日進行。