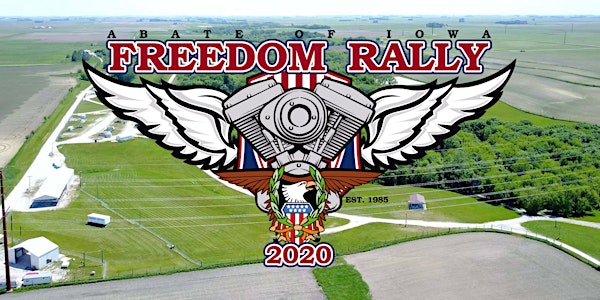 36th Annual Freedom Rally
Ages 18+
Presented by A.B.A.T.E. of Iowa
For 30+ years A.B.A.T.E. of Iowa has been sponsoring the Freedom Rally. Motorcyclists come from multiple states & countries!
When and where
Location
A.B.A.T.E. Freedom Park 2507 160th Ave Algona, IA 50511
Performers
Headliners
Confederate Railroad
Randy Houser
Buckcherry
More Performers
Tyrant Souls
Cody Hicks
Jammer
Hinder
Adelitas Way
Alyssa Ruffin
303 Band
The Ice Breakers
Mr. Sinister
About this event
The 36th Annual Freedom Rally is hosted by A.B.A.T.E. of Iowa. We will have music (lineup listed below), mud wrestling, Cool Down, Vodka Lemonades, Bike Show & Rodeo, Burnout Pit, Fireworks Display, Sled Pull, Duck Races, Vendors and MORE! Free tent camping!! Onsite RV Camping available but will book up fast at the Freedom Park.
Food, Beer and Ice will be sold on site.
The Freedom Rally will be headlined by country superstar Randy Houser, rock icons Buckcherry and legendary southern rock band Confederate Railroad! Kicking off on Thursday July 2, the 3-day festival includes a multitude of activities including 14 bands, a tattoo contest, bike show & rodeo, burnout pit, DYNO, fireworks, sled pull, duck race, vendors and more! Tent camping is included is all tickets and the rally is open to the public.
The complete musical lineup is listed below in performance order:
Main Stage:
Thursday: Confederate Railroad with Tyrant Souls and Alyssa Ruffin
Friday: Randy Houser with Cody Hicks and Jammer
Saturday: Buckcherry with Hinder and Adelitas Way
Beer Barn
Wednesday: 303 Band (Late) *Wednesday entry limited to members only
Thursday: 303 Band (Early) and Alyssa Ruffin (Late)
Friday: The Ice Breakers (Early) and Jammer (Late)
Saturday: Mud Wrestling (Early) and Mr. Sinister (Late)
No pets, No weapons, No fireworks, No attitudes.
Minors between the age of 18 and 21 are allowed in the park. They are not allowed to drink. If they are caught, the sheriff will be called.
On-Site car parking is available.
Join ABATE of Iowa right here for just $25: https://abateiowa.org/membership-online-application
General Information - Email webmaster@abateiowafreedomrally.com
Non-Member Pricing: Non SMRO/MRO members are welcome to attend the rally. Pricing for Non-Member tickets is $100 for weekend passes. Non-Members are encouraged to join A.B.A.T.E. of Iowa. Membership is ONLY $25 (purchase that online HERE) - then you can immediately purchase a member only ticket for $40 (rather than a $100 non-member ticket) - SAVES you $35 - IN ADDITION Members can purchase an additional ticket for a nonmember. SO, couples only need to have one registered SMRO/MRO member. Plus all the other benefits of being a A.B.A.T.E. Member!!
Starting June 21 tickets will ONLY be available at the gate. Gate Prices are $60 Member, $100 non-members, $40 Saturday only tickets.
You must bring a Government issued photo ID. No one will be admitted without it. The police station in town will issue you a temporary one for $25. Absolutely no exceptions.