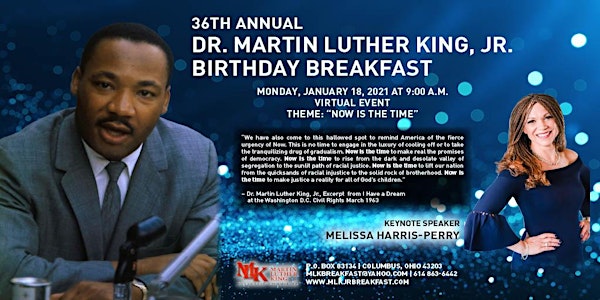 36th Annual Dr. Martin Luther King, Jr. Birthday Breakfast
Sales Have Ended
Ticket sales have ended
Online ticket sales are closed.
The annual Dr. Martin Luther King, Jr. Birthday Breakfast commemorates the life of the fallen civil rights leader Martin Luther King, Jr.
About this event
Join the Celebration Event!
36th Annual Dr. Martin Luther King, Jr. Birthday Breakfast
Theme: "Now Is the Time"
"We have also come to this hallowed spot to remind America of the fierce urgency of Now. This is no time to engage in the luxury of cooling off or to take the tranquilizing drug of gradualism. Now is the time to make real the promises of democracy. Now is the time to rise from the dark and desolate valley of segregation to the sunlit path of racial justice. Now is the time to lift our nation from the quicksands of racial injustice to the solid rock of brotherhood. Now is the time to make justice a reality for all of God's children."
~ Dr. Martin Luther King, Jr., Excerpt from I Have a Dream at the Washington D.C. Civil Rights March 1963
We invite you to this memorable signature City of Columbus flagship MLK Jr. Day virtual event to honor the memory of the iconic civil rights leader Dr. Martin Luther King, Jr. The largest community event of its kind honoring the fallen civil rights leader Dr. King in the nation.  This MLK Day event is intended to strengthen, encourage, empower and seeks to provide an uplift and critical message to all.
In the wake of COVID-19 this is a virtual event open to the public, but attendance is limited and is available on a first-come, first-served basis. Advanced registration is required.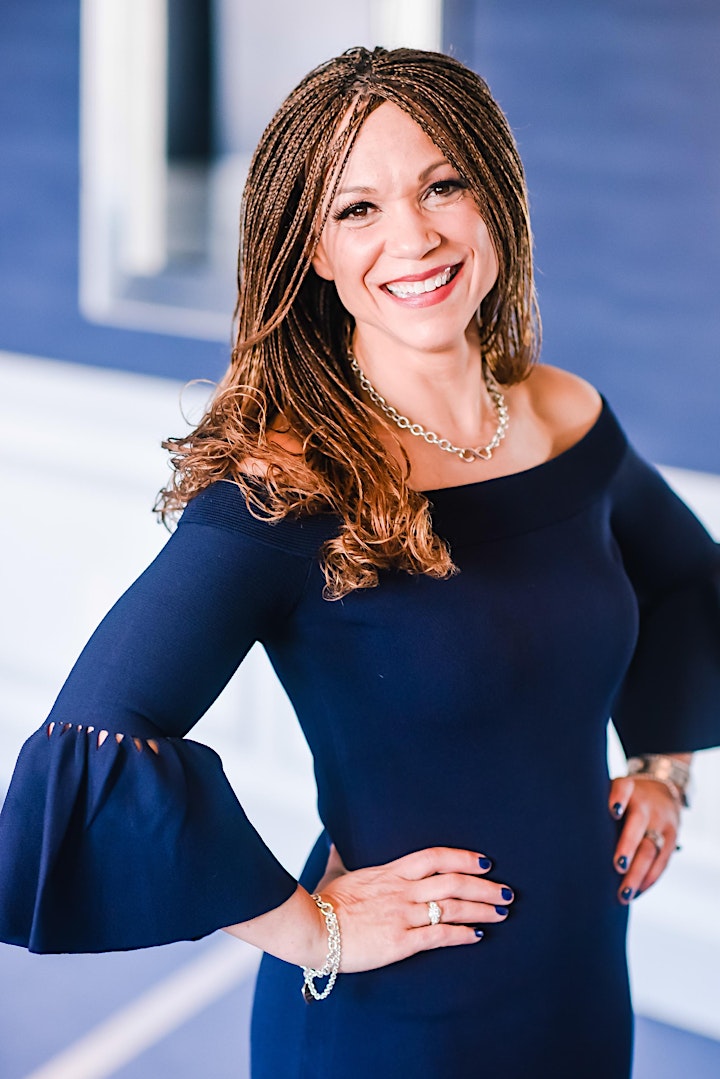 Keynote Speaker
MELISSA HARRIS-PERRY 
Maya Angelou Presidential Chair at Wake Forest University, Professor & Writer
Professor Melissa Harris-Perry is the Maya Angelou Presidential Chair at Wake Forest University where she teaches courses on American politics and elections at the intersections of race, place, and gender.
Professor Harris-Perry is the Founder and President of the Anna Julia Cooper Center, an independent organization with a mission to advance justice and alleviate harm for women and girls of color in American higher education. Along with Dorian Warren, she is co-host of the podcast System Check, with The Nation.
For nearly two decades, Harris-Perry has contributed to American public life through her distinct combination of scholarly analysis and grounded wisdom applied to analysis of race, gender, politics, and power. She served as Editor-at-Large for ZORA.com, a Medium publication for women of color, and for Elle.com. Her writing has appeared in the Wall Street Journal, New York Times, Chicago Tribune, Glamour, Harper's Bazaar and many other print and digital venues. She was among the initial cohort of writers for TheRoot.com and authored highly regarded columns for Essence and The Nation.
She hosted the award winning television show "Melissa Harris-Perry" from 2012-2016 on weekend mornings on MSNBC and in 2016, won the Hillman Prize for broadcast journalism.
Committed to diversifying American journalism and mentoring emerging public voices, Professor Harris-Perry has developed and implemented innovative mentoring efforts including the Elle.com scholars program centering the stories of women and girls of color and BLACK ON CAMPUS, a national student journalism program in partnership with The Nation.
She is the author of the award-winning Barbershops, Bibles, and BET: Everyday Talk and Black Political Thought, and Sister Citizen: Shame, Stereotypes, and Black Women in America.
Harris-Perry received her B.A. degree in English from Wake Forest University and her Ph.D. degree in political science from Duke University. She also studied theology at Union Theological Seminary in New York. Harris-Perry previously served on the faculty of the University of Chicago, Princeton University, and Tulane University. She serves on several boards and award committees and is a trustee of both The Century Foundation and The Next 100.
What are you waiting for?
Hey there. Were you thinking of attending? You won't be sorry.  We look forward to having you. Get your tickets now.
FAQs
What's the refund policy?
NO REFUNDS. No Exchanges.  All Sales Are Final. 
How will proceeds from this event be used?
Proceeds contributed as scholarships funds to Morehouse College, Dr. King's Alma Mater and to The King Arts Complex a multicultural performing arts & education center.