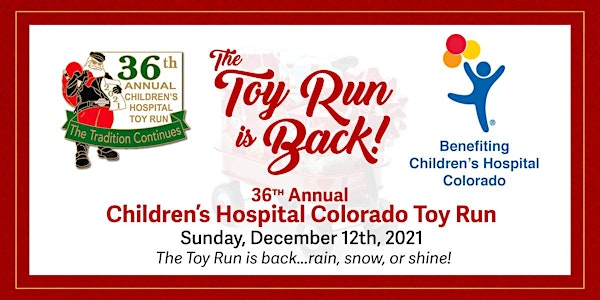 36th Annual Children's Hospital Colorado Toy Run
Join us for the 36th Annual Children's Hospital Colorado Toy Run to benefit the Children's Hospital Colorado on Sunday, December 12!
When and where
Location
Aurora Sports Park 19300 E Colfax Ave Aurora, CO 80011
About this event
In December 1985, a small tradition started by Rocky Mountain Harley-Davidson quickly became a metro-wide event. Bikers in snow, sleet, or shine, bring toys to Children's Hospital Colorado. With your help, we can continue the tradition! We welcome Motorcycles, Cars, and Trucks.
8AM: Staging Begins at Aurora Sports Park (19300 E Colfax Ave, Aurora, CO 80011)
10AM: First Wave Leaves to Children's Hospital Colorado
12-4PM: Free After Party at Mile High Harley-Davidson Aurora
Cost to Attend: New Unwrapped Toy - NO OTHER FEES APPLY
By registering, you accept the terms and conditions that are outlined.

ALL INDIVIDUAL PARTICIPANTS MUST PRE-REGISTER. The cost of registering is a New Unwrapped toy donation (see list of requested toys). Wrist bands MUST be picked up at any of the participating donation and toy drop locations listed below. Simply show your registration email to get your wrist/handlebar band.
By registering, each rider and passenger accept the terms and conditions that are outlined below.
PLEASE REMEMBER:
Pets are loved, but cannot participate
If you are sick, stay home
No Smoking on the hospital property
RULES OF THE ROAD Apply. There will be Police and Fire support, but most cross streets will NOT be blocked. RIDERS MUST OBEY ALL TRAFFIC LIGHTS AND LAWS.
PARTICIPATING TOY DROP LOCATIONS/HANDLEBAR BAND PICK UP*:
Mile High H-D Aurora | 16565 W. 33rd Dr., Aurora | (303)343-3300
Mile High H-D Parker | 6280 E. Pine Ln., Parker | (720)307-3745
Rocky Mountain H-D | 2885 W. County Line Rd., Littleton | (303)703-2885
Avalanche H-D | 18425 W.Colfax Ave., Golden | (303)238-0425
Grand Prix Motorsports | 3105 West County Line Road, Littleton | (303) 761-2471
Foothills Motorcycles | 1435 Wadsworth Blvd., Lakewood | (303)202-1400
*once you complete online registration, show your confirmation email at any participating dealership to receive your handlbar/wrist band.
REQUESTED/APPROVED TOY LIST: https://www.childrenscolorado.org/globalassets/community/donate-volunteer/wish-list.pdf
WAIVER OF LIABILITY:
Name of event: CHILDREN'S HOSPITAL TOY RUN
Date: DECEMBER 12, 2021
The undersigned (on my behalf and on behalf of my heirs, personal representatives, successors and assigns), for and in consideration of the opportunity to participate in the Children's Hospital Toy Run (hereinafter, EVENT sponsored and/or conducted by Big Iron Sports LLC, Mile High Hog Chapter 3615, Douglas County Chapter Colorado, Rocky Mountain Harley-Davidson, the Rocky Mountain Harley Owners Group, the Colorado Thunder Club, and their respective officers, directors, employees, agents and volunteers (hereinafter, the "RELEASED PARTIES") releases and holds harmless the "RELEASED PARTIES" from any and all claims and demands, rights and causes of action of any kind whatsoever which I now have or later may have against the "RELEASED PARTIES" in any way resulting from, arising out of, or in connection with the performance of their duties and my participation in any said EVENT.
This Release extends to any and all claims I have or later may have against the "RELEASED PARTIES" resulting from or arising out of their performance of their chapter duties whether or not such claims result from negligence (except willful neglect) on the part of any or all of the "RELEASED PARTIES" with respect to the EVENT or with respect to the conditions, qualifications, instructions, rules or procedures under which the EVENT(S) are conducted or from any other cause. I UNDERSTAND THAT THIS MEANS THAT I AGREE NOT TO SUE ANY OR ALL OF THE "RELEASED PARTIES" FOR ANY INJURY RESULTING TO MYSELF OR MY PROPERTY ARISING FROM, OR IN CONNECTION WITH THE PERFORMANCE OF THEIR DUTIES IN SPONSORING, PLANNING OR CONDUCTING THE EVENTS.
I am experienced in and familiar with the operation of motorcycles and fully understand the risks and dangers inherent in operating and/or riding as a passenger on a motorcycle. I am voluntarily participating in the EVENT and I expressly agree to assume the entire risk of any accidents or personal injury, including death, which I might sustain to my person and property as a result of my participation in the events, and any negligence (except willful neglect) on the part of any and all of the "RELEASED PARTIES" in performing their duties.
WAIVER OF RIGHTS UNDER STATE STATUTES
I further agree to waive all benefits flowing from any state statute which would negate or limit the scope of this release.
By agreeing to this Release, I certify that I have read this Release and fully understand it and that I am not relying on any statements or representations made by the "RELEASED PARTIES."