Join Food4Lives in a Runathon to help bring awareness to those in our community experiencing homelessness and food insecurity.
About this Event
For the month of April and beyond join Food4Lives for a 3.65 mile run to raise awareness for our homeless community. You can run with your family, a group of friends, a club or a team, you can even do it alone! Pick a date that and a location works for you and help spread the love and awareness. You can run or WALK your miles anywhere in the world. Then send us a video or pictures from your run, so we can share them at the end of the month.
WAYS TO JOIN!
Pick a date and Join a group of family or friends and run or walk in your neighborhood
Split your running or walking over a few days
Watch our Live stream and 3.65 mile Kickoff Run April 3rd : https://youtu.be/wlb0YDtUc7k
Note: You can click on Timestamp in description to skip through
3.65 MILE RUN(Run from anywhere! Anytime in April)
LIVE MUSIC PERFORMANCES
ECSTATIC KIRTAN
LIVE DANCE PERFORMANCES
YOGA CLASS
Q&A WITH FOUNDERS
SILENT AUCTION
BOUNCY HOUSE (@Atlanta Kickoff April 3rd)
We're celebrating 365 days of consecutive service during the Covid-19 pandemic; providing a daily food service and resources necessary for survival, such as clothing, sanitary items, blankets, and tents, to those who need it the most in our community. We want to bring our global community together to raise awareness about people experiencing homelessness and food insecurity.
There are over 3000: men, women, and children in Metro Atlanta who face the perilous conditions of winter without a roof over their heads. many of them do not know where their next meals will come from. Last year, Food4Lives served over 42,000 meals to these individuals, everyday.
You can register for the race now! Once registered we will send you an email on details about when and where to pick up your T-shirt. If you'd like your shirt shipped please select shipping separately. The runathon is virtual and anyone can participate from anywhere during the month of April starting April 3rd!
To participate in the specific runathon/ walkathons below after you register online, please contact the respective servant leader to get the logistics!
• Date Change Due to Rain: April 11: Jigisha Shah # 631-838-3948: Marietta: 10-12pm: Chattahoochee River National Recreation Area, Cochran Shoals Unit 152 Columns Dr, Marietta, GA 30067
• Date and Venue Change Due to Rain: April 11: Priya Patnaik # 513-289-5454: Alpharetta: Seven Oaks Subdivision Clubhouse, 12275 7 Oaks Pkwy, Alpharetta, GA 30005
• April 11: Ashwini Sabnis # 770-851-7860: Johns Creek: 9-11am: Seven Oaks Subdivision Clubhouse, 12275 7 Oaks Pkwy, Alpharetta, GA 30005
• April 18: Vani Ghanate & Malini Devi # 650- 421-6247: Suwanee: 9.30am to 11.30am: Sims Lake Park 4600 Suwanee Dam Rd, Suwanee, GA 30024
• April 22: Tonya Grant # 404-955-0025: Atlanta: 5:15pm -7pm, Hunger Walk around Centennial Olympic Park, Atlanta, GA
• April 25: Shreya at ThirdEye Dancers # 470-349-6854: 5:30 pm -6.30pm: Bigcreek Greenway at Marconi entrance, Alpharetta, GA
• April 25: Snehal Gandhi # 404-906-4690: Cumming: 11.30am -12.30pm, Highfield Dr. , Cumming, GA 30041
• DATE CHANGE DUE TO RAIN: May 1: Veena Katdare #678-438-2236: Lawrenceville area: 10 to 12pm: Bunten Road Park 3180 Bunten Rd, Duluth, GA 30096
*Registration should be in 5 days before the event for a T-shirt.
We will adhere to all the COVID guidelines during this event! If number get bigger, the participants will be spit in smaller groups at the nearby locations. If you want to lead a run/walk in small group in your area, please text Ashwini Sabnis at 770-851-7860 or ashwini@food4lives.org
Unite the world 1 mile at a time to fight against the hunger and end homelessness!
Thank you for serving with us! We hope to see you there!
We are looking for Sponsors!
If you'd like to sponsor this event please contact
Anika Weeks @ 716-544-3892 or anika@food4lives.org
Click link below for event registration and ways to help in service: https://linktr.ee/food4lives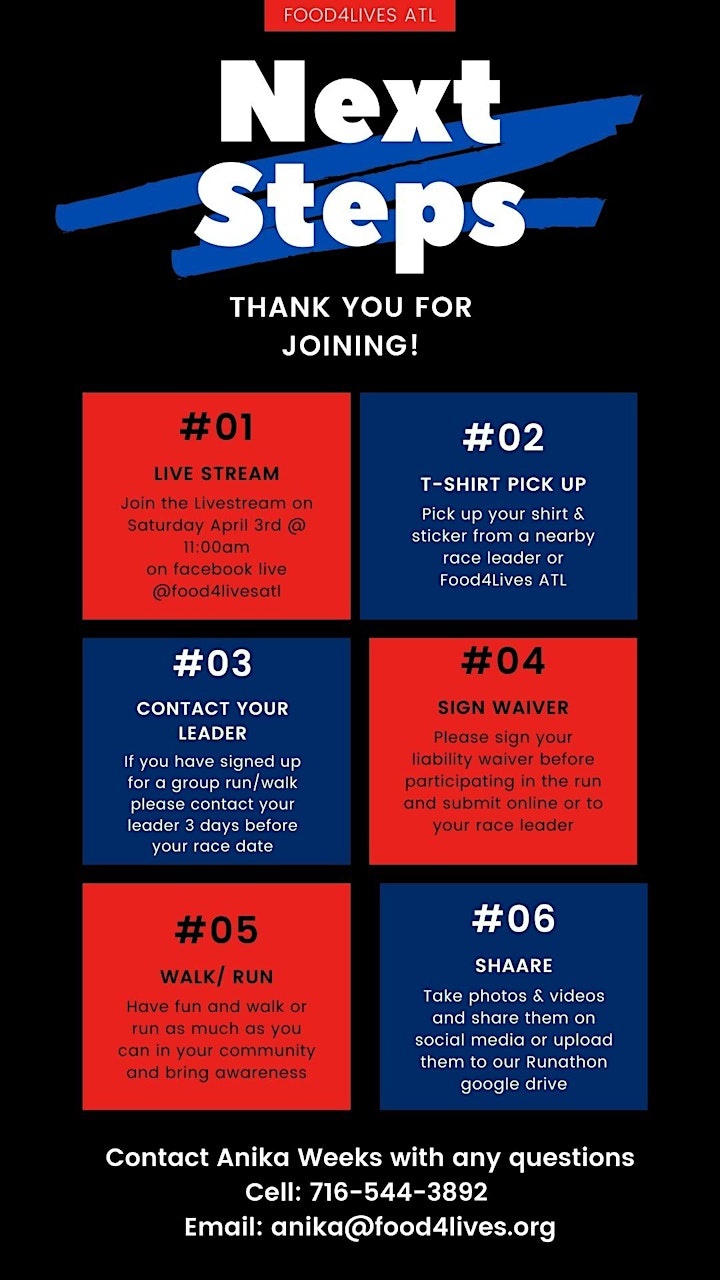 Date and Time
Location
Refund Policy