Description
错过了4月2日《音乐的情绪与色彩》那期白麓Talk的社友们不要沮丧,白麓再次为大家准备了季夏之月特别的音乐盛宴! 也欢迎新老朋友们的到来
对古典音乐感兴趣的你,一定知道,勃拉姆斯钢琴小提琴奏鸣曲,怎能错过?
对古典音乐感兴趣的你,可曾期待与演奏者家共进晚餐,让风趣幽默的陈震老师带你探索浩瀚的音乐宇宙?
亦或者,对古典音乐尚未了解的你,是否在等待一个新世界大门的开启?
7月21日,白麓邀你参加《勃拉姆斯钢琴小提琴奏鸣曲音乐会》,并有机会与本次音乐会钢琴演奏家、知名青年钢琴家陈震老师相约晚餐。
音乐会将在皇后大学音乐厅LeFrak Concert Hall举行。陈震老师将携手前大都会歌剧院乐团唯一女首席小提琴、格莱美提名艺术家 Emira Darvarova ,合作演奏勃拉姆斯钢琴小提琴奏鸣曲。
活动后,你可以选择与陈震老师在法拉盛共进晚餐,和他一起探讨古典音乐,你还在等着什么?名额有限,报名从速!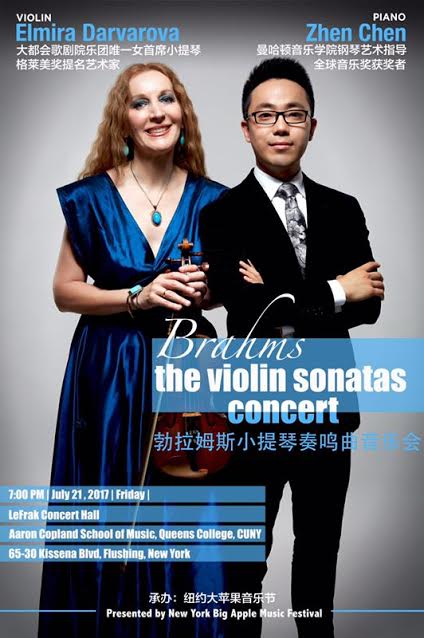 时间: 7 月21日晚
7:00-8:30pm 音乐会
8:45pm 晚餐开始(具体晚餐地点将在活动前公布)。
地点:Lefrak Concert Hall
地址:65-30 Kissena Blvd, Flushing, NY 11367
7号,F线地铁转公车(10几分钟)均可方便到达
具体路线请查Google Map
门票:音乐会免费 (晚餐费用自理)
陈震:
旅美钢琴演奏家,格莱美奖评审团评审,纽约曼哈顿音乐学院钢琴艺术指导,全球音乐奖获得者。本科毕业于中央音乐学院,曼哈顿音乐学院钢琴表演专业及室内乐合作钢琴表演专业全奖硕士毕业。
首张专辑Jade duo获得国际音乐性奖项—全球音乐奖银奖,2017格莱美音乐奖评审。现任美国曼哈顿音乐学院钢琴艺术指导以及新泽西圣约翰罗马天主大教堂音乐总监。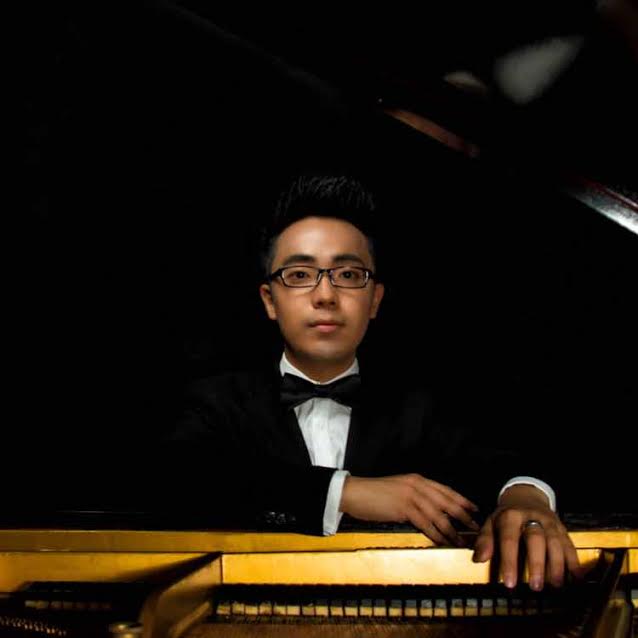 Emira Darvarova:

A concert violinist since the age of four, ELMIRA DARVAROVA (former Concertmaster of the Metropolitan Opera Orchestra in New York, and the first and only woman-concertmaster in the MET's history), performs worldwide to great acclaim and is a Grammy-nominated recording artist. A prizewinner of several international competitions, and a British Council scholar, she studied with Henryk Szeryng, Yfrah Neaman and Joseph Gingold. She caused a sensation becoming the first ever woman-concertmaster in the history of the Metropolitan Opera in New York.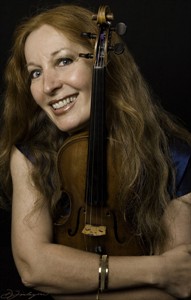 勃拉姆斯:
约翰内斯·勃拉姆斯(德语:Johannes Brahms,德语:[joˈhanəs ˈbʁaːms],1833年5月7日-1897年4月3日)德国古典主义最后的作曲家,浪漫主义中期作曲家,出身于音乐家庭,又译白蓝士、柏纳谟斯。生于汉堡,逝于维也纳。他的大部分创作时期是在维也纳度过的,是维也纳的音乐领袖人物。一些评论家将他与巴赫(Bach)、贝多芬(Beethoven)排列在一起称为三B。他对标题音乐与华格纳乐剧形式不认同,走纯粹音乐路线。其重要作品有:《第一交响曲》("贝多芬第十交响曲"),两部钢琴协奏曲:《d小调第一钢琴协奏曲》和《♭B大调第二钢琴协奏曲》,小提琴协奏曲:《D大调小提琴协奏曲》,《f小调钢琴五重奏》,管弦乐《学院节庆序曲》,合唱《德意志安魂曲》,《海顿主题变奏曲》,《帕格尼尼主题变奏曲》和《匈牙利舞曲》。