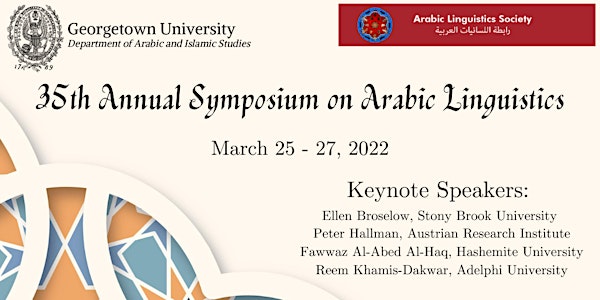 35th Annual Symposium on Arabic Linguistics (GU Community Members)
Georgetown University is proud to present the 35th Annual Symposium on Arabic Linguistics (ASAL) from March 25-27, 2022.
About this event
This event page is for Georgetown University Community Patrons only. Non-Georgetown University Community Patrons please use this event page to purchase your tickets.
Faculty and students of the host institution attending the symposium are exempt from paying the Society membership fees. A Georgetown University ID is required to be presented for entrance to the Symposium.
The Keynote Speakers for the 35th Annual Symposium on Arabic Linguistics are:
Ellen Broselow, Stony Brook University
Ellen Broselow's research is in the areas of phonology, second language acquisition, and the interface of phonology with phonetics, morphology, and syntax. Languages and language families she has worked on include Arabic, Salish, Bantu, and Indonesian languages of Sulawesi. In second language phonology, she has investigated the adaptation of loanwords and the errors made by second language learners in production and perception. In the phonology-phonetics interface, she has examined the match between moraic structure and phonetic duration. Current projects include the extent to which second language production errors reflect misperception; the factors determining the quality of vowels inserted in foreign language structures; and the factors determining the site of epenthetic vowels.
Peter Hallman, Austrian Research Institute
Peter Hallman is a theoretical linguist at the Austrian Institute for Artificial Intelligence (OFAI) with specializations in syntax, semantics and morphology, and language area specializations in Arabic, German and English. You may view his full CV here.
Fawwaz Al-Abed Al-Haq, Hashemite University
Fawwaz Al-Abed Al-Haq is the President at Hashemite University in Jordan. He has served as Vice President at Yarmouk University and TTU, where he also served as a full professor of English Linguistics.
Reem Khamis-Dakwar, Adelphi University
Reem Khamis-Dakwar is a full professor and experienced speech pathologist, with a demonstrated leadership in higher education. She has strong education professional skilled in clinical pre-service training, Academic Advising, Public Speaking, Curriculum Development, and interprofessional Research.
For further event details please visit: https://arabic.georgetown.edu/the-35th-annual-symposium-on-arabic-linguistics/
Organizer of 35th Annual Symposium on Arabic Linguistics (GU Community Members)