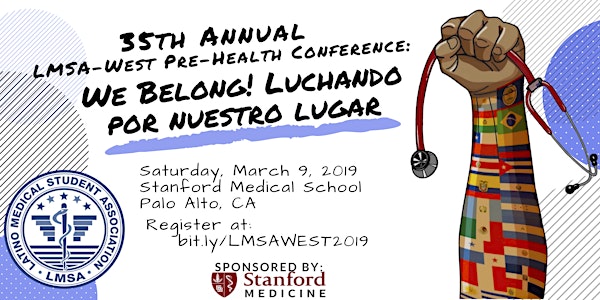 35th Annual LMSA West Regional Conference @ Stanford
Location
Stanford School of Medicine, Li Ka Shing Center for Learning and Knowledge (LKSC)
291 Campus Drive
Stanford, CA 94305
Description
ALL TICKETS ARE SOLD OUT!
The Latino Medical Student Association-West (LMSA-West) is proud to announce the 35th Annual LMSA West Regional Conference to be held on Friday, March 8th and Saturday, March 9th, 2019. The event will be hosted by the Stanford School of Medicine LMSA Chapter of LMSA-West. The goal of the LMSA-West Conference is to increase diversity of the health professions and inform future leaders in healthcare about the issues affecting the Latinx community. This conference is ideal for premed students considering applying to a health professional school from all racial/ethnic backgrounds.
Registration is required and must be completed PRIOR to the conference. We will be selling out!
The conference includes:
Friday, March 8th: Networking Event for medical students and physicians from 5-8 pm that will take place at the Li Ka Shing Center (291 Campus Drive, Stanford, CA) in room LK101/102.

Saturday, March 9th: Community college, undergraduate, and medical students are invited to join our conference and participate in workshops on the healthcare needs of the Latinx community, student leadership training, healthcare policy, medical school application process, and interactive medical sessions. Registration and breakfast starts at 7:30am at the Hewlett Teaching Center (370 Serra Mall Stanford, CA) and opening remarks begin at 8:30am. Please plan to arrive early so you don't miss out on anything! If arriving after 9:30am, please make your way directly to the Li Ka Shing Center (291 Campus Drive, Stanford, CA).

Saturday, March 9th (Evening): Registration for the graduating Senior Gala and cocktail hour will begin at 6:00 pm. Please plan to arrive early to facilitate check-in and ensure a prompt start to our program. The gala will take place at the Palo Alto Sheraton (625 El Camino Real, Palo Alto, CA) and end at 11:30 pm.

Registration fees are non-refundable, non-transferable, and no fee waivers are permitted. By attending the conference, you are granting permission to LMSA West to take photographs and/or video throughout the event and use these images in the advirtisment of future LMSA West conferences.
FAQs
What is included in student conference registration?
Entrance to the conference
Continental breakfast and lunch
Conference-Booklet
Please note there is a NO REFUND policy.

Max capacity of 500 students.
What is included in exhibitor conference registration?
One 5ft table and 2 chairs
Lunch
Conference-Booklet
What type of workshops will you be offering?
Developing a Successful Medical School Portfolio (Stanford Admissions)
The Medical School Interview (Stanford Admissions)
Powerful Personal Statements for Medical School Applications
Imposter Syndrome
Summer Research Opportunities
Women in Medicine
Applying to Residency: Insider's Tips
The Power of the Physician Assistant Profession
Surgical Knot Tying and Robotics
Service through Surgery: Educating Future Surgeons about Health Inequities
Aspects of the Physical Exam
Gap Years: Post-Bac Programs
Navigating Medicine as a DACA Student
The Hidden Curriculum: Transititioning to the Clinical Year
Entrepreneurship in Medicine
Microagressions: How to Recognize, Interrupt, and Respond
Alternative Routes to Medical School from Community College Students
Virtual Reality Cardio
Demystifying the MCAT
Live Storytelling Workshop: How to Tell Your Story
Latinx & LGBTQ+: Intersectional Perspectives on Medical School Admissions and Student Life
Social Justice & Health Policy Advocacy
Mental Health Among Us
Interactive OB/GYN Skills Workshop
Ultrasound 101
Rural Medicine in California
Council of Resident Physicians
Sports Concussions
What are my parking options for networking night on Friday or the day of the conference on Saturday?
Parking is available in Parking Structure 2 (285 Panama St, Stanford, CA 94305). Free parking is available after 4pm on weekdays and all day on weekends. Only park in A, P, and C parking spaces.
How can I contact the organizer with any questions?
Email us at vp_conference@lmsa.net