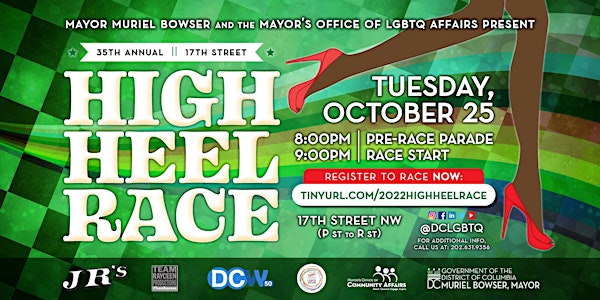 35th Annual 17th Street High Heel Race
Washington, DC's Mayor Muriel Bowser and the Mayor's Office of LGBTQ Affairs are proud to present the 35th Annual 17th Street High Heel Race
When and where
Location
17th Street, between R and P Streets NW near Dupont Circle 17th Street, between P and S Streets NW near Dupont Circle Washington, DC 20009
About this event
The Annual 17th Street High Heel Race is a time to celebrate the diversity of DC's LGBTQ+ community and join thousands of costumed spectators cheer on costumed drag queens, drag kings and community members as they race down 17th Street NW. Lively and filled with local drag entertainment, a parade, and much more, you won't want to miss this DC tradition, co-hosted by Rayceen Pendarvis and Citrine the Queen.
HIGH HEEL RACER INFORMATION:
Are you interested in racing the in the 17th Street High Heel Race? Fill out the attached 17th Street High Heel Racer's Registration and Authorization Form and join the fun!
Racer Registration and Authorization Form: https://forms.gle/839AZWqeffDeWyE49.
Not interested in racing? Join the thousands of spectators cheering the racers along 17th Street from R Street to Church Street and also enjoy the fun costumes and outstanding local drag performances!
SEQUENCE OF THE EVENING:
5:00PM | 17th Street NW opens to pedestrians, costumed racers and spectators (S Street - P Street Along 17th Street)
7:00PM | High Heel Racer Registration opens (R Street NW)
7:45PM | Parade line-up (Church Street NW)
8:00PM | Join Mayor Bowser in Parade
8:55PM | High Heel Race Lineup (R Street NW)
9:00PM | Mayor Muriel Bowser starts the Annual 17th Street High Heel Race
9:15PM | Award designation and After Show @JR's (Church Street NW)
THE LGBTQIA+ HISTORY of the 17th STREET HIGH HEEL RACE:
The 17th Street High Heel Race historically occurs the Tuesday before Halloween and "Crossing The Line Since 1986" is piece of DC's rich LGBTQ+ history. One of DC's most unique events, the 17th Street High Heel Race, started over 35 years ago as a wager amongst drag queens, bartenders, and community members to race in heels, to each of the LGBTQ+ bars along the strip. The LGBTQ+ founders of JR's Bar continued the event, and in 2018, Mayor Muriel Bowser, as an act of support for the LGBTQ+ community, proclaimed the 17th Street High Heel Race as an Official Mayoral Event. DC is now one of the only jurisdictions in the nation to sponsor and host an event of this type that highlights the diversity of the LGBTQ+ community.
THANK YOU TO OUR PARTNERS!
This night would not be possible without our Mayor and our amazing community partners. Many thanks to JR's Bar, Team Rayceen Productions, DCW50, The Rainbow History Project, Cheer DC, DC's Different Drummers, ANC 2B & the Mayor's Office of Community Affairs for helping the Mayor's Office of LGBTQ Affairs keep one of DC's greatest traditions alive.
#HighHeelRace #HHR35 #DCisOpen
CONNECT WITH US:
For more information or reasonable accommodations, please email LGBTQ@DC.gov. Don't forget to follow us on:
MEDIA REQUESTS:
For media inquiries and appearances related to the 35th Annual 17th Street High Heel Race, please contact Director of Communications LaToya Foster Latoya.foster@dc.gov.