35th Ancient Kemetic Studies Conference, March 15th - March 18, 2018
Description
In the spirit of our Ancestors, our Pan-African global family, and the yet unborn, ASCAC extends a warm invitation for you to join us for our 35th Annual Ancient Kemetic (Egyptian) Studies Conference. Our 2018 theme is Intellectual Warfare Against the Assault on African Humanity: African Answers for a New Reality. In March of 2018, we will gather in Philadelphia, PA at The Community College of Philadelphia to celebrate our past 34 years of existence and to not only renew our moral obligation and responsibility to counter the political, cultural, and psychological oppression of African people, but to also continue to promote, preserve, and disseminate African cultural and intellectual enlightenment that sustains our humanity and is the foundation of our liberation.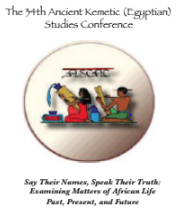 Our intellectual warfare and struggle for liberation is grounded, strengthened, and deepened by the systematic and comprehensive knowledge of who we are as an African people in time and space and how we utilize this knowledge and our values to create and work to implement "African answers for a new reality." Thus, we are in a war not just against White Supremacy and its assault on African humanity, but we are also engaged in a "battle for the African mind" as Anderson Thompson, Co-Chair of the ASCAC Research Commission and one of our revered elders, often tells us. This conference brings together researchers and activists from all walks of life from across the country to continue the work of our ancestors and sharpen our ideas and strategies for the task of "Intellectual Warfare."
Dr. Mario Beatty, International President, ASCAC
Goto www.ascac.org for additional information such as conference brochure, hotel, transportation, etc.