35mm KUNG FU ACTION TRIPLE FEATURE hosted by The Chicago Cinema Society

Saturday, February 23, 2013 at 6:30 PM (CST)
Who's Going

Loading your connections...
3 of your friends are going.
Share it to get more people on board!
Share

Sara Haughty
San Francisco, California

Luke Picard
London, United Kingdom

Rick Vespucio
Florence, Italy
Event Details
Saturday, February 23rd at the Portage Theater:
THE 36TH CHAMBER OF THE SHAOLIN (Dir. Liu Chia-Liang, 1978, 35mm)
THE KID WITH THE GOLDEN ARM (Dir. Chang Cheh, 1979, 35mm)
COLD STEEL (CHICAGO PREMIERE, Dir. David Wu, 2012, 35mm)

Exact times are as follows:
6:00pm: Doors open
6:30pm: Cold Steel
8:30pm: The 36th Chamber of the Shaolin
10:30pm: The Kid with the Golden Arm
The Chicago Cinema Society is incredibly proud to be screening two classic Kung Fu features that we love dearly along with the Chicago premiere of a wonderful new feature by the great David Wu (editor of a number of Shaw Brothers and John Woo films). All three features will be screened via 35mm prints at The Portage Theater on Saturday, February 23rd. Let us get to the specifics shall we?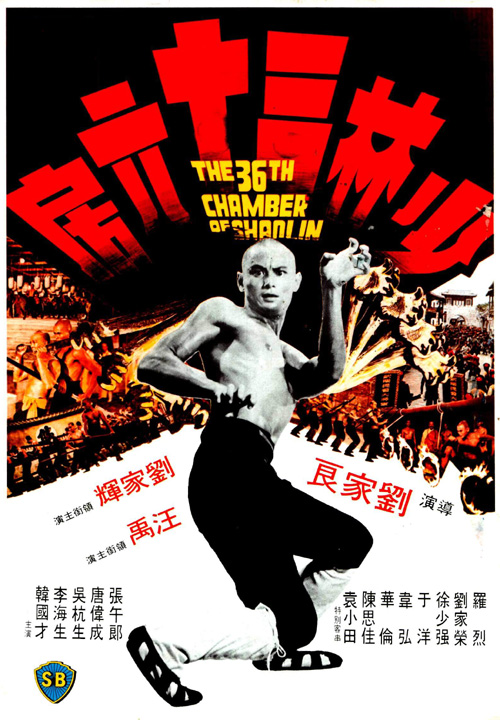 THE 36TH CHAMBER OF THE SHAOLIN (Dir. Liu Chia-Liang, 1978, 35mm, subtitled)
A timeless kung fu classic! Widely considered to be one of the greatest kung fu films of all time and undoubtedly one of the most influential upon the genre. Before films like 'Once Upon A Time In China' and 'Crouching Tiger, Hidden Dragon' showed critics that martial arts films deserve serious examination, the works of Chang Cheh and Liu Chia Liang were impressing arthouse audiences throughout the 70s. Importantly though, neither director rested solely on the reputation of one film; both are responsible for a numerous landmark productions. Liu Chia Liang's 'The 36th Chamber Of Shaolin' is one such important cinematic classic and remains influential not just in Hong Kong film-making, but also globally. We are incredibly honored to be screening this very rare 35mm print.
During a time when Manchu forces are oppressing the people of China to an overwhelming degree, a few rebels attempt to stand up to their rulers. With this resistance appearing in small, disorganised pockets though, these moments of insurgence are quickly extinguished. Liu Yu Te (Liu Chia Hui) observes the actions of this vicious regime, but feels he cannot contribute to the patriotic attempts and therefore decides to continue his study unaffected. When his teacher incites the pupils of the school to make a stand against their oppressors, Liu suddenly feels the courage to play his part in the minimal underground movement. It's not long before the Manchu officials of the town discover this and, with swift action, they kill Liu's teacher and father. The naive young student is forced to flee town and after a severe beating at the hands of some patrolling fighters, seeks shelter at the Shaolin temple. Liu gradually recovers from his wounds and begins to notice the regimented kung fu training that the monks engage in. After initial reluctance from the Shaolin abbots, he is accepted as a new trainee and starts at the very first chamber of Shaolin. All are amazed at his rapid progress through the 35 chambers and soon after his fighting ability reaches an impressive level. Overcoming one final hurdle before his graduation from the Shaolin training system, Liu - now dubbed San Te by his fellow monks - asks for a 36th chamber to be created to develop fighters in their battles against the Manchus. This revolutionary proposal sees San Te ejected from Shaolin temple and he now travels to his home town to see what has happened since his exit. Now face-to-face with his old enemies, San Te decides to strike a blow for the innocent and organise his own rebels against the villainous masses.
Watch the trailer for THE 36TH CHAMBER OF THE SHAOLIN here.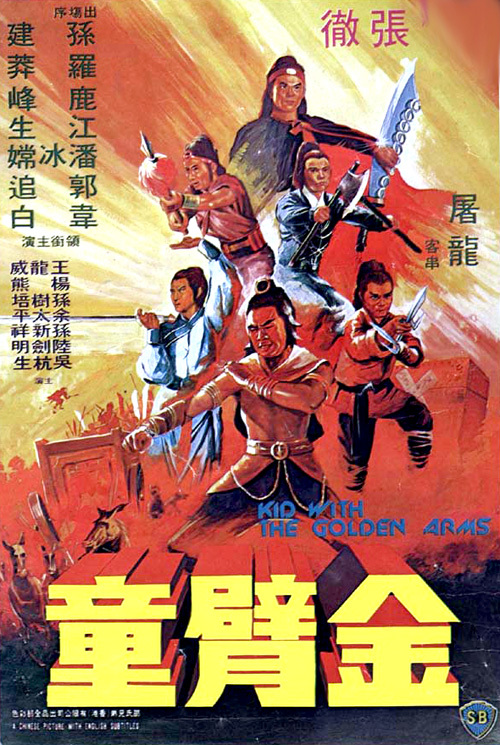 We here at the Chicago Cinema Society have great love for the 20+ "VENOM MOB" films. The Venom films contain to this very day the highest quality martial arts choreography to have ever been committed to film. The Venom actors were the main choreographers in all of their films, highly skilled Chinese weapon experts, excellent actors and excellent acrobats.
THE KID WITH THE GOLDEN ARM is one of the very few Venom films where all six Venom actors are present within a single film. Typically Wei Pai is absent from most of the Venom films only appearing in maybe 3-4 of the 20+ films. All other Venom films have at least 4 of the remaining Venoms if not all five. We will be screening more Venom 35mm prints in the upcoming months. It is a tremendous honor to be able to share the incredibly rare 35mm print with you.
After he's given the task of transporting a highly sought after cargo of gold to a famine struck area of China, Yang Yu Heng (Sun Chien) gathers together a powerful team to ensure that the mission is successful. Among the hired hands are laconic swordsman Li (Wei Pei) and his devoted girlfriend, wise-cracking axemen Yen and Feng, and the mellow drunken master Hai To (Kuo Chui). As the journey begins, the main threat to the gold becomes apparent in the shape of the the notorious Chi Sah bandit gang. Within this opposing band are formidable foes such as Brass Head, Silver Spear and the renowned Kid With The Golden Arm (Lo Meng). During the numerous encounters between the two sides, sizeable numbers of both sides are waylaid and the heroes in particular find themselves under severe threat. Nonetheless, Hai To continues to support his associates in his own inimitable way, downing large jars of wine as he does so. However, a new threat is rumoured in the shape of the mysterious Iron Feet who is also known to be interested in the cargo. The question on everyone's lips, though, is who is Iron Feet? It's left to Hai To to find the answer to this perplexing mystery.
 Watch the trailer for THE KID WITH THE GOLDEN ARM here.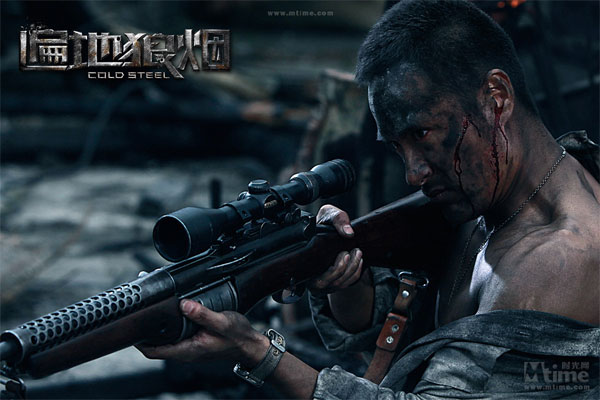 COLD STEEL (Dir. David Wu, 2012, 35mm, subtitled)
Bullets show no mercy! War has ravaged China and chaos has reigned in many parts. An elite group of snipers have been assembled to take out enemies and traitors. Mu (Peter Ho), a rather young and naïve hunter, has been drafted to be part of the 204th unit after heroically shooting down enemies during an ambush. Squad leader Zhang (Tony Leung) welcomes him into the brotherhood by assigning him his first official mission. His task is to join the team in taking out four enemy generals and a handful of Chinese traitors. Mu's recklessness and soft heart begin to cloud his judgment, and even diminish his abilities - as the best snipers need to be emotionally detached. Meanwhile, General Masaya sends some of his best sharp-shooters to retaliate. Whose bullets will speak louder?
Lock and load! Frequent John Woo collaborator David Wu returns with a vengeance and directs one of the most dynamic war films in years. Wu hits bulls-eye after bulls-eye with fast and furious gunfire action with a heavy dose of the kinetic energy from the best 80s Hong Kong action that will undoubtedly kick your adrenaline gland into overdrive.  Based on the famous and popular online Chinese novel, Wu improves upon original material with more humor and excitement. Wu is one of the most influential action editors for 40 years starting with Chang Cheh and Lau Kar Leung at Shaw Brothers to Tsui Hark, Ronny Yu and of course John Woo (A BETTER TOMORROW, HARD BOILED) is back to assault action cinema. Newcomer actor Peter Ho (upcoming MONKEY KING) brings a breath of fresh air as a leading actor to look forward to in the future, he keeps his performance intense yet funny and charismatic. (King-Wei Chu, Fantasia International Film Festival)
Watch the trailer for COLD STEEL here.
For more information, please follow us at:
Chicago Cinema Society on Facebook
Chicago Cinema Society on Twitter
Films and times are subject to change.
No refunds or returns
When & Where

The Portage Theater
4050 N Milwaukee Ave
Chicago, IL 60641


Saturday, February 23, 2013 at 6:30 PM (CST)
Add to my calendar
Organizer
The Chicago Cinema Society
The Chicago Cinema Society is passionate and dedicated to hosting unconventional, daring, innovative and eccentric cinema in our lovely city. After having traveled to many domestic and international film festivals, our staff would return excited about the films they had discovered only to be disappointed when these films were never screened here. We have taken it upon ourselves to ensure that amazing cinematic art will not go undiscovered here in our city. Many great filmmakers tragically find their works overlooked by major film studios as their narratives are not easily marketable to the general public. These artists are writing and producing films that will inspire filmmakers for decades to come. We believe in the potential of both these innovative films to inspire audiences and in Chicago's literate, informed moviegoers to embrace them. We look forward to sharing our collective passion for cinema with all of you. See you at the Big Screen!
35mm KUNG FU ACTION TRIPLE FEATURE hosted by The Chicago Cinema Society