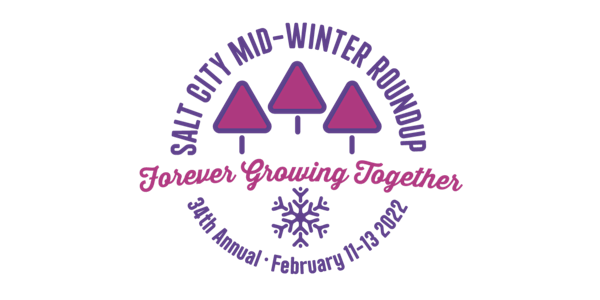 34th. Annual Salt City Midwinter Roundup
The 34th. Annual Salt City Midwinter Roundup is one of many A.A. conventions held around the world in cooperation with Al-Anon and Alateen.
When and where
Location
Ramada Inn by Wyndham -Liverpool-Exit 37 441 Electronics Parkway Liverpool, NY 13088
About this event
The 34th. Annual Salt City Midwinter Roundup is one of many A.A. conventions held around the world in cooperation with Al-Anon and Alateen. Al-Anon and Alateen participation is by invitation.
One of the most common misconceptions is that gatherings such as this are A.A. meetings; however, they are not. Conventions are special events planned to bring participants a meaningful experience by providing numerous opportunities to enjoy fellowship and to promote spirituality. To do this requires substantial financial resources.
This convention is self-supporting. No group money is used to pay for this event. The cost of the convention is paid through the registration fees. We do not pass a basket in any sessions. Attendance is voluntary.
Frequently Asked Questions
COVID Protocol (updated 01/12/2022)
As of 12/10/2021, due to New York State guidance, masks will be required for all attendees at the 2022 Salt City Midwinter Roundup. This requirement will be enforced. Masks and hand sanitizer will be available at no cost throughout the duration of the event. Given the fluid and evolving nature of the pandemic, these requirements can change at any time and the Salt City Midwinter Roundup will be adhering to any state, local, and hotel guidance as it relates to large indoor public gatherings. This guidance will be updated if/when additional government measures are made public. Please note that if government guidance changes and masks are no longer required for indoor gatherings at the time of the Roundup, we will not be requiring them.
Are presale tickets cheaper than buying them at the door?
***There is no "early bird" discount.*** The price is the same whether you register early or at the Roundup. However, buffet seating tends to sell out and cannot be guaranteed at the door. 
What should I do first at the Roundup?
The first thing you should do is come to the Registration area and receive your credentials (badge, program, banquet ticket, etc.) You will not be able to participate in any Roundup activities unless you are wearing your name badge. You must wear it at all times. Badges will be different from prior years' badges. (PLEASE NOTE: Registration is located just inside the entrance to the hotel conference center off the main parking lot.)
Are there ID requirements or minimum age required to attend the Roundup?
All attendees must be at least 13 years old. Alateen members under the age of 18 must submit a notarized permission and medical release form when checking in at the Roundup. Youth attending with their parent or guardian should register at the Alateen table, regardless of their membership in that organization.
Do I have to bring my ticket to the Roundup?
If you plan to attend the banquet, we highly recommend it. The ticket has your reserved table location marked on it. If you are attending only the Roundup (without the banquet) printing and bringing your ticket with you will greatly reduce the time spent at the registration table at check-in. Again, you must get your badge at the Registration area first before participating in any activities.
What if I forget to bring my ticket to the Roundup?
We will be able to retrieve your registration information from the computer. 
Admission to all events will require you to wear your name badge at all times. No one will be admitted to any workshops, panels, social events, or the hospitality center without a name badge.
What are my parking options for the event?
The hotel provides plenty of free parking for participants. Please be sure to park only in marked spaces and not to block emergency lanes, exits, electric charging stations, or other vehicles.  February weather conditions may make it difficult to see marked spaces. However, if you park in areas not designated for parking, your car may be towed at your expense.
There are spots reserved for Tesla vehicles that require an electric charging station. Please only park in these spots if arriving in a Tesla.
Centro stops near the convention hotel on Seventh North Street. The stop is under 2/10 mile. Be sure to check bus schedules to determine exact times and locations.
Is there assistance available for persons with special needs?
Anyone needing special assistance should contact the Accessibility group. They will be working at a table in the Registration area.
What are the banquet options this year?
Building on last year's success, we will again offer a buffet meal. The buffet will have three entrees, as follows:
Beef Jardinière (slow cooked and served with julienned vegetables),
Chicken Dijon (boneless chicken with Dijon sauce & crumb topping), and
Eggplant Parmesan. 
Side dishes will include Caesar salad, Florentine pasta salad, chef's choice of vegetable, garlic scalloped potatoes, New York style cheesecake with sauces, and assorted sodas.
When does online registration end?
You can register online at any time. However, remember that if you plan to attend the Saturday buffet, you want to register early in order to pick the table you wish to sit at.
Will I be able to select my table if I register online?
Yes, when you register online you have the ability to select a specific table simply by going to the seat map on the registration page and clicking the table and selecting a seat. We cannot guarantee that the exact seat you select will be available when you arrive, but you will have a seat at the table you select.
If ordering for more than one person, be sure to click the appropriate number of seats - two people, two seats. The majority of tables accommodate nine people. Tables along the two rows along the right side of the room (facing in from the main doorways) each accommodate ten people.
We will honor group seating requests as long as possible. However, be aware that as tables fill up, we may be unable to meet every request. Again, we encourage you to go online and try to choose your own table as early as you can.
What if I register and then change my mind? Will I get a refund?
All ticket sales are final. There are no refunds given.
Preliminary Schedule of Events
Friday
Kickoff Speaker: Mary G., Garden Variety Group Skaneateles 4:00 PM
Early Bird Speaker: Mike F., Marcellus Group 5:15 PM
Al-Anon Kickoff 7:00 PM
Alateen Kickoff 7:00 PM
Friday Night AA Speaker: Beth H. - Florida 8:00 PM
Alateen Meeting 8:30 PM
Talent Show 9:00 PM
Ice Cream Social 9:15 PM
Live Music - Ponytail James Band 9:15 PM
Alkathon & Al-Anon Spoken Here Ongoing
Saturday
Fellowship & Games Ongoing
Morning Meditation - Rachel C. 7:30 AM
Area Delegate - Todd D. 8:30 AM
Step 1 – Powerlessness – Vicki H 8:30 AM
We Don't Drink No Matter What – Cindy C. 8:30 AM
Alateen Topic Meeting 8:30 AM
Al-Anon Panel 8:30 AM
Daily Reprieve (Contingent On Our Spiritual Condition) – Joe R. 9:45 AM
Ask-It-Basket - Jeff K. 9:45 AM
Managing Character Defects – Kelsey K. 9:45 AM
Al-Anon Panel 9:45 AM
Alateen Topic Meeting 9:45 AM
Our Primary Purpose Is to Stay Sober - Logan W. 11:00 AM
Old Timer's Panel - Joanne R. 11:00 AM
7th Tradition in the Digital Age Workshop - Dan H. 11:00 AM
12 Concepts Workshop - Brian C. 12:15 PM
Womanhood In Sobriety – Jen H. 12:15 PM
Being LGBTQ + In Sobriety – Cindy F. 12:15 PM
Al-Anon Panel 1:00 PM
Alateen Workshop 1:00 PM
4th Step Workshop - Chris R. 1:30pm
Sponsorship – Jackie T. 1:30 PM
Public Information Workshop - District 0340 P.I. Committee- 1:30 PM
Alateen Main Speaker 2:30 PM
Al-Anon Main Speaker - 'Motorcycle' Beth 2:30 PM
11th Step Workshop - Joanne R. 2:45 PM
Youth In Sobriety – Priscilla H. 2:45 PM
Easy Does It – Mark W. 2:45 PM
Bill W. (Movie) 4:00 PM
Buffet Dinner (Reservations Only) 6:30 PM
Alateen Pizza Party 6:30 PM
Sobriety Countdown 7:45 PM
AA Keynote Speaker: Chris R. - Texas 8:00 PM
Days of Wine and Roses (Movie) w/ popcorn 9:30 PM
Dance/Live Band - The Billionaires 9:30 PM
Sunday
Alkathon & Al-Anon Spoken Here Ongoing
Fellowship & Games Ongoing
Morning Meditation - 'Motorcycle' Beth 8:00 AM
AA Spirituality Panel - Sara Z. 9:00 AM
AA Spirituality Speaker: Adam T. - California 10:30 AM
Alateen Kick Out Meeting 10:30 AM
Chairman's Final Comments 11:50 AM