100 Black Men of America, Inc. Presents the 34th Annual Conference.
About this event
The 34th Annual Conference will be launched as a free virtual experience. Join us to connect with 100 members, civic and corporate leaders, health experts, and other professionals navigating today's challenges and delivering global impact.
Power Forum #1- Corporate America and Black America Working Together to Achieve Economin Emancipation
Power Forum #2- Generational Leadership: The Revolution of Mentoring and Educating to Take Control Over Our History
Power Forum #3- Women of Influence: Leading During a Time of Challenges
Power Forum #4- Health Care 2.0- The Cause of Poor Health in Black America: Are We Listening?
100 Black Men of America, Inc. Presents the 34th Annual Conference.
We kickoff our Annual Conference with the Opening Ceremony on Thursday, September 17, 2020 at 2:00 pm EST. Join the broadcast live at https://conference.100blackmen.org/live/ or via Youtube and Facebook Live.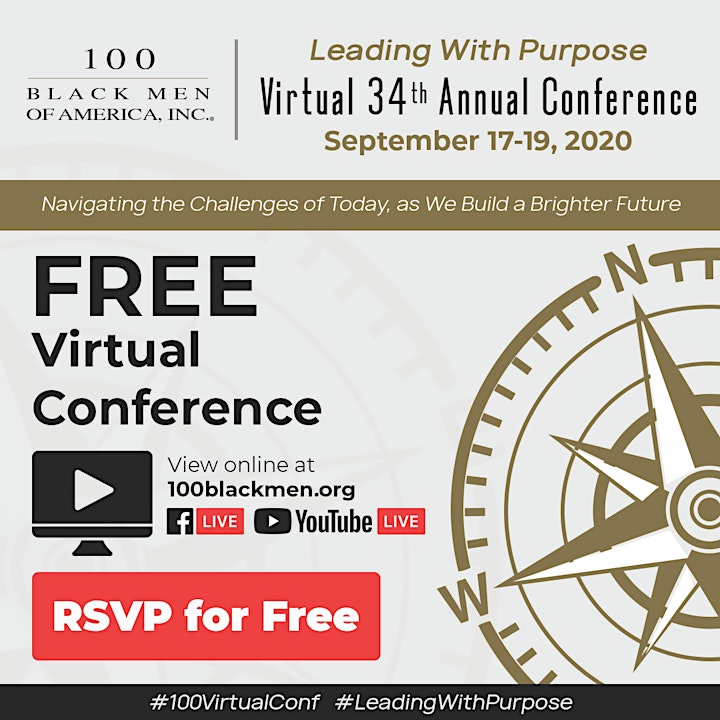 Organizer of 34th Annual Conference- Virtual
100 Black Men was founded as an organization in New York City in 1963. The national organization, 100 Black Men of America, Inc. began with nine chapters in 1986 as a national alliance of leading African American men of business, public affairs and government with a mission to improve the quality of life for African Americans, particularly African American youth. Since inception, the vision emerged and grew to over 10,000 members impacting over 125,000 underserved, underrepresented minority youth annually. Visit www.100blackmen.org for more information on the programs and initiatives of 100 Black Men of America, Inc. and their global network of chapters.