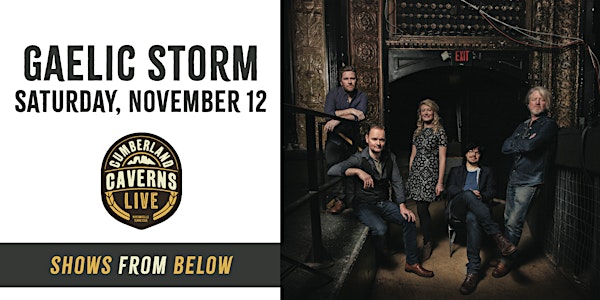 Gaelic Storm at Cumberland Caverns Live - McMinnville TN - 11/12
Event Information
Performers
Location
Cumberland Caverns Live
1437 Cumberland Caverns Rd
McMinnville, TN 37110
Join Gaelic Storm for a one-of-a-kind concert experience 333 feet underground in the spectacular Volcano Room!
About this event
Welcome to Tennessee's largest show cave. Conveniently located between Nashville, Chattanooga, and Gatlinburg, Cumberland Caverns Live offers a one-of-a-kind concert experience!
Located 333 feet below ground, concerts are hosted in The Volcano Room, a natural amphitheater. Here water and time entwined many years ago to create one of the most acoustically pure natural spaces on earth. No man-made sound reaches the Volcano Room and the living rock hued amid the eons is jagged and uneven, providing limited echo. The primordial silence and perpetual darkness give way to the sounds of the finest music on earth. Regardless of outside temperature, the Volcano Room is a constant 56 degrees with 99% humidity.
We recommend wearing athletic-style shoes best-suited for walking or hiking (no sandals/flip flops). Some guests feel cool immediately upon entering the cave but warm up after a few minutes of moving around. Once you are seated for your concert it can feel quite cool, you may want to bring a thin, long sleeve shirt or jacket. The walk from the parking lot to the mouth of the cave is a little under 1/4 mile, and then once inside the cave another ~1/4 mile to The Volcano Room.
Please note: The cave, and the concert venue in the cave, are not handicap accessible due to the uneven pathways, stairs, steep uphill and downhill slopes, and there are some areas that do not have handrails. Strollers, walkers, wheelchairs, etc., will not make it through the cave and we cannot shuttle guests to or from the cave. We strive to keep the cave as natural as possible, but make it safe for our guests to enjoy.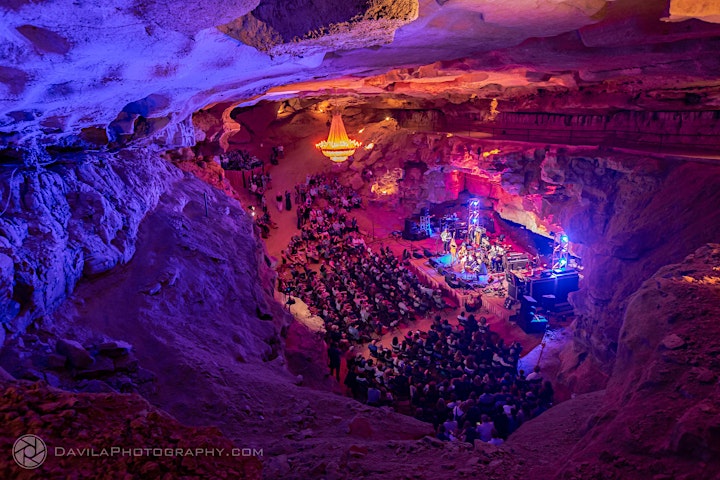 Cumberland Caverns Live is a seated General Admission venue with three entry tiers.
Premium Access - $57.50 per ticket
Enjoy access to The Volcano Room 75 minutes prior to showtime.
Early Entry - $47.50 per ticket
Enjoy access to The Volcano Room 65 minutes prior to showtime.
General Admission - $37.50 per ticket
Enjoy access to The Volcano Room 55 minutes prior to showtime.
Pre-Show Cave Tour - $16.00 per ticket
Want to explore Cumberland Caverns beyond the Volcano Room? Add the 333 Exploration Tour Package and come early for this hour-long pre-show tour that will take you to seven different parts of Cumberland Caverns. You will also be treated to a birds-eye view of the world-famous Volcano Room stage from high atop the balcony. Make the most of your time with us and explore our beautiful cavern on a concert day! $26.95 value!
*333 Exploration Tour Ticket does not act as a concert ticket. Cumberland Caverns will not allow access into The Volcano Room during the concert unless you have a separate ticket for that show*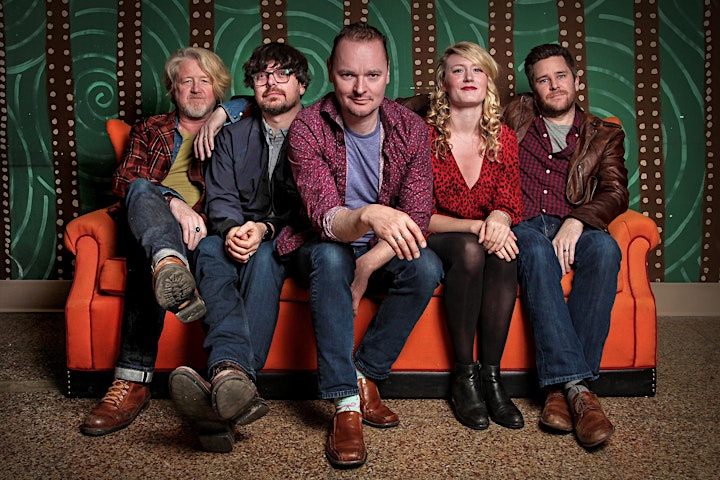 Raise 'em up. Drink 'em down. Gaelic Storm brings an energetic mix of Irish and Scottish traditional fare – including some drinking songs – but brings so much more to audiences everywhere. Country music fans adore their storytelling, Bluegrass fans love the instrumentals, Celtic fans love their devotion to tradition, and Rock fans simply relish the passion they have for their instruments and the energy they bring to stage each night.
Since their 1997 beginnings in Santa Monica, acclaimed multi-national Celtic juggernaut Gaelic Storm has risen from hometown pub performers to a world-famous touring and recording act that continues to grow stronger with each live performance.
The band's first major career breakthrough came with their appearance in the 1997 James Cameron blockbuster film, TITANIC, as the steerage band where they performed "Irish Party in Third Class." Upon the film's release, Gaelic Storm was embraced by audiences on a global stage. Through their decades of recording and performing, they've found a fanatic and well-diversified fan base. Each band member, in their own way, expresses deep gratitude for their fans, but it's best summed up in the words of founding member Patrick Murphy: "The fans are the ones that have given us this life. We're here for them."
Led by original members Murphy and Steve Twigger, Gaelic Storm consistently travels the United States and internationally more than 200 days a year, and since their founding two decades ago has performed well over 2,000 shows. "You have to see us live. We are the true working-mans' band," says percussionist Ryan Lacey. "We still, and most likely always will tour most of the year, and that's how we constantly hone our craft."
Looking to the future, Gaelic Storm is excited about what lies ahead. They're busy in the studio finishing a new recorded project while balancing a calendar full of shows. Fiddle player Katie Grennan has added another layer of musicianship to the group since joining 5 years ago. Bagpiper Pete Purvis said, "With the addition of Katie, the band has never sounded better, we're gelling on a whole new level, and the idea of sharing these new songs with our fans is exciting!"
Throughout their nearly 25-year career, Gaelic Storm has amassed more than 250 million streams across platforms and released 13 studio albums, with 7 of them rising to NUMBER 1 on the Billboard World charts including Bring Yer Wellies, What's The Rumpus, and Go Climb A Tree. With their latest release, One For The Road, their music has never sounded more representative of themselves as musicians and as live performers.
Performers
Date and time
Location
Cumberland Caverns Live
1437 Cumberland Caverns Rd
McMinnville, TN 37110
Refund policy