Location
Corwin M Nixon Park
6249 Mason Montgomery Rd
Mason, OH 45040
On this Father's Day weekend, walk to Save Soil and secure the future of our children.
About this event
This June, join thousands of people across North and Latin America, in over 60 cities, and walk to raise awareness for Save Soil. The next decade is our chance to overcome the soil crisis, and we can do it. Let us walk together to save soil.
52% of the world's cultivatable soil is degraded
Over 2 billion people suffer from nutritional imbalances
A tablespoon of soil contains more microbes than there are humans on the planet.
Our future, our children's future, and this planet's future very much depend on soil health.
About Save Soil Movement :
Save Soil is a global movement launched by Sadhguru to create awareness about soil degradation and bring policies to safeguard soil health by increasing the organic content in soil to a minimum of 3-6% across all nations. The movement aims to:
Educate and raise awareness about soil extinction
Advocate for policies to safeguard soil health
Inspire over 3.5 billion people to support these policies
Save Soil has garnered support across the globe including:
Dr. Jane Goodall, Alice Waters, Rosario Dawson, Jelena Djokovic, Toni Garrn, Jean-Claude Van Damme, Tom Brady, Maluma, Jesse Williams,Tony Robbins, Will.i.am, Brian Eno, Ed Begley and more.
Organizations: (UNCCD), (UNESCO), (WFP), (UNEP) ,(IUCN), EarthDay.org, Partnerships for Change, Global Citizen Forum, and more.
For more information : savesoil.org
About Sadhguru:
Sadhguru is a global leader and visionary, known over the last 4 decades for his colossal initiatives to foster human wellbeing and global harmony.
"By 2045, it is expected we will be producing 40% less food than what we are producing right now, and our population will be 9.3 billion people. That is not a world you want to live in, and that is not a world you want to leave our children." - Sadhguru
3-Pronged Strategy to Save Soil
At UNCCD COP15, Sadhguru Presented a Practical 3-Pronged Strategy to Save Soil
Highlights from Save Soil Journey
To raise awareness, Sadhguru has been on a 30,000 km journey as a lone motorcyclist covering 24 nations over 100 days, which began on March 21st.
Chief Guest / Speaker details
To be announced
Other details
Length: 5K (3.1 miles)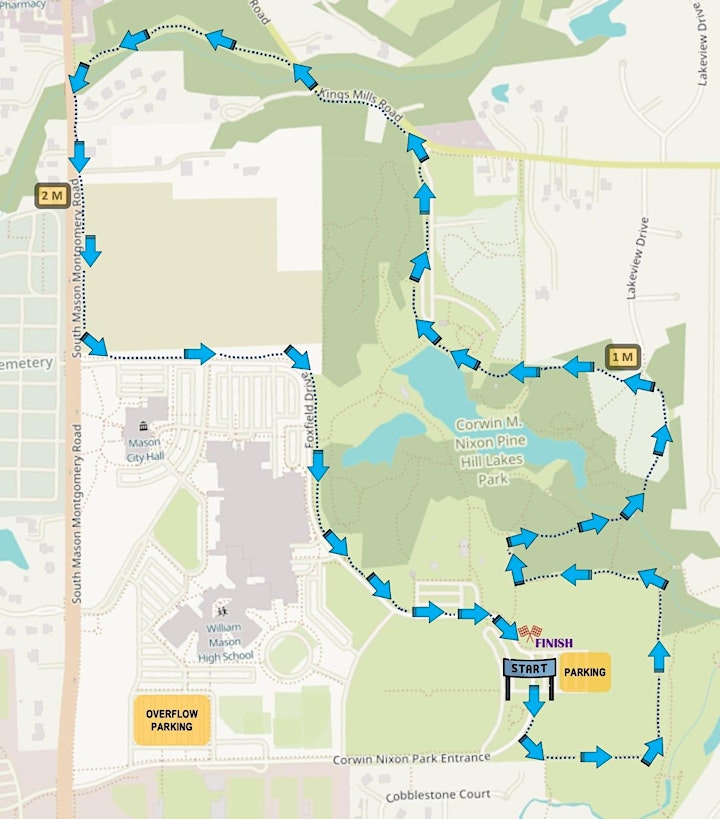 Parking instructions
Parking is available at Corwin Nixon Park, Mason High School, Mason Middle School and Mason Community Center.
Check in address
Corwin M Nixon Park, 6249 Mason Montgomery Rd, Mason, OH 45040
Note:
For each child accompanying you, the parent or guardian must sign and agree to the consent here . Please bring the soft copy or print copy of the confirmation email upon submission of the Parental Authorization Consent form.
Feel free to wear a Save Soil T-shirt or a green or white T-shirt to the walkathon.
Save Soil Merchandise
If you wish to purchase a Save Soil T-Shirt, cap, or mask for the walk, please visit https://www.ishalife.com/usa/collections/save-soil.
Contact Info
Cincinnati:
Ph: (513) 609-4742
Email: cincinnati@ishausa.org
Dayton:
Ph: (937) 540-4742
Email: dayton@ishausa.org
Partners
The Save Soil Movement has joined hands with these distinguished partners to spread the importance of soil health and ensure we leave our children a better world.
91.3 WYSO Dayton
Bharat Media
Green Umbrella
Cincinnati Nature Center
Cincinnati Parks
Sierra Club Ohio