Event Information
Location
Hamad Bin Khalifa University
Brand Lounge
Qatar Foundation
Description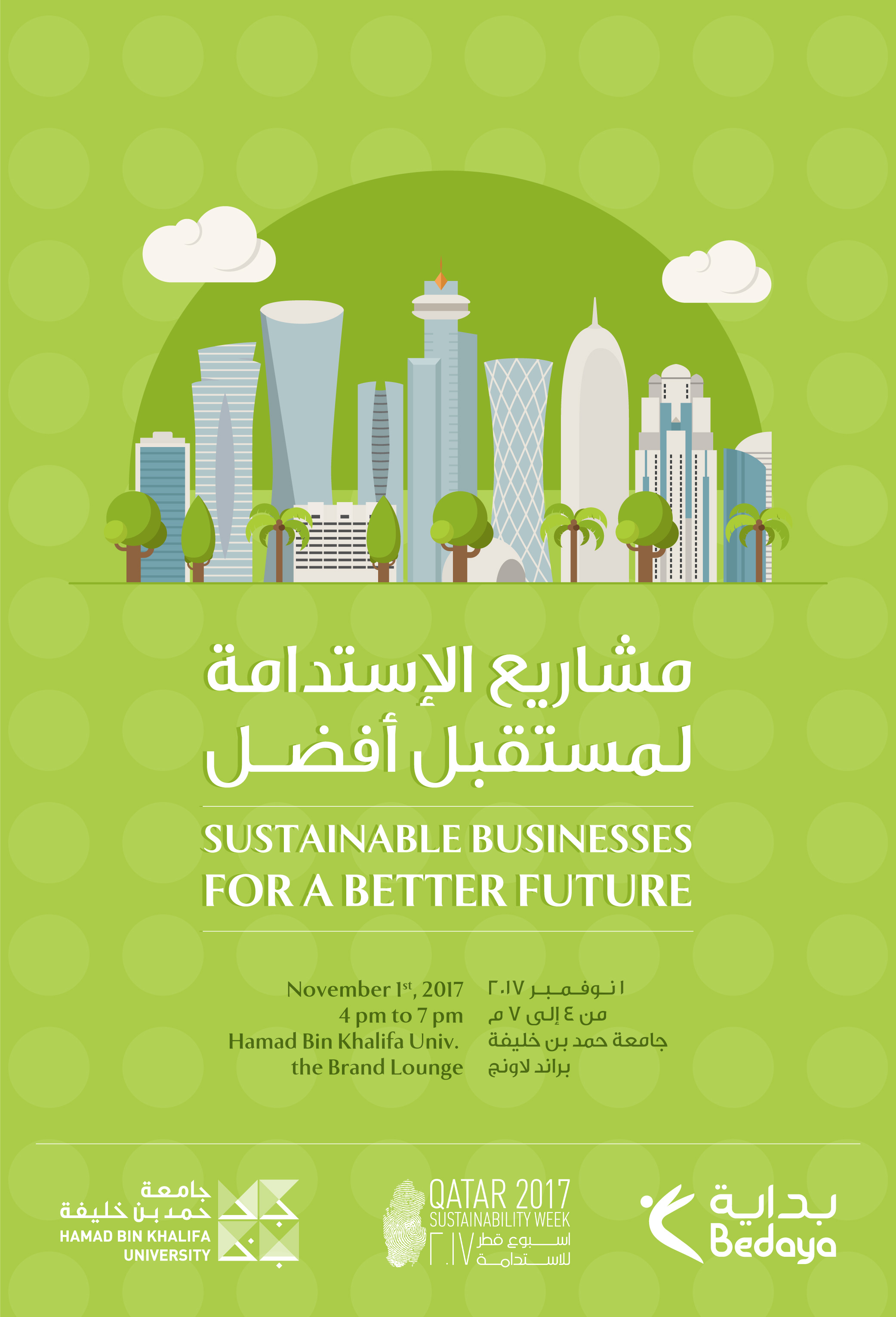 مشاريع الاستدامة: من أجل مستقبل أفضل هي فعالية للذين يرغبون في سماع خبرات من الأكاديميين ورجال الأعمال في مجال الاستدامة. سيتمكن الحضور بالإستماع والتعرف على الجهود الحالية المتعلقة بالاستدامة في قطر وماذا يمكن للمشاركين التقديم لاستمرارية هذه الجهود عن طريق المشاركة خلال الحملات التوعية المتعلقة بالاستدامة.
الفعالية ستقام يوم الأربعاء 1 نوفمبر من الساعة 4 مساءاً إلى 7 مساءاً في صالة براند لاونج في جامعة حمد بن خليفة.
للتسجيل للفعالية يرجى تحميل تطبيق بداية والتسجيل عن طريق قسم الفعاليات: http://www.bedayaapp.com
---
Sustainable Businesses: For A Better Future is a social event for anyone interested to hear stories from academics and entrepreneurs in the field of sustainability in the country. Attendees will get the chance to learn about sustainability efforts and their role to take action by networking and participating during the sustainability campaigns within Qatar.
The event will be held on Wednesday, November 1st, from 4 pm to 7 pm at Hamad Bin Khalifa University's Brand Lounge.
To register for the event please download Bedaya App and sign up thru Events page: http://www.bedayaapp.com/en/index.htm
Date and Time
Location
Hamad Bin Khalifa University
Brand Lounge
Qatar Foundation