Конкурс кондитеров "Тортуют все"

Sunday, April 23, 2017 at 3:00 PM (MDT)
Event Details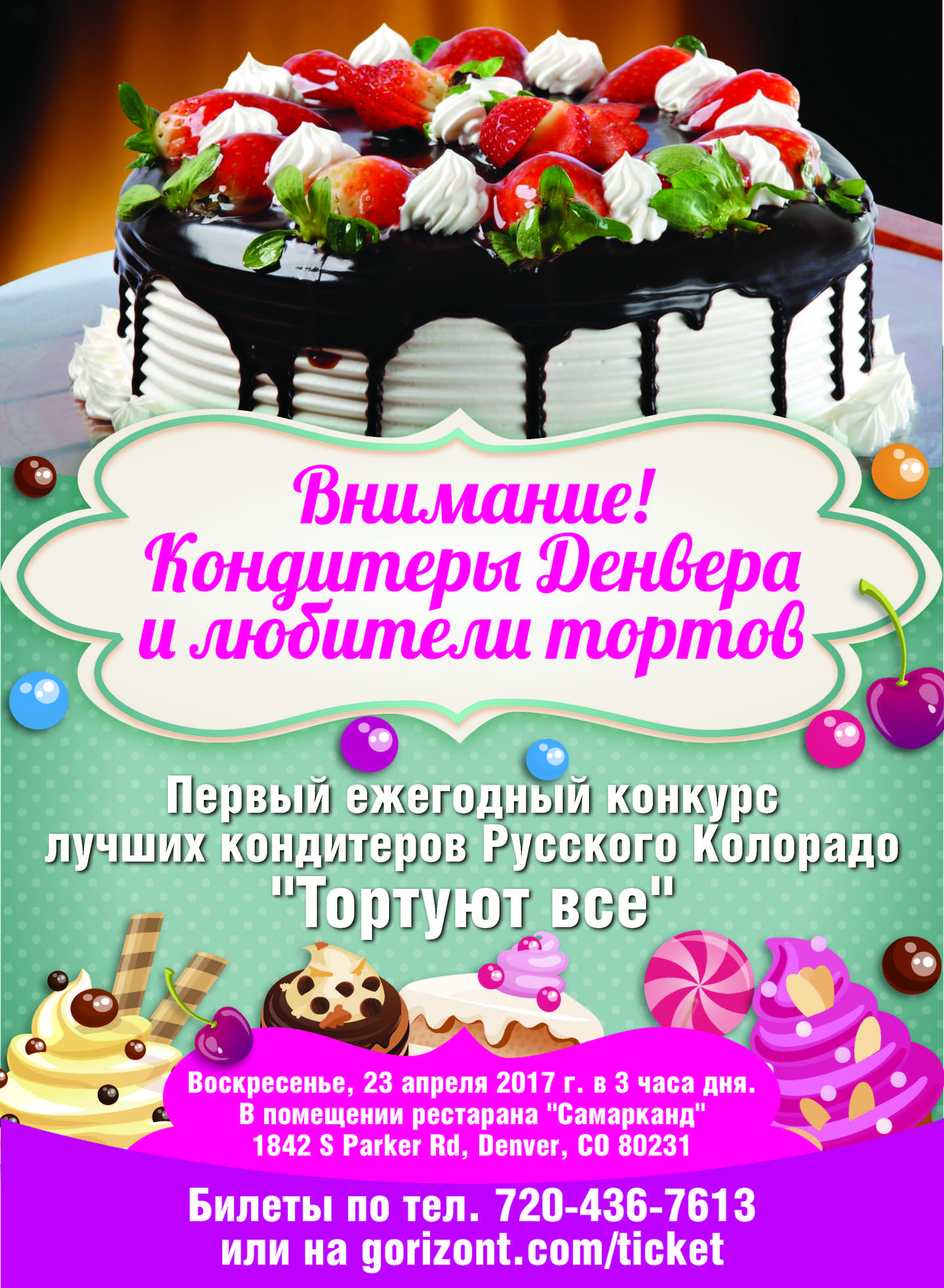 Проведение конкурса
1. Зарегистрируйтесь, выбрав соответствующий билет (один вид на участника)
       а) Если вы участник конкурса (15 мест)
       б) Если вы член жюри (7 мест)
       в) Если вы зритель / дегустатор (40 мест)
Все билеты бесплатные, вход бесплатный для зарегистрировавшихся
Вход на мероприятие без билета $20

2. Участники конкурса приносят свои торты не позднее 14:30
Разыгрываются 4 номинации
а) За лучшие вкусовые качества
б) За лучшее оформление
в) За лучшую презентацию своего торта
г) Приз зрительских симпатий
Все торты будут выставлены под номерами, для сохранения анонимности во время проведения оценки оформления и вкусовых качеств. 
Каждый участник выставляет лучший по его мнению торт в любом стиле, который у него получается лучше всего. Каждый участник может выставить несколько тортов (минимум один торт - максимум три). Каждый торт "участвует" в конкурсе, как независимый участник (его автор до заключения жюри остается неизвестным).

Приз за вкусовые качества и оформление ПОЛУЧАЕТ ТОРТ (и его автор). Предоставление на конкурс нескольких тортов теоретически повышает вероятность победы в номинации "вкусовые качества" и "оформление", но победу не гарантирует и преимущества над другими участниками конкурса не дает.

3. Вручение призов
1. Лучшие вкусовые качества - 2 месяца бесплатной рекламы в газете "Горизонт" Целая страница и один раз на обложке. Плюс - подарок / сертифицат от SPA
2. Лучшее оформление - 3 месяца бесплатной рекламы в газете "Горизонт" 1/2 страницы + подарок от SPA / Salone
3. Лучшая презентация торта. 4 месяца бесплатноей рекламы в газете "Горизонт" 1/4 страницы + подарок ор SPA / Salone
4. Приз зрительских симпатий. 4 недели бесплатной рекламы в газете "Горизонт" 1/4 страницы + подарок от SPA / Salone
4. Закуски
       
Помимо возможнсоти попробовать торты (что останется после работы жюри :) ) участники конкурса, члены жюри и зрители также могут попробовать знаменитый плов ресторана "Самарканд" (бесплатно)
Желающие во время и после конкурса могут заказать любые другие блюда из меню ресторана "Самарканд" за свой счет.
ЖДЕМ ВАС НА ПРАЗДНИКЕ - КОНКУРСЕ КОНДИТЕРОВ
When & Where

Samarkand Restaurant
1842 S Parker Rd
Denver, CO 80231


Sunday, April 23, 2017 at 3:00 PM (MDT)
Add to my calendar
Organizer
HORIZON MEDIA PRESENTS
RUSSIAN CONNECTIONS  – is Professional Entertainment Management Group of musicians, singers, actors, masters of ceremony, audio engineers, catering experts, and event or sporting activities coordinators who exhibit many years of excellent experience in promoting Russian Culture, organizing concerts, tours, contests, corporate parties or other cultural events. We work at many different levels, from mega stars of show business to small private companies. And we always have time and a full attention to each and every one of our clients or attendees of our events.
Конкурс кондитеров "Тортуют все"