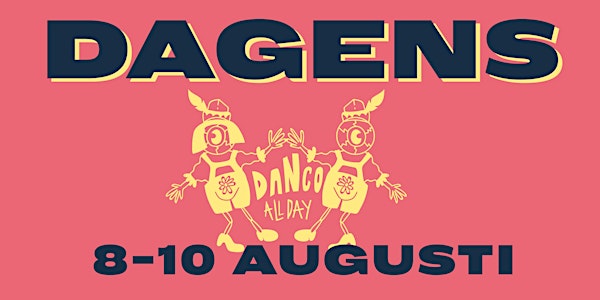 333 x ZAMENHOF presenterar: DAGENS 2.0
When and where
Location
Zamenhof Esperantoplatsen 5 Göteborg Sweden
Description
333 x ZAMENHOF presenterar: DAGENS 2.0
Dagsfestkonceptet DAGENS flyttar in på ZAMENHOF under årets upplaga av Way Out West! Förra året var inget mindre än briljant och i år är förutsättningar ännu bättre - och som alla vet är dagsfesten den bästa festen, så vi kör varje dag tors-lör mellan 12-16 med b.l.a BOJOU, MEEDI, IOSEF, FAAL m.fl på scen och b.l.a DJ LLAMA, LADY LOUISE och NAMITANDA i DJ-båsen. Nytt för i år är att vi under fredagen även huserar klassikern WAY OUT WARNER hos oss, så missa för allt du är värd inte fredagen med en sinnes lineup: ADEN & ASME, ELIAS ABBAS, SAMI, CASPER THE GHOST, DJ BLACKMOOSE, SHEWIT mf.l!
Som alltid så är det 100% gratis och det enda du behöver tänka på är att det är 18+ och först till kvarn som gäller. Du måste också OSA till festerna - en länk to rule them all:
TORSDAG: ZAMENHOF/333 x JUNKYARD ihop med Brooklyn Brewery & Edrington presenterar:
BOJOU + IOSEF live på scen x DJ LLAMA & LÉ MAIN!
FREDAG: WARNER x ASYLUM RECORDS ihop med Brooklyn Brewery och Jim Beam presenterar:
WAY OUT WARNER!
LÖRDAG: ZAMENHOF/333 ihop med Brooklyn Brewery och Edrington presenterar:
MEEDI + FAAL live på scen x DJ LADY LOUISE x NAMITANDA!
Så för att summera: tre svinkul dagsfester på Zamenhof - inget inträde och inget krav på festivalarmband - fantastisk musik i båsen och på scen och allt ni behöver göra är att OSA och vara på plats (ingen platsgaranti tyvärr, men ni ser ju själva att det är värt att planera in besöken). Stort tack till: Zamenhof, Brooklyn Brewery, Junkyard, Warner, Asylum Records, Edrington och alla våra artister och DJ's!