السقف الوظيفي | ازالة الحواجز الزجاجية

Saturday, April 14, 2012 from 7:00 PM to 9:00 PM (AST)
Event Details
تنظم شبكة صلة حلقة نقاش ضمن لقائها الخامس وذلك بعنوان " السقف الوظيفي، إزالة الحواجز"
حيث ستشارك في حلقة النقاش عدد من المتحداث الرائدات في قطاعات مختلفة وهن: 

·        المهندسة رشا الهوشان عضو مجلس إدارة "المملكة القابضة"

·        المهندسة نبيلة التونسي مديرة قطاع الهندسة في مشروع مصفاة راس تنورة في شركة أرامكو
·        الأستاذة هالة قدوة مدير عام البرامج الاستراتيجية في بنك سامبا 

·        الأستاذة غادة بن باز مديرة إدارة الموارد البشرية في مدينة الملك فهد الطبية ونائبة رئيس لجنة الموارد البشرية للمدن الطبية في وزارة الصحة
وذلك لمناقشة موضوع غاية في الأهمية للسيدات المهنيات وهو توظيف السيدات في المناصب القيادية في القطاعات المختلفة. حيث ستشارك المتحدثات بتجاربهن خلال مسيرتهن المهنية حتى وصولهن لهذه المناصب.
يأتي هذا اللقاء استكمالاً للقاءات صلة الدورية والتي تهدف إلى خلق بيئة تواصل مهنية بين السيدات العاملات من كافة القطاعات.
يعقد اللقاء في المقر الرئيسي لجمعية النهضة النسائية الخيرية  يوم السبت الموافق 14 ابريل 2012 من الساعة 7 مساءا وحتى الساعه 9 مساءا ،،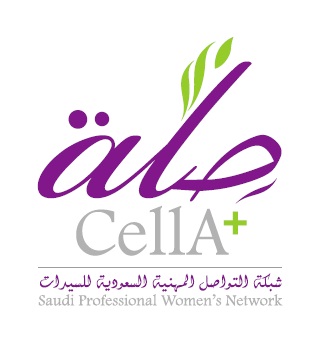 إحدى  المشاريع المدعومة بواسطة 

When & Where

جمعية النهضة النسائية

Riyadh
Saudi Arabia

Saturday, April 14, 2012 from 7:00 PM to 9:00 PM (AST)
Add to my calendar
Organizer
CellA+ Network شبكة صلة
رؤيتنا
تمكين المرأة العاملة في المملكة العربية السعودية للحصول على أفضل الموارد المهنية.
مهمتنا
نعمل في صلة لتفعيل مجتمع السيدات المهنيات حول المملكة العربية السعودية و ذلك في جميع مراحلهن المهنية من خلال تبني أدوار القيادة المهنية، التوجيه، و مشاركة النجاحات في محيط من الإحترافية
أهدافنا
ربط عضوات الشبكة في جميع أنحاء المملكة العربية السعودية عبر بيئة تثري الجوانب المهنية.

تطوير المهارات والقيم المهنية.

خلق فرص التعلم والنمو المهني.

تبادل الموارد المهنية.

إلهام الشابات الواعدات.

خلق الوعي للجانب المهني للمرأة السعودية.
السقف الوظيفي | ازالة الحواجز الزجاجية