Description
主办单位
数据应用学院(Data Application Lab)
北美第一家培训-项目实习-内推一站式专业数据人才输送机构,提供大数据 & 数据科学培训和公司项目解决方案,由南加州与硅谷的高级数据科学家与数据工程师联合创办,致力于传播数据行业最新应用和知识、培训及输送优秀大数据人才,以填补人才缺口、充分发挥大数据在商业中的力量。2016年被北美著名科技杂志Tech Beacon评为Top Data Camp。2018年被业内杂志CIO评为2018全美Top17数据科学训练营,与Galvanize、GA、Metis等老牌公司齐名。
数据应用学院已成功举办十多期bootcamp,累计培训Data Scientist/Data Engineer/Business Analyst等数据人才近千人。毕业学生工作去向包括Google, eBay, Bloomberg, Amazon, Snapchat, Discover, ZestFinance, Zillow, Salesforce, Acumen, Spotify等公司。
数据应用学院从2015年起与北美各高校联合主办"数据科学行业和职业发展公益"讲座,合作学校包括:MIT,Harvard,Boston Uni., JHU, Columbia, NYU, Uni. Pen. Uni. of Washington,Uni. of Chicago, Northwestern University, UIUC, U Michigan, IIT,Uni. of Texas at Dallas,TA&MU, Rice University,USC、UCLA、UC Irvine、UCSB、UCSD等近五十所高校,受到同学广泛欢迎,累计到场学生和在职人士数千人。
我们招人啦
Technical Researcher / Developer Internship
We are looking for technical researcher internship who is motivated to develop new projects. Candidates must have CS or related background (EE, information science, etc.) Responsibilities include graphical design, programming, and content editing, reporting. You will work with our developer team. Candidates will work with multiple tasks.
Web Developer/Full Stack developer Internship
Unpaid internship. OPT paid options available for highly qualified candidates. Part-time (minimum 2-3 days onsite) or Summer Full time. We are looking for web developers internship who is motivated to combine the art of design with programming. Responsibilities include UI design, web coding, and content editing. You will work with our developer team and designers to maintain website.
Data Science Assistant Designer
Operates an assistant role in our Data Scientist Program Teaching Group. This is an unpaid position.
Required Skills include basic knowledge of mathematics, Statistics or a related quantitative field. Machine Learning knowledge preferred, skills with Python or similar scripting languages etc.
Business Development and Marketing 商业发展与市场扩展
Development and manage business opportunities in professional training industry. Work closely with cross-functional leadership, training experts, and other related team members in support of each opportunity, including product, marketing. Provide research and data in support of deal development.
Social Media Management
职责: 1).维护Social Media渠道 2).进行渠道营销数据分析 3).监控与评估渠道效用
要求: 1).具有Social Media management经验 2).文字与语言表达能力优秀 3).对数据敏感,渴望学习新工具,有团队合作精神 4).专业不限,本科以上学历
Data Analyst
职责: 1) Perform complex data analyses, segmentation, and profiling. 2) Prepare and deliver presentations detailing results of analytics. 3) Own the model development from end-to-end, starting with data collection to incorporating adjustments post-pilot
要求: 1) Expertise in analytical programming (e.g., R, Python). 2) Expertise in designing analytic use cases.
Data Scientist
职责: 1) Develop and maintain complex analytical models and algorithms. 2) Write model technical documentation. 3) Participate in use case feasibility discussions and translate business idea/ business problem into analytics use case
要求: 1) M.S. /Ph.D. in Computer Science/ Operations Research/ statistics 2) Experience in big data platform, Hadoop and Spark
Career Coach
职责:1)Assist students with career education and professional development. 2)Guide students through mock interviews while providing constructive feedback. 3) Develop materials and resources for career activities.
要求:1) At least 1 years of experience related to Career Services. 2) Exceptional interpersonal/presentation skills are required.
Sales
职责: 1)Proactively manage and respond to a high volume of prospective students efficiently. 2)Host and lead in-person info sessions to convert sales. 3)Interview prospective students to ensure that their qualifications and interests.
要求:1)Excellent selling, communication skills and ability to influence others. 2)1-2 years proven experience in consultative sales, consumer sales or similar role.
美编
职责: 1).设计数据可视化结果 2).协助编辑进行文案配图
要求: 1).具有图像设计经验 2).熟练掌握PhotoShop Illustrator等图像处理工具 3).专业不限
活动策划/广告营销
职责: 1).负责活动策划,撰写活动程序细节,并实施推广 2).搜集整理行业报告,进行竞品调研 3).活动前期与后期的评估报告撰写
要求: 1).优秀的交流能力 2).良好的时间管理能力与商务拓展能力 3).多任务处理能力
Technical Writer/翻译
职责: 1).深度讨论数据应用 2).调研行业发展
要求: 1).对数据应用极为感兴趣 2).具备数据分析基础 3).具有一定business insight 4).写作能力强
校园大使
职责:1. 关注及收集学校中英文职业发展workshop、理工科学术讲座。2.安排校园行讲座。 3. 维护学校内对大数据、数据科学感兴趣的社群。
要求:1. 有一定的理工科背景。 2. 最好有学生会工作经验。 3. 抗压能力强,有创新意识。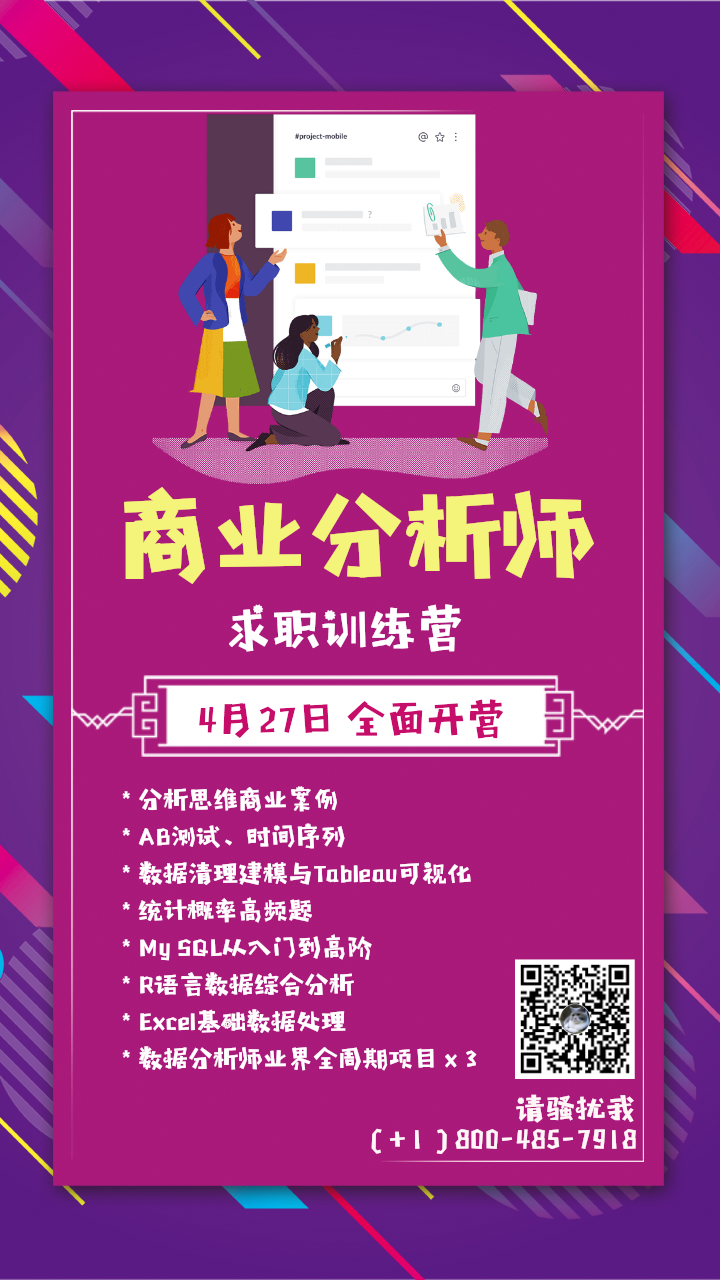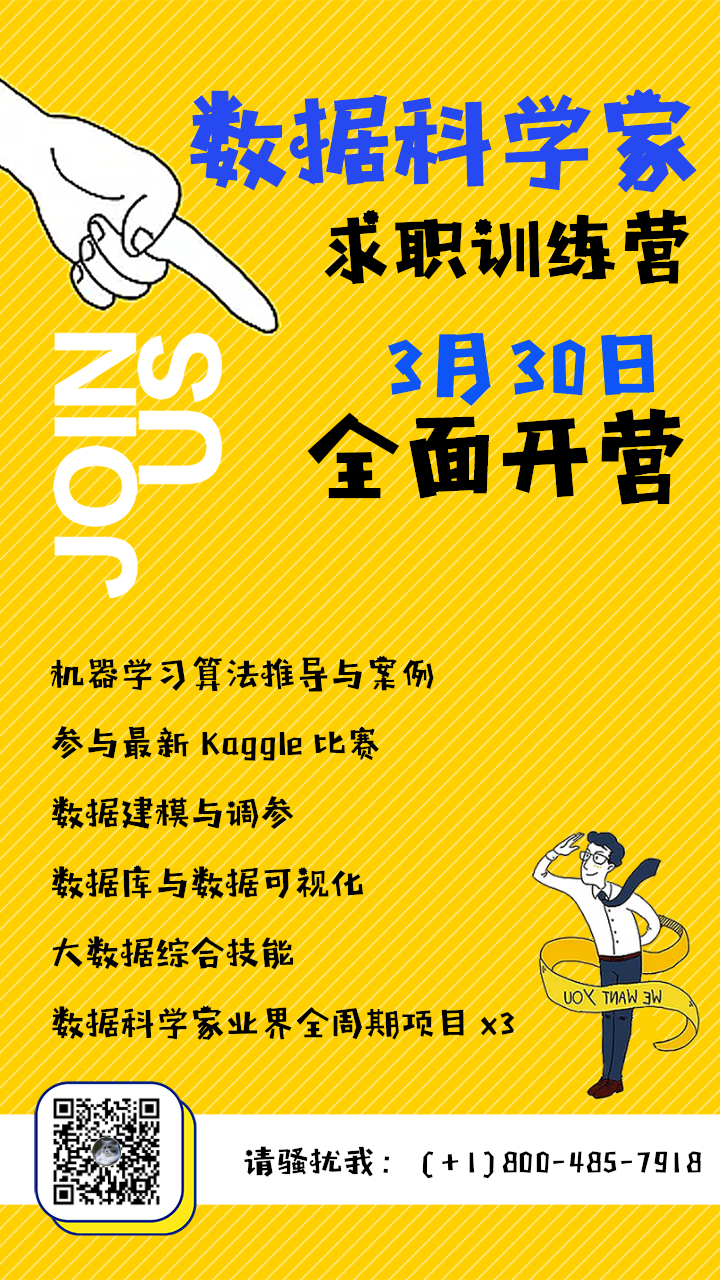 ----------------------------------------------------------------
联系方式:
Data Application Lab (www.DataAppLab.com)
Email: info@DataAppLab.com
Tel: 1-800-485-7918