Description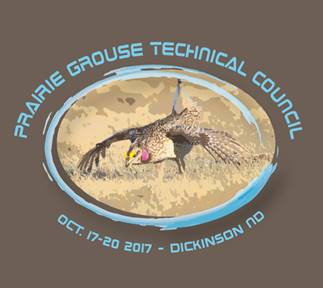 32nd Prairie Grouse Technical Council Meeting
The North Dakota Game and Fish Departement is hosting the 32nd Prairie Grouse Technical Council in Dickinson, ND on October 17-20th. Dickinson is situated approximately 100 miles west of Bismarck. Join the leading prairie grouse experts and managers in discussion on the future of prairie grouse and their conservation. Presentations and posters that feature prairie grouse conservation with a field trip to historic grouse lek census blocks. the event wraps up with a social, auctions, and awards banquet.
Registion includes a Cabelas PGTC shirt, so please indicate you shirt size with your registration.
If you prefer to register and pay by mail, please send a check made out to the North American Grouse Partnership in the appropriate amount to:


North American Grouse Partnership
NAGP – PGTC Registration
1670 N ½ Rd.
Fruita, CO 81521
Please

make

your

own

lodging

arrangements

Event and lodging will be at the Ramada Grand Dakota Lodge 532 15th Street West Dickinson, ND and room block (Oct. 17-20) is held for conference attendees ($79/standard room + 9.5% tax, $99/Suite +9.5% tax) and you are responsible for your own lodging arrangements. Reservations can be made by calling (701) 483-5600 or (800) 422-8414 and mention Prairie Grouse Meeting 2017 when booking.


Current tax is 9.5% – subject to change



---
Tentative Agenda

Tuesday, 17 October
5:30 p.m. – 9:00 p.m. Evening Social and Registration
Wednesday, 18 October
7:00 a.m. Registration desk opens
8:00 a.m. – Noon Presentations & lunch on site
1:00 p.m. – 6:00 p.m. Field trip to historic grouse lek census blocks
6:30 p.m. Dinner at hotel.
Thursday, 19 October
8:00 a.m. – 11:45 a.m. Presentations Noon Lunch on site
1:00 p.m. – 4:00 p.m. Continue presentations; Business Meeting
6:00 p.m. Silent Auction, Social and Poster Session
7:00 p.m. – 8:30 p.m. Awards banquet
Friday, 20 October
Dispersal
Field
trips:

Retired ND Game and Fish biologist Jerry Kobriger has volunteered to guide us on a tour of one of the longest surveyed grouse blocks in ND. Also, during the drive, everyone can see firsthand the drought conditions ND is experiencing.
State
Reports
Please send state and other appropriate program updates to RJ Gross no later than October 1, 2017.
Participants are encouraged to bring donated items for our silent auction.
Please direct any questions to Conference Chair RJ Gross via email ragross@nd.gov or by phone: 701-328-6339
Call
for
Papers
–
32nd
Prairie
Grouse
Technical
Council
Abstracts for the 32nd Prairie Grouse Technical Council meeting are now being accepted. The deadline for receipt of abstracts is 4 September, 2017. Authors will be notified about the acceptance of their submissions by 18 September. Selected papers will be scheduled at 20- minute intervals. Presentations should be limited to 15 minutes to allow 5 minutes for questions and comments.
An example of the abstract format follows. First, give title in caps, double space, and then provide author(s) and their affiliation. Capitalize all authors' names and state abbreviations. In cases of two or more authors, place an asterisk after the name of the person presenting the paper; then double space again and start the abstract. Do not indent any part of the abstract. Abstracts, including authors and title lines, should be no more than 250 words (including title and authors).
Abstracts should include a statement of objectives, brief description of methods used, presentation of results, and a summary of conclusions/inferences drawn.
Following the abstract, provide the following information:
E-mail address (if available) for corresponding author

Full address of corresponding author

Telephone number of corresponding author

Type of presentation (Paper or Poster)

Audio-visual needs (E.G. SLIDE PROJECTOR, POWER-POINT PROJECTOR, OVERHEAD PROJECTOR, VIDEOTAPE PLAYER, AUDIO TAPE PLAYER, etc.)

Any additional comments about the presentation
Sample abstract:
ALL PROBLEMS OF PRAIRIE GROUSE RESOLVED.
I. M. SMART*, Dept. Biological Sciences, Slapout Univ., Slapout, OK 73848 USA, N. O. ITALL and
D. UNNIT, Oklahoma Conservation Dept., Foraker, OK 74000 USA.
Biologists have been plagued by problems of prairie grouse conservation since time immemorial. Our research has shown that the solution to all of these problems is …
I. M. Smart
Department of Biological Sciences
Phillips Building 123 Highway 270
Slapout, OK 73848
580-555-1212
Please e-mail your abstract along with a brief biography to RJ Gross in MSWord or plain text format: ragross@nd.gov
1st
Call
for
Hamerstrom
Award
Nominations
The Awards Committee is seeking nominations for the Hamerstrom Award for the 31st PGTC Conference. This award was established in honor of Fred and Fran Hamerstrom, pioneers of prairie grouse research and management. The award will consist of a plaque with the engraved name of the recipient and will be presented during the banquet on Thursday, October 19. The deadline for nominations is 15 September 2017.
Hammerstrom
Award
Criteria
To recognize an individual(s) and organization(s) who have made significant contributions in prairie grouse research, management or other support programs which have enhanced the welfare of one or more species of prairie grouse in a particular state or region.

The contribution should be evidenced by a sustained effort over at least 10 years.

The contribution may be related to research, management activity, promotion of an integrated program, or some combination thereof. The relative importance given to these three categories of contributions is the prerogative of the Awards Committee but it should be based on how it has helped the overall welfare and survival of prairie grouse
Selection
Procedure:
The selection of award recipients will be made by the three-member Executive Board and two additional members appointed by the Chair.

Nominations will be accepted at large as well as from members of the Awards Committee.

Nominations will be submitted to the designated Awards Committee Chair at least one month before the biennial meeting of the Prairie Grouse Technical Council.

A maximum of two individual awards and two organization awards may be presented at a biennial meeting. No awards will be given if the Awards Committee feels that no deserving individuals or organization are available at the time.

Nominations should include the following information:
Name, address, and phone number / email address of nominee.

Biographic sketch of individual or brief history of an organization.

Overview of contributions indicating the nature of the contributions, duration, how it has contributed to the welfare of one or more species of prairie grouse, and the geographic area influenced by the contributions.
Email nominations to David Dahlgren: dave.dahlgren@usu.edu