About this Event
Come celebrate the Long Beach Jazz Festival. Featuring a great line-up from classic R&B to hot summer night jazz. The only Southern California Jazz Festival staged on a gorgeous grassy knoll in a beautiful Lagoon setting. Long Beach Jazz Festival features some of the top artists of the year and includes VIP seating in an incredible outdoor setting with a great selection of food, art and much more. "Jazz", an experience you will never forget!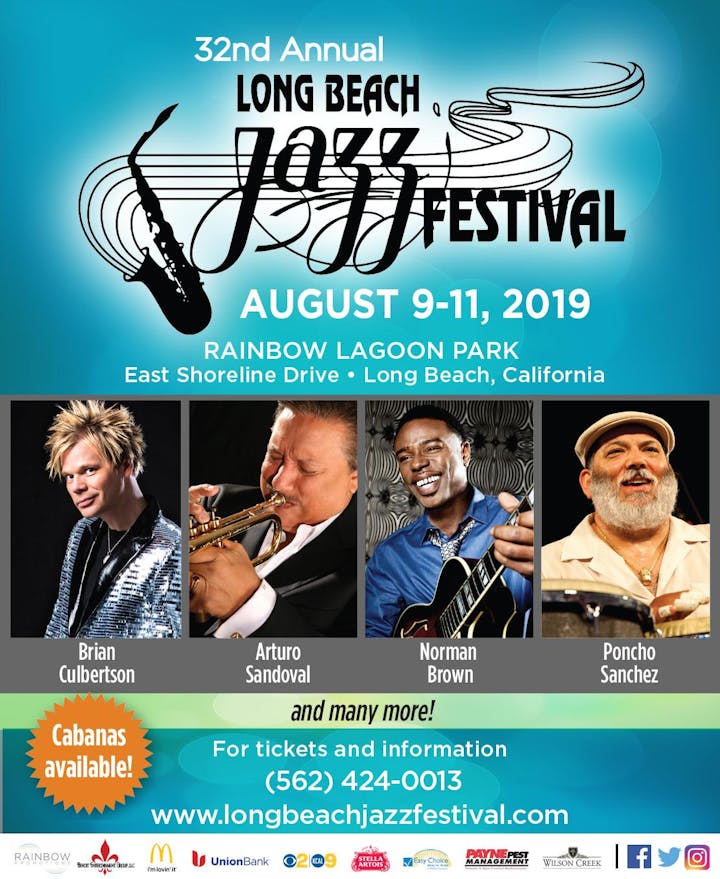 FESTIVAL POLICY
All acts advertised have confirmed their appearance; however acts and times are subject to change without notice.
The following items will be permitted for entry into the Festival:
Picnic Baskets/small personal coolers (up to 10 quarts)
Plastic Utensils and Plastic Food Containers only
Factory-Sealed Plastic Beverage Containers
A Sand Chair for Lawn Seating (low-back preferred)
To assure a safe and enjoyable festival experience for all, please note that the following items will NOT be permitted into the Festival – STRICTLY ENFORCED:
NO Umbrellas or High-back Chairs
NO Wagons
NO Alcoholic Beverages
NO Thermoses
NO Open Containers
NO camera equipment with professional large, zoom, or detachable lenses
NO Video Equipment
NO Footstools or Footrests
NO Portable Grills
NO Tables or "Blow Up" Furniture of any kind
NO Glass or Metal Containers
NO Aluminum Cans
NO Metal Utensils or Miscellaneous Metal or Sharp Objects
NO Coolers over 10 Quarts
NO PETS (except approved service animals with proper paperwork. You must sign a waiver at the Festival entrance)
NO Unauthorized Vendors
NO In/Out privileges
Please note: ALL personal belongings WILL BE SEARCHED at the entrance, so please adhere to all rules to avoid a delay to others during the entry process.
Vendors from all over the region will display their food & wares. Beer, Wine, and Alcoholic beverages will be on sale at the festival site.
NO REFUNDS OR EXCHANGES. YOU ASSUME ALL RISK INCIDENTAL TO THE EVENT AND YOU AGREE THAT THE PORT OF SAN DIEGO, THE MANAGEMENT, ITS AGENTS, AND THE PERFORMERS ARE NOT RESPONSIBLE OR LIABLE FOR ANY INJURIES RESULTING FROM SUCH CAUSES. NO TRANSMISSION OR AIDING IN TRANSMITTING ANY DESCRIPTION, ACCOUNT, PICTURE, OR REPRODUCTION OF THE EVENT, GAME, PERFORMANCE, OR EXHIBITION IS ALLOWED. YOU HEREBY CONSENT TO THE REASONABLE SEARCH FOR ALCOHOLIC BEVERAGES, DRUGS, OR WEAPONS. YOU FURTHER CONSENT TO THE USE OF YOUR IMAGE OR LIKENESS INCIDENTAL TO ANY DISPLAY, TRANSMISSION, OR REPRODUCTION OF THE EVENT. MANAGEMENT RESERVES THE RIGHT TO REFUSE ADMISSION OR EJECT ANY PERSON WHOSE CONDUCT IS DEEMED BY MANAGEMENT TO BE DISORDERLY OR WHO FAILS TO COMPLY WITH THE TERMS AND CONDITIONS HEREIN.
All acts advertised have confirmed their appearance; however, all acts and times are subject to change without prior notice. ALL SALES ARE FINAL. NO REFUNDS OR EXCHANGES WILL BE ALLOWED. No refunds for any Artist Cancellation or Replacement. RAIN OR SHINE.
LOST TICKETS WILL NOT BE REPLACED. TREAT AS CASH.
Performers
Date and Time
Location
Refund Policy