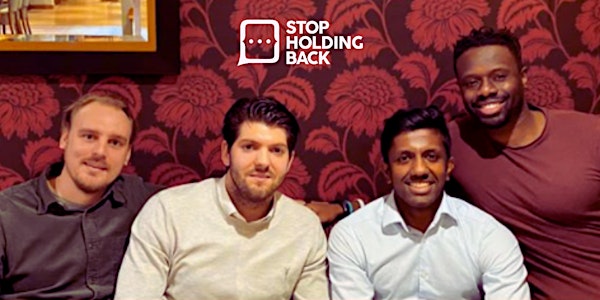 London Stuttering Meet-up - Hosted by UK Charity Stop Holding Back (SHB)
Event Information
Location
Market Halls Victoria
191 Victoria Street
London
SW1E 5NE
United Kingdom
If you're a person who stutters/stammers in London, why not join one our casual meet-ups! We meet every month in Central London
About this event
You'll find out more about the charity and organisers below but first read on about the event!
About
At SHB we have created a casual and easygoing environment where you can unwind and socialise with other people who stutter after a long day at work. Many of us have attended more traditional meet-ups which can have a clinical atmosphere. We are a bit different and are people first & the topic of stuttering second :)
Locations vary but will be announced a week before each event as we explore various food halls and markets around London!
Why you should attend
If you're looking for a safe space for a casual meet-up with other people who stutter/stammer, the SHB London Meet-up might be the place for you. We all come from different walks of life so you can find out about different employment routes and experiences as a person who stutters. Stuttering can leave you feeling lonely and frustrated but having a small and helpful community to share and be yourself with can be your outlet
The Organisers
Christopher Jackson - Business Owner in the Luxury Fashion Recruitment Sector specialising in job applications, interview preparation, public speaking and podcasting.
Ruban Pillai - Banking & Finance Professional specialising in public speaking (TEDx Talk), communication, career development and networking
Feel free to reach out to us if you are considering attending and we can help!
The Charity
Founded in 2018, Stop Holding Back is a UK charity dedicated to helping people who stutter find careers. The small but passionate team work towards creating a safe space for people who stutter to socialise and meet others experiencing the same challenges. Services such as interview preparation and public speaking coaching is available upon request. SHB was officially incorporated by the UK Charity Commission in 2019.
Location
Market Halls Victoria
191 Victoria Street
London
SW1E 5NE
United Kingdom