Μεταπτυχιακά στην Ολλανδία, Ευρώπη και Βρετανία για όλες τις Ειδικότητες

Thursday, March 9, 2017 from 6:00 PM to 7:30 PM
Who's Going

Loading your connections...
3 of your friends are going.
Share it to get more people on board!
Share

Sara Haughty
San Francisco, California

Luke Picard
London, United Kingdom

Rick Vespucio
Florence, Italy
Event Details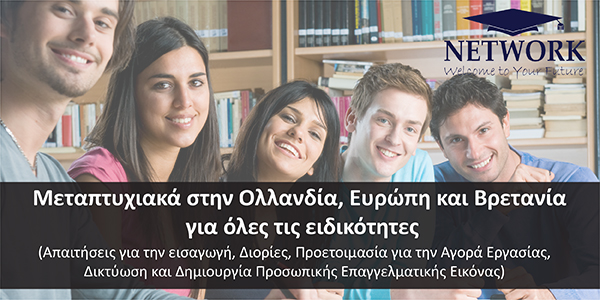 Ο Όμιλος NETWORK, στα πλαίσια της υποστήριξης των υποψηφίων για σπουδές και εργασία σε Ελλάδα και εξωτερικό, διοργανώνει το ΔΩΡΕΑΝ σεμινάριο:
Μεταπτυχιακά στην Ολλανδία, Ευρώπη και Βρετανία για όλες τις ειδικότητες
Θα καλυφθούν κρίσιμα θέματα όπως:
Ποιες είναι οι απαιτήσεις εισαγωγής στα Μεταπτυχιακά προγράμματα σπουδών Ολλανδίας, Βρετανίας και Ευρώπης και πως να κάνετε τη δική σας επιλογή
Τι προετοιμασία χρειάζεται να κάνετε και ποιες οι διαφορές ανάμεσα στα εξειδικευμένα τεστ TOEFL - IELTS και GMAT - GRE
Ποιες οι διορίες των αιτήσεων της κάθε χώρας, ποια είναι η καλύτερη περίοδος για να ξεκινήσετε τις αιτήσεις σας και ποιες οι ιδιαιτερότητες αιτήσεων της κάθε χώρας
Ποια είναι τα κόστη των Μεταπτυχιακών Σπουδών, πως είναι η ζωή σε Ολλανδία, Βρετανία και Ευρώπη και τι χρειάζεται να γνωρίζετε για τη δυνατότητας στέγασης.
Ποια τα βήματα που ακολουθούν οι υποψήφιοι για τη δικτύωσή τους με φορείς εντός και εκτός Πανεπιστημίων (πριν, κατά τη διάρκεια και μετά τις σπουδές) και για τη δημιουργία της Προσωπικής τους Επαγγελματικής Εικόνας με σκοπό την καλύτερη προετοιμασία τους για την αγορά εργασίας
Πέμπτη 9 Μαρτίου 2017
18:00 - 19:30
Αμφιθέατρο Πολεμικού Μουσείου, Ριζάρη 2, Αθήνα



Με την ολοκλήρωση του σεμιναρίου θα είστε σε θέση να:

Μπορείτε να αξιολογήσετε, να επιλέξετε και να επενδύσετε στα καλύτερα Πανεπιστήμια και προγράμματα Master και MBA, με βάση τους προσωπικούς σας στόχους
Οργανώσετε τις διαδικασίες που απαιτούνται για την εισαγωγή σε Top Μεταπτυχιακά σε Ολλανδία, Βρετανία και Ευρώπη
Ανταποκριθείτε εγκαίρως στις κρίσιμες ημερομηνίες για τις αιτήσεις σας ώστε να διασφαλίσετε την εισαγωγή σας στο Μεταπτυχιακό της επιλογής σας
Ξέρετε ποιά βήματα και ποιές ενέργειες θα πρέπει να ακολουθήσετε για τη δημιουργία του προσωπικού σας Επαγγελματικού προφίλ με σκοπό την εισαγωγή σας στην αγορά εργασίας
      

Πέτρος Τσιτσιρίκος 
Πρόεδρος Ομίλου NETWORK

Γεννήθηκε στην Αθήνα. Τελείωσε το Κολλέγιο Αθηνών, το Οικονομικό Τμήμα της ΑΣΟΕΕ και το Northeastern University στην Βοστόνη, από το οποίο έλαβε τον Μεταπτυχιακό του τίτλο MBA (Master of Business Administration).

Εργάστηκε ως στέλεχος και ως σύμβουλος στον ιδιωτικό και στο δημόσιο τομέα. Το 1991 ίδρυσε στην Αθήνα τον Εκπαιδευτικό όμιλο NETWORK (από το 1996 και στη Θεσσαλονίκη), του οποίου προεδρεύει ως σήμερα. Έχει συμβουλέψει και υποστηρίξει χιλιάδες μαθητές και σπουδαστές για τις σπουδές τους, είτε για πρώτο Πτυχίο, είτε για Μεταπτυχιακά, είτε για Δια Βίου Μάθηση, είτε για Επαγγελματικό Προσανατολισμό.

Έχει αρθρογραφήσει σχετικά με τις σπουδές και την εκπαίδευση, τόσο σε διάφορες εφημερίδες και περιοδικά όσο και στο διαδίκτυο, μέσα από τα 16 websites του Ομίλου NETWORK
When & Where

Αμφιθέατρο Πολεμικού Μουσείου (Στάση Μετρό Ευαγγελισμός, Είσοδος επί οδό Ριζάρη)
Ριζάρη 2
10675 Athens
Greece


Thursday, March 9, 2017 from 6:00 PM to 7:30 PM
Add to my calendar
Organizer
NETWORK Postgraduate Department
Ο Εκπαιδευτικός Όμιλος NETWORK ειδικεύεται στην παροχή υπηρεσιών υψηλής ποιότητας και απευθύνεται σε ένα κοινό πολύ απαιτητικό σε θέματα εκπαίδευσης παρέχοντας προγράμματα που απαιτούν εξαιρετική τεχνογνωσία και ικανότητα οργάνωσης διαδικασιών.
Μεταπτυχιακά στην Ολλανδία, Ευρώπη και Βρετανία για όλες τις Ειδικότητες