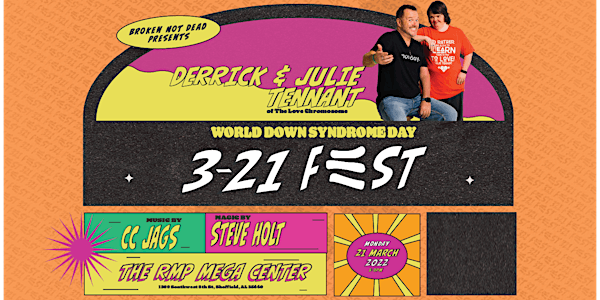 321 Fest | World Down Syndrome Day
Celebrating World Down Syndrome Day to educate the community and to empower and encourage our special needs citizens here in the Shoals!
When and where
Location
The Rescue Me Project Mega Center 1300 Southwest 8th Street Sheffield, AL 35660
About this event
321 Fest is held on World Down Syndrome Day (WDSD) , 21 March, which is a global awareness day which has been officially observed by the United Nations since 2012. The date for WDSD being the 21st day of the 3rd month, was selected to signify the uniqueness of the triplication (trisomy) of the 21st chromosome which causes Down syndrome.
This festival is dedicated to empowering and encouraging not just the Down syndrome community but our entire special needs community here in the Shoals. We will be bringing awareness and empowering the community to advocate for equal rights for people with Down syndrome and other special needs.
Broken Not Dead Ministries has called on their good friends Derrick & Julie Tennant, founders of The Love Chromosome, to entertain and encourage this community. Derrick, who is paralyzed on his left side, is a standup comic and motivational speaker. His sister, Julie, has Down syndrome but has never let that stop her. She is the owner of her own business where she designs her own t-shirts and travels the globe giving people hope and love while on stage with Derrick.
321 Fest will also have Steve Holt, ventriloquist and magician, who has trained in the tradition of the great performers of yesteryear and has entertained family audiences for over 40 years. He toured the United States, England and Canada with his full evening stage show, "The Miracles o Magic Show" in 1987-1991 and is as active as ever these days.
Steve's special brand of entertainment is "A STRONG PERFORMANCE" with plenty of "AH HA MOMENTS", making him the party entertainment expert and the busiest family comedy magician and ventriloquist in the Carolina Upstate and the Southeastern United States!​
He is also a gifted School Assembly Presenter and Ministry Speaker, who is all about giving, inspiring and encouraging others.
The first annual 321 Fest will also include live music from the Shoals' very own CC JAGS, local food vendors, prize giveaways, and more at The Rescue Me Project Mega Center in Sheffield, AL.
Special opportunities for special needs people will be available. Find out more at www.brokennotdead.com/event
This festival is free for the community. Donations can be made payable to Broken Not Dead Ministries to help support the local organizations caring for the special needs community.