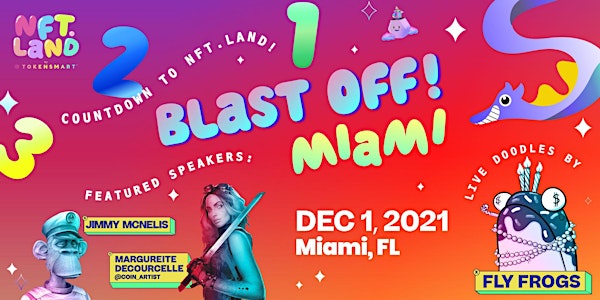 321 Blast Off: Miami
Join NFT.Land by TokenSmart in LA, Miami and NYC as we prepare to blast-off into the Metaverse – Vegas, March 2022
When and where
Location
Briza on the Bay 1717 North Bayshore Drive Miami, FL 33132
About this event
Join Jimmy McNelis, Founder and Fearless Leader of NFT42 and Fortune's NFTy 50 recipient, Marguerite deCourcelle AKA: coin_artist at Briza on the Bay as they talk about their NFT journey, break down the basics of NFTs, and why artists should care about this exploding scene. They'll hit on current NFT art trends, why all NFTs are not created equal, and what, as avid NFT fans, they look for in the art they add to their own collections. Marguerite will even share a few "wish I would have known" tips! You'll leave this session with inspiration to get started in the NFT space and powerful resources to help you hit the ground running.
Limited to 150 attendees.
Schedule of Events
3:00 - 3:30 pm - Registration
3:30 - 5:00 pm - Fireside Chat with Jimmy McNelis & Marguerite deCourcelle
5:00 - 7:00 pm - Networking Reception - Snacks & Hosted Bar with Beer and Wine
COVID-19 Safety Guidelines
NFT.Land will continue to monitor the COVID-19 pandemic and local, state and federal mandates and update attendees as the situation changes and impacts the event. The event will follow all local, state and federal mandates in place at the time of the event.
Event Sponsored by:

Photography/Video Release
TokenSmart and its affiliates reserve the right to use any photograph, video, or other media material produced, used, and/or contracted by TokenSmart for any event hosted and/or presented by TokenSmart (an "Event") without the expressed written permission of those included within the photograph, video, or other media.
Your attendance and/or presence for an Event constitutes your consent to be photographed, filmed, and/or otherwise recorded, and your consent to the release, publication, exhibition, and/or reproduction of any and all recorded media of your appearance, voice, and name for any purpose whatsoever in connection with the initiatives of Tokensmart and/or its affiliates, including but not limited to, use in websites, social media, e-communications, television, publications, news, marketing, advertising, and publicity.
By attending an Event or entering Event premises, you waive and release any and all claims you may have against TokenSmart and its affiliates related to the use of recorded media of you at an Event, including, without limitation, any right to inspect or approve of photos, videos, and/or audio recordings of you, and any claims for invasion of privacy, violation of the right of publicity, defamation, and copyright infringement, and for any fees for use of such record media. You understand that all photography, filming and/or recording will be done in reliance on this consent. If you do not agree to the foregoing, please do not attend an Event or enter Event premises.