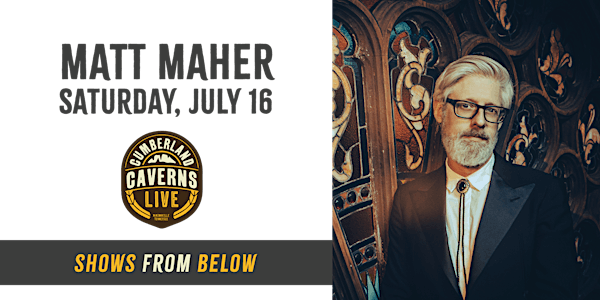 Matt Maher (Acoustic) at Cumberland Caverns Live - McMinnville TN - 7/16
Event Information
Performers
Location
Cumberland Caverns Live
1437 Cumberland Caverns Rd
McMinnville, TN 37110
Join Matt Maher for a one-of-a-kind concert experience 333 feet underground in the spectacular Volcano Room!
About this event
Welcome to Tennessee's largest show cave. Conveniently located between Nashville, Chattanooga, and Gatlinburg, Cumberland Caverns Live offers a one-of-a-kind concert experience!
Located 333 feet below ground, concerts are hosted in The Volcano Room, a natural amphitheater. Here water and time entwined many years ago to create one of the most acoustically pure natural spaces on earth. No man-made sound reaches the Volcano Room and the living rock hued amid the eons is jagged and uneven, providing limited echo. The primordial silence and perpetual darkness give way to the sounds of the finest music on earth. Regardless of outside temperature, the Volcano Room is a constant 56 degrees with 99% humidity.
We recommend wearing athletic-style shoes best-suited for walking or hiking (no sandals/flip flops). Some guests feel cool immediately upon entering the cave but warm up after a few minutes of moving around. Once you are seated for your concert it can feel quite cool, you may want to bring a thin, long sleeve shirt or jacket. The walk from the parking lot to the mouth of the cave is a little under 1/4 mile, and then once inside the cave another ~1/4 mile to The Volcano Room.
Please note: The cave, and the concert venue in the cave, are not handicap accessible due to the uneven pathways, stairs, steep uphill and downhill slopes, and there are some areas that do not have handrails. Strollers, walkers, wheelchairs, etc., will not make it through the cave and we cannot shuttle guests to or from the cave. We strive to keep the cave as natural as possible, but make it safe for our guests to enjoy.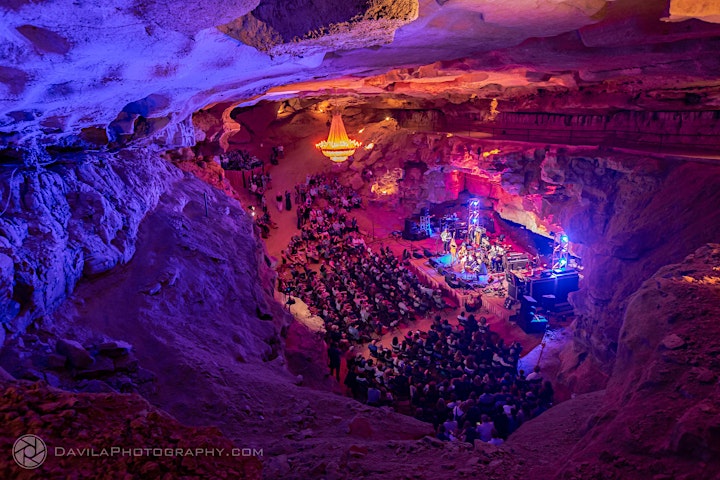 Cumberland Caverns Live is a seated General Admission venue with three entry tiers.
Premium Access - $50 per ticket
Enjoy access to The Volcano Room 75 minutes prior to showtime.
Early Entry - $40 per ticket
Enjoy access to The Volcano Room 65 minutes prior to showtime.
General Admission - $30 per ticket
Enjoy access to The Volcano Room 55 minutes prior to showtime.
Pre-Show Cave Tour - $16 per ticket
Want to explore Cumberland Caverns beyond the Volcano Room? Add the 333 Exploration Tour Package and come early for this hour-long pre-show tour that will take you to seven different parts of Cumberland Caverns. You will also be treated to a birds-eye view of the world-famous Volcano Room stage from high atop the balcony. Make the most of your time with us and explore our beautiful cavern on a concert day! $26.95 value!
*333 Exploration Tour Ticket does not act as a concert ticket. Cumberland Caverns will not allow access into The Volcano Room during the concert unless you have a separate ticket for that show*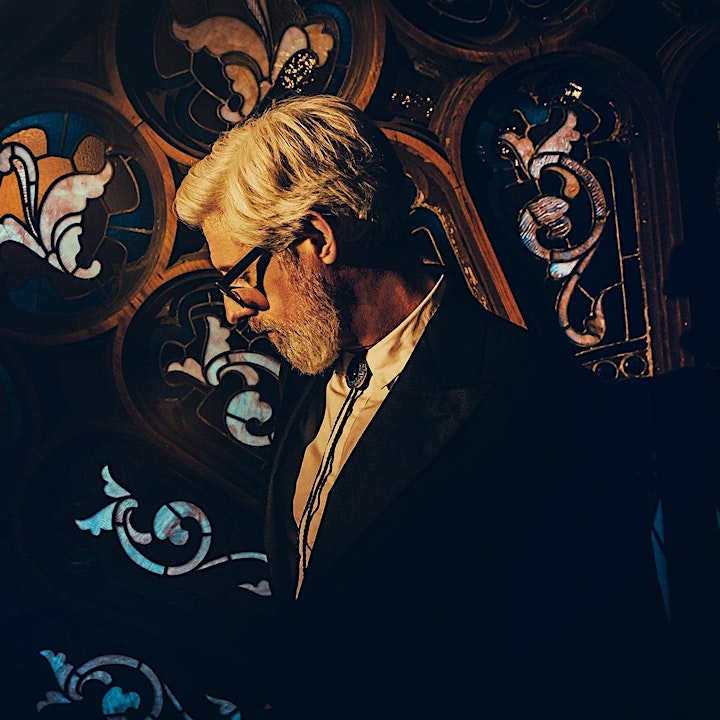 Since his major-label debut in 2008, Matt Maher has become a staple in the artistic and songwriting community. A nine-time GRAMMY® nominee and three-time-GMA Dove Award® winner, he has garnered multiple radio successes, writing and recording songs such as his Top 5 CCLI song "Lord, I Need You" and the chart-topping radio singles "Because He Lives (Amen)" and "Alive & Breathing." Along with other hits such as "Hold Us Together," "Christ Is Risen," "All The People Said Amen," and "Your Grace Is Enough," Maher has written or co-written six No. 1 radio singles. Penning numerous songs recorded by Crowder, Hillsong, Casting Crowns, Chris Tomlin, We Are Messengers, Chris Renzema, Mack Brock, Brandon Lake, and Passion, he's had multiple titles on the CCLI chart's Top 500 list. With career album sales of more than 600,000 units to date, Maher was awarded RIAA Platinum® certification for "Lord, I Need You" and RIAA Gold® certification for "Hold Us Together," "All The People Said Amen," and "Because He Lives (Amen)". He's released ten studio albums, including his 2017 GRAMMY-nominated album Echoes, and his first Christmas album and children's book, both titled The Advent of Christmas. Maher, an official Steinway Artist, has been headlining his own tours and performing at major Catholic and Evangelical events since 2004, including multiple World Youth Day festivals, most recently in Rio De Janeiro presided by Pope Francis. He has also participated in the industry's biggest tours and festivals, such as Worship Night In America with Chris Tomlin, Compassion Live's The Road Show, and Tobymac's Hits Deep. Maher has also toured with MercyMe, Chris Tomlin, and Casting Crowns.
Performers
Date and time
Location
Cumberland Caverns Live
1437 Cumberland Caverns Rd
McMinnville, TN 37110
Refund policy