The Legal Masterclass With Dato Dr Lye, to learn how to protect yourself, your business and your family LEGALLY.
About this Event
In the previous MCO many businesses faced many legal issues, and this has also affected the livelihood of many as it also affects the family members too. At the current situation with the 3rd wave of COVID-19, more businesses are going to be affected but what shall they or we do as business owners?
This is why HIGH FLYER ASIA believes strongly that as a small business owner, entrepreneur, or self-employed, you should be equipped with the right tools and the network to help you achieve your business objectives legally
Therefore, High Flyer Asia has designed an amazing legal networking evening with Dato Dr. WV Lye.
Dato Dr. WV Lye, comes with 25 years, Majoring in Construction Contract Disputes and Litigation. On the 21st February 1995 he was honored and admitted Advocate & Solicitor of the High Court of Malaya and was appointed Notary Public since 2010. He too is a Legal Advisor for various associations, i.e. Malaysia World Chinese Merchant Union Association, Malaysia Scout Club, The United Malaysia Contractors Association and Malaysia Heavy Construction Equipment Owners Association, etc.
We would like to invite you to this great legal session.
Usual price is RM 4997.00 but FOR NOW ONLY it is RM 1997.00
In The Legal Masterclass, you will:
⚖️ Learn how to enforce LEGALLY your business contracts with cost-effective tips
⚖️ Learn how you can DIY your LEGAL documents without hiring LEGAL advisor all the times
⚖️ Learn how to buy insurance through LEGAL knowledge to protect yourself and business
⚖️ Network with like-minded entrepreneurs to learn and overcome business LEGAL challenges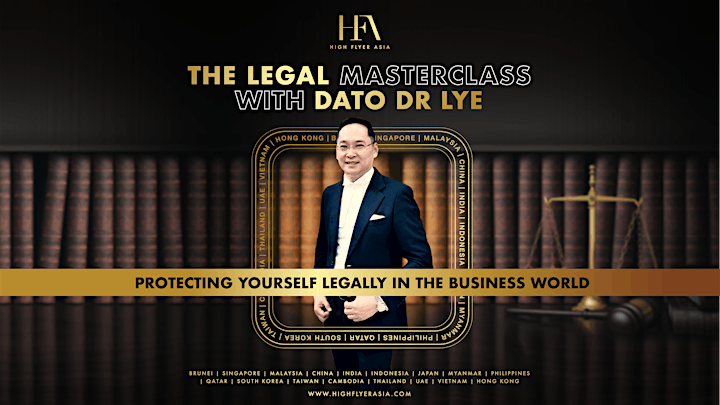 The Legal Masterclass for Entrepreneurs
Date: 31st Oct 2020 (Saturday)
Time: 9.00 am – 5.00 pm
Venue: Sheraton PJ, Hotel
LEGALLY PROTECT yourself and your family.