Description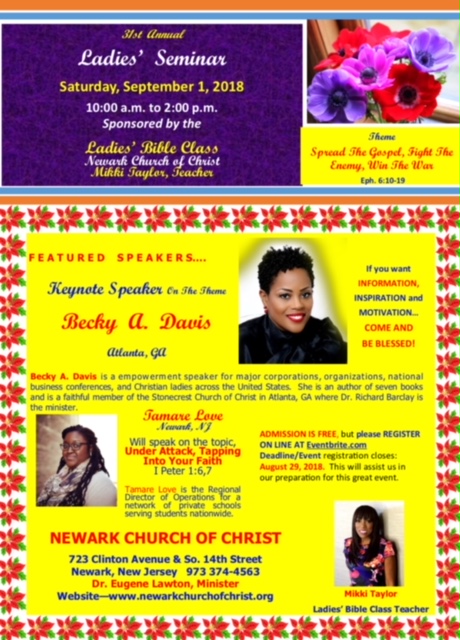 31st Annual Newark Ladies Seminar
Theme: "Spread the gospel, fight the enemy, win the war!
Wherever you are on your journey - be it a season of challenge, a new beginning or a time where you're seeking renewal, God wants you to succeed. These are no ordinary times and we hope you'll join us for an empowering day that will surely inform, inspire and simplify your life. Faith is nothing if its not defining your actions and if you want to live as the empowered woman God has created you to be, then don't hesitate to register to attend today. This day of purpose will teach you how to:
Share the truth that saves
Stand in the face of challenge
Meet adversity head on
Understand your enemy
Possess a transformational faith
Cancel doubt
Trust God without measure
Pursue your eternal destiny
Speakers:
Image of Becky Davis
Becky Davis, CEO & Funder of BOSSpreneur and leading author, trainer, Biblical teacher and empowerment speaker for major corporations, organizations, national business conferences, churches and Christian audiences nationwide. She's been featured in Forbes, Black Enterprise, The Huffington Post, ESSENCE and other publications for her contribution to women's lives. Her focus is to help women deepen their spiritual walk and not only know the uncompromising truths of Scripture intellectually, but experience them practically in their everyday lives by the power of the Holy Spirit.
Image of Tamare Love
Tamare Love, Regional Director of Operations for a network of private schools serving students nationwide. Education and today's youth are her passions and her guiding purpose is to help young women lead faith-forward lives in the face of challenge and success. A firm believer that struggle is often the best teacher in the journey of life with the caveat being if you know how to apply its lessons and let God lead the way.
Admission is free
Registration closes
August 29, 2018
See You There!!!