31st Annual Investors Choice® Venture Capital Conference

Thursday, February 12, 2015 from 8:00 AM to 5:00 PM
Event Details
Tickets are Sold Out.
Attendees will be admitted at the door as space allows. 

Join Investors from across the nation for the
31st Annual Investors Choice® 
Venture Capital Conference
from 8:00am - 5:00pm at the Zermatt Resort & Spa in Midway, Utah 
The Investors Choice® Conference continues to help emerging companies improve their business pitch, gain business insight and attract potential investors. Companies participating in this Conference have gone on to raise over $8 billion in financial transactions.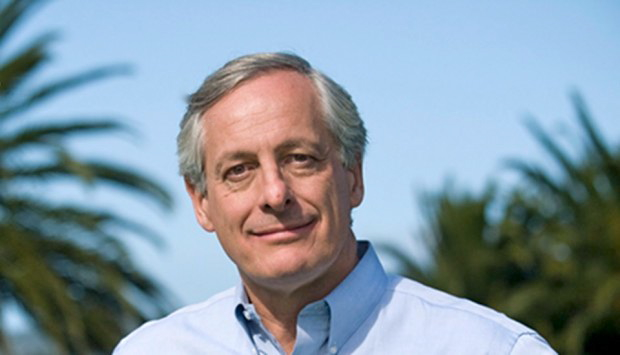 The Wayne Brown Institute is excited to announce Mr. Bill Reichert, Co-founder of Garage Tech Ventures with Guy Kawasaki, as the Keynote Speaker for the 31st Annual Investors Choice® Conference. Mr. Reichert's experience in both entrepreneurship and investing makes him a valuable presenter for all in attendance at the conference. If you have not yet registered for the conference, make sure to reserve your spot today! CLICK HERE for Bill Richert's Bio.
Conference Agenda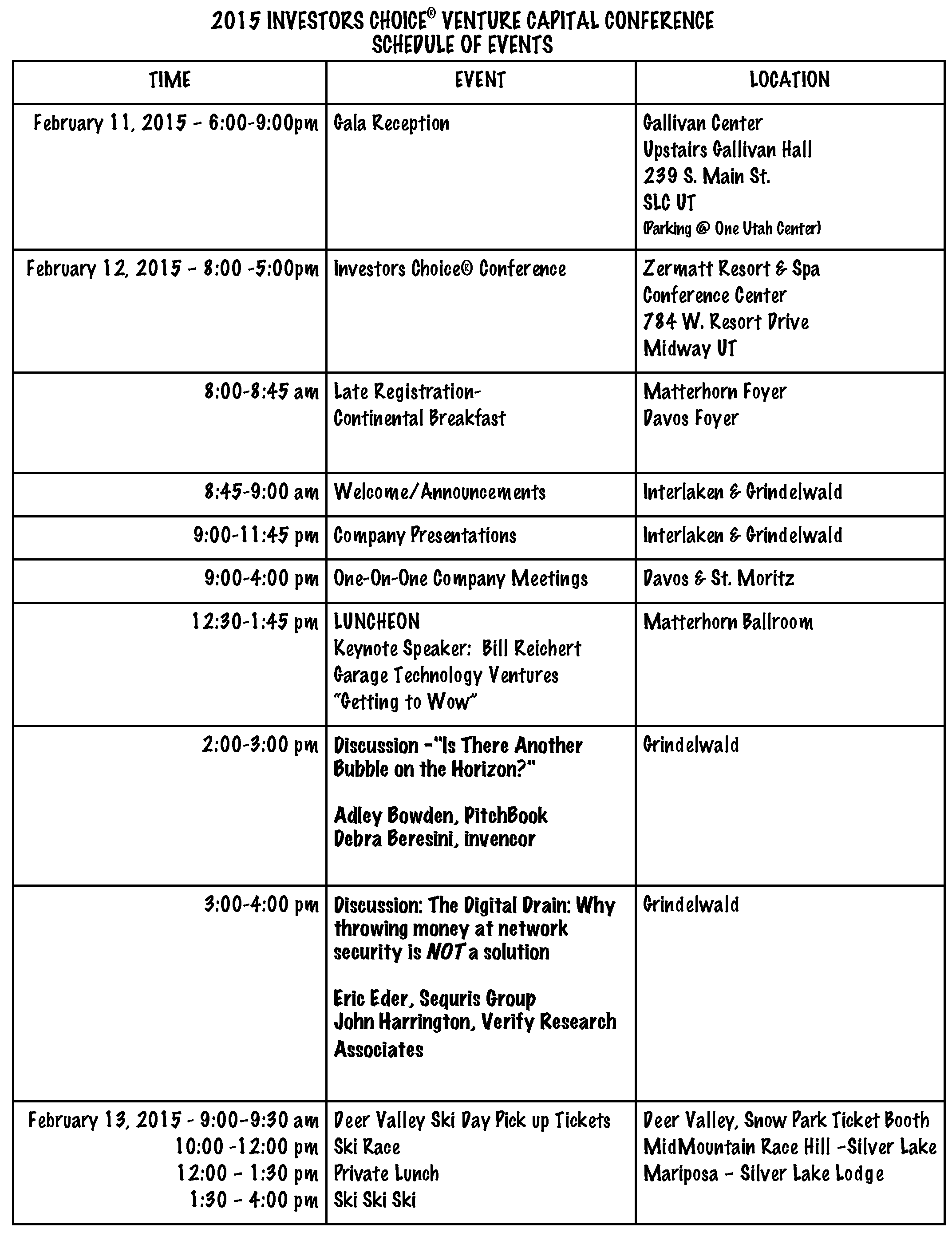 Over 20 companies will be pitching at this year's Conference
CLICK HERE for a list of the 2015 Presenting Companies 
Special Edition: 'How To Raise Money'
from 12:00pm - 4:00pm at the Zermatt Resort

This is your chance as an entrepreneur to spend a half-day and receive many great networking and educational benefits of the conference. For just $50 you get to attend the luncheon and all afternoon panels and events. 
Special Edition - "How To Raise Money" in the afternoon will provide attendees with these valuable panel discussions: 
12:30 – 1:45 PM Luncheon – Key Note Speaker
• Bill Reichert, Garage Technology Ventures - "Getting to Wow!"
2:00 – 3:00 PM 
"Is There Another Bubble on the Horizon?"
• Adley Bowden, PitchBook
• Debra Beresini, invencor, Introduction & Q&A facilitator
3:00 – 4:00 PM
The Digital Drain: Why throwing money at network security is NOT a solution
• Eric Eder, CEO of Sequris Group
• John Harrington, CEO, Verify Research Associates & Senior Researcher for Blueshift Equity Research, Introduction & Q&A facilitator
  Registering for this event confirms you have read and understand the WBI Event Disclaimer
What Investors Should Expect:  Participating companies will be seeking Angel, A or B round financing. All facets of the high technology industry will be presenting: IT, life sciences, and clean-tech. All companies will be selected and mentored by professionals from our Cooperative Venturing Network® - the hallmark of Investors Choice®.
WBI's annual Investors Choice® Venture Capital Conference delivers the quality deal flow that investors are searching for. In the last 5 years WBI Alumni companies have raised more than $568 million in venture and angel capital from firms just like yours! 
All applications are carefully screened by the qualified staff at the Wayne Brown Institute, venture investors and industry experts. Each successful applicant is then placed with a mentor team of professionals from our investor-centric network in early December. The teams then work with their respective companies to prepare their pitch to investors at the conference. The Wayne Brown Institute's Cooperative Venturing Network® includes more than 250 professionals, nationwide, who are experts in their respective fields which include Venture Capital, Private Equity, Angel Investing, Legal, Accounting, Investment Banking, Human Resources, Marketing, and Entrepreneurship.
Why it's worth your time:
The Wayne Brown Institute is the oldest and most successful non-profit venture accelerator in the country. Having hosted this conference for over 30 years, the Institute's 700+ alumni companies have gone on to raise over $7.5 billion USD in financial transactions since 1983.
Companies such as Omniture, Hoku Scientific, Sonic Innovations, Myriad Genetics, TruVision, Advanced MD, Control4, Oakley Networks, Mediconnect Global, Ancestry.com, Altiris, and HireVue are all WBI alumni.
Come network with companies from across the region. Find out why 90%+ of investors, entrepreneurs and service professionals say "I'll be back," after every event.
---
Register to all 

Investors Choice® Events
The Investors Choice Conference is a series of events starting with the Gala Reception 
on Wednesday
, the Conference on Thursday (including a special edition of "How To Raise Money"), and Ski Day 
on Friday
. All the events are open to the public and we encourage you to register for all of them in order to get the full networking benefit from the conference.  Register for the various other events by following the links below. If you were given a promotional code for registration, it will work on any of the events.
February 11, 2015 – Gala Reception
Upstairs at Gallivan Hall
6:00pm - 9:00pm
239 S. Main, Salt Lake City, UT 84111
Deer Valley Ski Resort
9:00am - 2:00pm
2250 Deer Valley Dr., Park City, UT 84060
---
Hotel Reservations
Visit Zermatt Resort & Spa Reservations 784 West Resort Drive Midway, Utah 84049 United States Phone: 1-800-327-7220
Registration for the Investors Choice® Conference: To secure hotel reservations at our special rate of $159 (plus taxes+fees), please indicate that you will be attending. Please contact the Zermatt Resort & Spa as soon as possible at 1-800-327-7220.
For additional information, please contact the Institute at info@venturecapital.org or call 801-595-1141. Also see our conference registration page. 
---
Founding Sponsor

 Mezzanine Sponsors




First Round Sponsors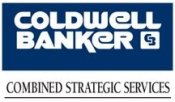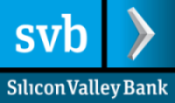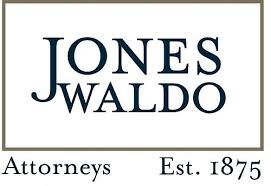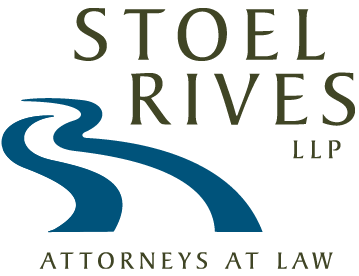 Seed Round Sponsors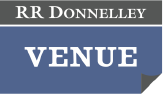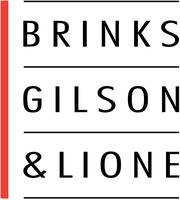 Strategic Partners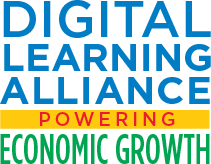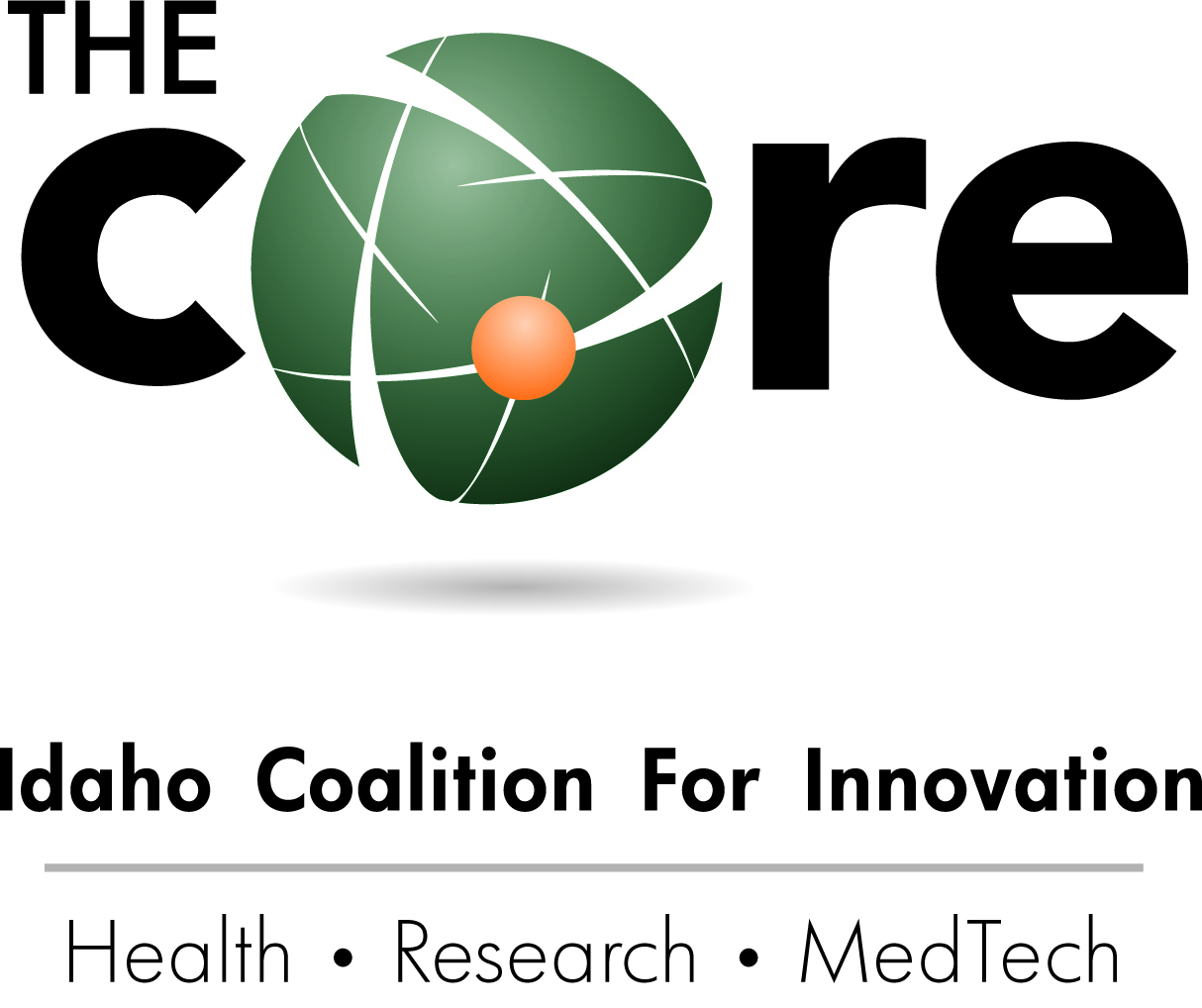 When & Where

Zermatt Resort & Spa
784 W Resort Dr
Midway, UT 84049


Thursday, February 12, 2015 from 8:00 AM to 5:00 PM
Add to my calendar
Organizer
Your registration may be tax deductible! VentureCapital.org is a non-profit 501(c)3 organization that is celebrating its 35th year of helping entrepreneurs Change the World. Our mission is to improve the human condition through technological entrepreneurship. Powered by The Wayne Brown Institute, VentureCapital.org has a mantra to help entrepreneurs Start. Find Money. Change the World. We accomplish this by offering cutting edge educational programs, premier pitch events, and empowering a powerful Cooperative Venturing® network of venture professionals who are actively engaged in mentoring the entrepreneur.