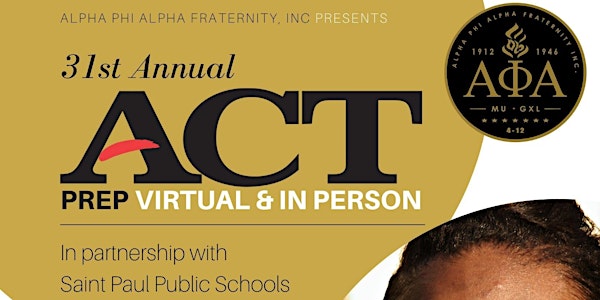 31st Annual ACT Prep (Virtual/In Person)
The Distinguished Gentlemen of Alpha Phi Alpha in Minnesota presents to you our 31st annual ACT Prep
About this event
The Distinguished Gentlemen of Alpha Phi Alpha Fraternity, Inc. in Minnesota present to you our 31st annual ACT Prep program.
Sponsors: Alpha Phi Alpha Fraternity, Raymond W. Cannon Education Foundation, & Saint Paul Public Schools
This program seeks to give students a better chance at attending the college of their choice and also to prepare them to be successful once there, by providing both opportunities meant to increase college admission test scores and to inform them for entry into higher education. These will include practice tests, advising on the college and scholarship application processes, interaction with current college students and leaders in the community, financial planning information/strategies and supplementary instruction on content areas, test taking skills, time management and more.
January 8 through March 12 | 9:00 am to 1pm
Virtual
Week 1 (January 8, 2022) | Introduction to ACT
Week 2 (January 15) | Mock ACT Test #1
Week 3 (January 22) | English Section
Week 4 (January 29) | Math Section
Week 5 (February 5) | Science Section
Week 6 (February 12) | Reading & Writing Sections
Week 7 (February 19) | Mock ACT Test #2
In-Person
Week 8 (February 26) | Resume Building
Week 9 (March 5) | Financial Literacy
Week 10 (March 12) | Interview Skills
For further information regarding this program, please contact the act program office by email at actsatprogram@alphamn.org
Parents are required to attend a portion of the January 8 session , time will be communicated. Students must register with their respective schools with the code provided by the school.
The act review course is committed to the policy that all persons shall have equal access without regard to race, color, creed, religion, national origin, sex, age, marital status, disability, public assistance status, veteran status, or sexual orientation.
After registering, you will receive a Zoom link to join the sessions each week. Spaces are limited so register ASAP.