3/17 First Aid CPR AED - Traditional Classroom Course - American Heart Assn
Description
This is a traditional classroom course. It's the course you'll need to take whether you are new or renewing.

All parts of the course are done in our classroom.

The Heartsaver® First Aid CPR AED program for helping adults, children & infants. It includes fundamental concepts of providing high-quality cardiopulmonary resuscitation (CPR), using an automated external defibrillator (AED), and giving basic first aid for medical emergencies like trouble breathing, choking, allergic reactions, EPI Pens, heart attack, stroke, seizures and more. Also included is first aid for wounds, burns, broken bones and environmental emergencies such as animal bites, heat & cold emergencies, poisoning, and more.

This course is for people who aren't healthcare providers but need the basic skills that might save a life or prevent further injury. This course is open anyone.

The course is approved by the State of Michigan for licensing for daycare, teaching, construction and other license requirements. The course also meets or exceeds the requirements of many insurance companies that require basic training in CPR / First Aid in the workplace.
Below is the card you will get.
Ask your boss if this is the one you need.
Cards are good for 2 years from the time they are issued.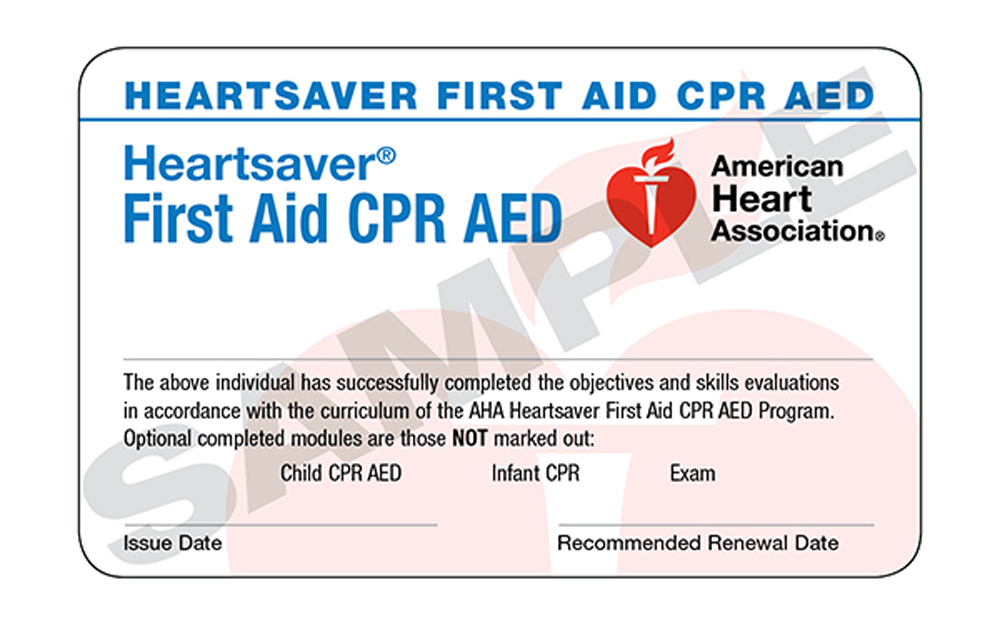 Plan on setting aside 4 1/2 hours for this class. Sometimes it's less because we have enough equipment to go around & people don't need to share manikins. Also, we run sma
ll
classes and are able to accomplish in a short amount of time what other places take a ton of time to
do.
FAQs:
Q: Are there ID requirements or an age limit?
A: Minimum age to attend CPR class is 12. Just bring your printouts that we send you, no other ID needed.
Q: What are my transport/parking options?
A: Tons of free parking in our lot. We are also on the Rapid Line with a stop outside our office (check the Rapid info for: 44th at 2186 44th (#746)).
Q: What can/can't I bring to the event?
A: Please don't bring your children, but pretty much anything else is ok...yes, you can bring food & drink (as long as you share....just kidding).
Q: Can I contact someone if I have any questions?
A: Please call 616-947-1007.
Q: Do I have to bring my printed ticket to the event?
A: Yes.

Q: What is the refund policy?
A: We are required to purchase items for every person who attends our classes, so there are no refunds.
Legal stuff: The American Heart Association strongly promotes knowledge and proficiency in BLS, ACLS, and PALS, and has developed instructional materials for this purpose. Use of these materials in an educational course does not represent course sponsorship by the American Heart Association, and any fees charged for such a course do not represent income to the Association